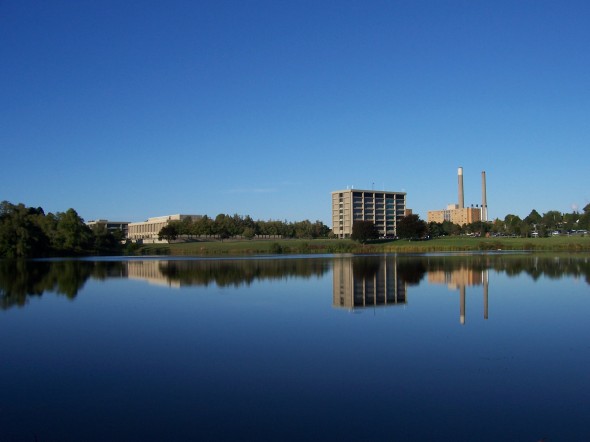 UPDATE: At 2:36 p.m. today, Richard Kolenda, assistant vice president of Residence Life and Housing sent an email to students explaining the situation with west campus' water supply.
On Saturday, February 8th the College experienced a major water line break at approximately 7:30 pm.  This water line serviced the academic quad and all the residence halls on the west end of campus.  The break was located near Mary Walker Health Center.  Emergency maintenance crews were dispatched to fix the break.  The water line was shut off.  However, the break was so severe that the area was flooded and required 3 pumps to remove the water.  By 11 pm it was evident that the break was situated in a difficult location to repair.  Campus maintenance did not have the appropriate equipment to uncover the water line.  An outside contractor was called in to excavate the area.  They arrived at about 4:30 am on Sunday and reached the damaged water line shortly afterwards.  Our maintenance staff completed the repair and the water to the campus was restored at approximately6:30 am.
I apologize for the inconvenience that this event has caused.  It was a great imposition!  Thank you for your patience and we will continue to do our best to see that this does not occur again.

Sincerely,

Richard Kolenda, Ed.D.
Assistant Vice President for
Residence Life and Housing
UPDATE: At 2:50 a.m. Sunday, some residents regained water in The Village. By this morning, the water was back on and bathrooms and showers were functional.
Oswego State's west campus is currently left without water for an unknown amount of time. Students who reside in Oneida, Onondaga, Cayuga and Seneca Halls, as well as The Village have been instructed to utilize facilities on the lakeside portion of campus.
In an email sent at 11:23 p.m., Residence Life and Housing notified students that due to a water main break on campus, the water would be shut off to west campus and The Village for an "undetermined amount of time."
Below is the full email:
Hello West Campus and Village residents,

There has been a water main break on campus the water has been shut off to west campus and the Village for an undetermined period of time. We will email you as soon as we find out a time line for the repairs.

For the time being, students are instructed to not use shower and bathroom facilities that require the use of water. This is because waste will not be flushed and will remain in the toilet. It will essentially become a giant port-o-potty.

West campus and Village students have been granted access to central and lakeside facilities. Tell front desk employees that you are from west campus and need to use the bathroom or laundry room. You will not have access to these buildings at night so politely ask the DA's or RA's to let you into the building. Be respectful in these buildings and try to minimize the amount of time spent using their facilities.

We acknowledge this is a huge inconvenience and are trying to get this issue resolved as quickly as possible.

Residence Life and Housing
SUNY Oswego
In an email delivered at 3:49 p.m. from Village Director Scott Cunningham, students of The Village were told that there was "no water/little water in all west campus buildings including The Village" and that maintenance workers were dealing with the problems in hopes that the situation would "be resolved quickly."
No known updates were made to students until 7:19 p.m. when a village community assistant sent an email to residents. The email said that the water was going to be completely shut off between 7:30 p.m. and 8 p.m. to repair the problem. The email explains that there was no estimated time it would take to make repairs.
Just before Residence Life and Housing sent their email to students on west campus, the same VCA updated residents on the situation. The email said "the water will be out for a long time…they did not give me any sort of time table on when it will be back on other than saying it will be out for a while." The email continued to say that repairs were currently being made on the water main break.
There are roughly 2,400 residents living on Oswego State's west campus and in The Village. There are an estimated 850 residents living in lakeside halls (Scales, Waterbury, Riggs and Johnson Halls).