On rehabs.com's recent "Most On-Campus Drug Arrests Per 1,000 Students" list, which included national major schools across the country, Oswego State ranked third.
The ranking, based on data from the Department of Education's Office of Postsecondary Education and reported by a project called Drugs On Campus, tracks crime reports solely from colleges and universities and not those of the surrounding town or city. Oswego State follows the University of Colorado at Boulder at No. 2. Ranking highest on the list is SUNY Oneonta.
According to data from the Office of Public Affairs and University Police, there were 117 reported drug arrests at Oswego State during the 2013 calendar year. Of these arrests, 103 were for possession of marijuana at the violation level, four for possession of marijuana at the misdemeanor level, seven for criminal possession of a controlled substance at the misdemeanor level, and three for criminal sale, which is a felony. Most of the controlled substances reported were prescription drugs.
"Clearly, there's a huge drug problem in the community and the police should definitely try to stop that and get more involved," freshman Nathan Miller said.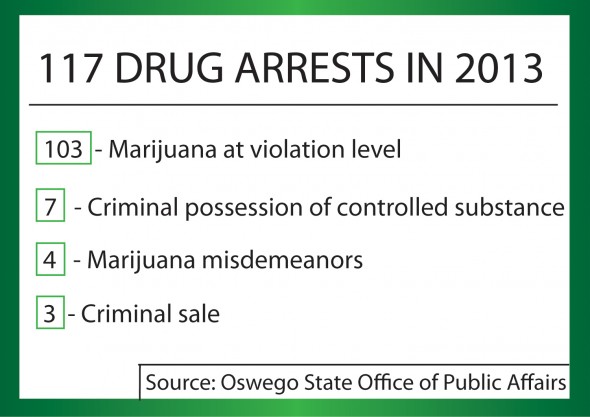 Director of Public Affairs Julie Blissert said the list doesn't necessarily mean Oswego State has a large amount of students possessing drugs.
"I think that a higher ranking suggests that the colleges with a stricter enforcement policy, enforcement of laws and regulations, and stricter reporting requirements are the ones that rank higher rather than the actual activity on a campus," Blissert said.
Blissert also said that the rehabs.com list is not clear about the source of their data, such as what colleges were eligible for consideration and why the list consists of only public schools in the United States.
The colleges on the list appear to cluster around the Northeast and the Midwest. Other than Oswego State and SUNY Oneonta, seven SUNY schools placed in the top 50 universities on the rehabs.com list. SUNY Fredonia ranked no. 26, the College at Brockport placed no. 27, SUNY Cortland placed no. 44 and SUNY University at Albany placed no. 50.
Oswego State has a reputation for its alcohol abundance and has appeared on numerous "Best Party Schools" lists by The Daily Beast. In 2013, Oswego State ranked No. 68 on the list and ranked in the top 25 in 2011. Some students are surprised that the college does not appear on rehabs.com's "Most On-Campus Alcohol Arrests" list, and furthermore that no SUNY school appears on the top 50 list.
"I don't think that's too surprising," Miller said. "I feel like they kind of have a correlation between each other. I kind of feel that more alcohol leads to more drugs."
Trisha DeWolf, the program coordinator of the Alcohol and Other Drug (AOD) Committee at Oswego State, said that the Lifestyles Center and the college as a whole do a multitude of things to combat drug and alcohol usage among students.
"As with anything, there is always room for improvement and new ideas," DeWolf said. "The Lifestyles Center offers alternative programming like open mic, zen meditation, etc, to give students other opportunities. We have peer educators that do a wonderful job of getting information out to the general student population on AOD issues as well as other health and wellness issues. Also, if a student feels they are in need of services regarding drugs or alcohol, there are many programs and professionals to help the student."
Blissert said that Oswego State has a defined campus police force, something that other schools on the list may lack. She added that this list of colleges itself will help decrease student drug arrests.
"The more arrests that are made, the more the activity is discouraged," Blissert said.