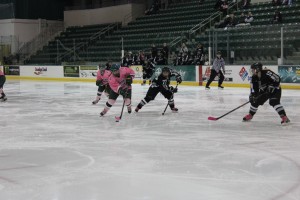 The Oswego State women's hockey team opened its "Pink the Rink" weekend series with Stevenson College on a high note Saturday, defeating the Mustangs 6-1 at the Campus Center Ice Arena. The Lakers played well on the offensive end and received their six goals from six different players.
"Every line is becoming a threat," head coach Diane Dillon said. "It's great to have balanced scoring because it means we have a lot of threats and it's hard to play against us."
Stevenson fell behind early on when Mady Paul and Brennan Butler scored the Oswego State's first two goals within 17 seconds of each other, both in the seventh minute of the first period. Paul kicked off the scoring when she and freshman Bridget Hamlin came down the ice on a 2-on-1 fast break. Hamlin sent Paul a perfect cross-ice pass and the Lakers' assistant captain finished the play with a shot that beat the Mustangs' Sarah Modzelewski.
Less than 20 seconds later, the puck bounced in the Laker's favor to give Oswego State another goal. With the Lakers attacking, a Mustang defender tried the clear the puck from behind her own net. The puck hit Butler's skate and inched past Modzelewski's glove.
Captain Olivia Boersen scored her team's third goal with just 24 seconds left in the first period. After a scramble in front of the net, Boersen found the loose puck and put it home.
"Mine was pretty much just luck," Boersen said of her goal. "That's what we need to do. We need to just bury the garbage in front of the net. That's girl's hockey in the nutshell."
After a scoreless second period, freshman defender Alli Ullrich scored the Lakers' only power play goal in five opportunities. Assistant captain Jocelyn St. Clair fired a shot from between the circles with players from both teams contracted around Modzelewski's net. Modzelewski made the save, but Ullrich, fighting down low along with St. Clair, was there to lift the rebound over Modzelewski's pad.
Later in the period, Lizzy Marks scored the Lakers' fifth goal on a breakaway and St. Clair capped off the scoring with a goal in the last minute of play.
Tori Trovato started her second game in a row for the first time this season, saved 21 of the Mustangs' 22 shots.
The Lakers will play the second game of the series and the last game of their four-game homestand tomorrow at 1 p.m.