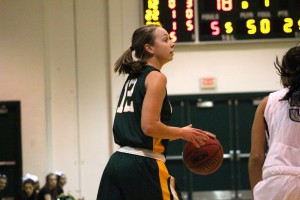 The women's basketball portion of White Out Weekend continued today at Max Ziel Gym with the Lakers falling for the second consecutive day. This time to the SUNY Potsdam Bears, 74-67.
The game began with a flurry of three-pointers from Oswego State, as well as a number of turnovers, which allowed the Bears to take the lead in the early minutes.  Despite making eight from behind the arc, the Lakers' 10 turnovers were what had them behind at halftime, 37-36.
SUNY Potsdam made a run right out of the gates to start the second half, expanding its lead by 10. Oswego State eventually rallied back with a run of its own thanks to key shots from Lauren and Alison Nunziato.
Even after that stretch of success by the hosts, the Bears didn't let up, creating essential turnovers as well as hitting their free throws. They finished the game 16-for-21 from the line.
Two players stood out on the visiting squad, whom the Lakers could not quite figure out through out the evening, junior Bailey Weigal and senior Jessica Kouzan.
Weigal scored a game-high 29 points, added eight rebounds and was a perfect 4-4 from three.  Kouzan added a double-double with 17 points and 11 rebounds. The two captains were the only SUNY Potsdam players in double figures.
The defensive performance by Oswego State did not please head coach Tracy Bruno.
"I'm very, very upset with how we've defended the last two games," Bruno said.  "Granted we're playing some pretty good teams, without question, but our defensive effort is not where it needs to be."
The Lakers are not done yet for the semester. They have one final game this upcoming Friday, Dec. 13, at home versus Cazenovia College at 6 p.m.