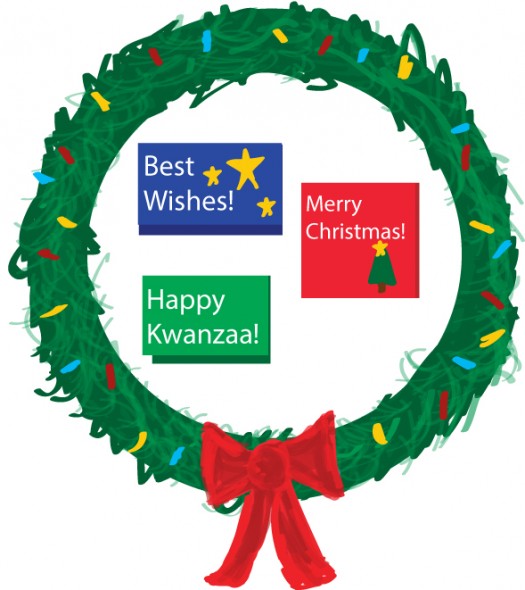 You've already seen the stores packed with them for months. Now that Thanksgiving is coming up next week, you see it more and more. Anywhere you go, you are surrounded by the iPhone 5Cs, the PlayStation 4s, and the Xbox One, along with the other gifts that have a big price tag that a lot of people will receive for the upcoming holidays. Some students will come back to school in January with the iPad Air, new laptops and maybe a car.
We naturally go for the bigger and expensive things. We get more excited the bigger the present is. When you see the biggest present under the tree, you hope it's yours, right? Black Friday has become such a huge deal, with lines that stretch for miles, crowds storming through automatic doors, and lots of deals to be found—it might as well be its own official holiday on the calendar. But you'd be surprised sometimes at what you can do to make someone's holiday a little merrier.
I was never a big gift-giver when I was younger. I was terrible at guessing what people wanted and was absolutely terrified at getting someone a gift that they already had or something they would just throw in a Salvation Army donation box the next day. My junior year of high school, I decided to buy some cards, some serious and some silly, to give to some of my friends at school. I wrote a lot in the inside about how and why they were important to me and what they had done for me since I'd known them. I ended up writing a ton of cards, and handed them out the day before vacation.
I was genuinely surprised by everyone's reaction. They loved it. The thing that really stuck out to me was one of my friend's reactions. She didn't really have a great home life. Her parents didn't quite give her adequate love and support in all of the things she did, although she was a very talented actress and singer at school. She saw me after vacation and said, "Luke, you know that card you gave me? That was the only thing that I got for Christmas this year. Thank you."
I was touched by that. I was so touched that I did it the next year, with more cards for more friends, and maybe a couple tiny little gifts like Nutella or an album of mine. It was wonderful to drive all over the county delivering presents and cards to various people, seeing them act so surprised and overjoyed. For so many years, I had no interest in giving gifts because I felt that the only gifts worth giving were the expensive ones, with a large price tag. I always enjoyed getting presents—who doesn't, right? But that year, I really discovered the power of giving. I learned that giving is the ultimate gift because it's a gift to both the giver and the receiver.
You'd be surprised at how easy it can be to make someone smile sometimes. You'd be surprised at how much a "thank you" or a hug can do. You'd be surprised at what a few comforting words during a stressful season can do to make someone forget their cares for a while. You'd be surprised at how giving a little time to show appreciation or love for someone can make you and them happy at the same time. More often than not, the most valuable gifts are the priceless ones.