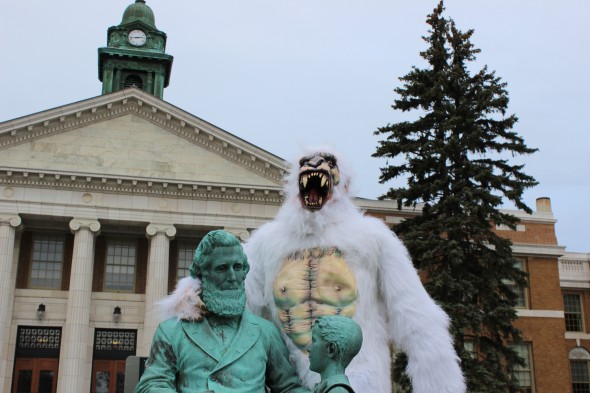 As the legends of Oswego State go, the tale I am about to weave to you is one shrouded in mystery yet riddled with truth. It is said that years ago our school's founder, Edward Austin Sheldon, found what is most commonly described as a 'snow beast' while exploring the caves on the banks of the Oswego River. Somehow Sheldon was able to tame The Beast, and while there is much speculation about how he domesticated the creature, the most popular belief is that he used the great sport of hockey. It is said in the ancient history of Oswego State that Sheldon taught The Beast the ways of our world through sport. He showed the creature what is right and what is wrong, when to stand up for yourself and when to exhibit sportsmanship and compassion, all through the tutelage of hockey. The Beast was said to love the sport and was a figurehead—a symbol for our school's great team for many years.
As the bond between man and beast grew stronger, Sheldon grew older and on Aug. 26, 1897, Sheldon passed away. This day was the last known sighting of The Beast. Many thought him to be so distressed over Sheldon's death and that he had moved farther north to a cold seclusion where he died of old age. Yet there is always the speculation that he retreated back to his secret caves and tunnels, an underground system of caverns that is believed to run all the way underground to the area of Oswego State now known as the Shineman Center.
Remember how I said no one had seen this beast in more than 115 years? Well this was true, up until two days ago. The Beast was sighted climbing on the statue of Sheldon in the early evening holding a hockey stick. One lucky and brave photographer was able to snap a quick picture of him. After over a century, the rumors of Sheldon's infamous snow beast have been confirmed.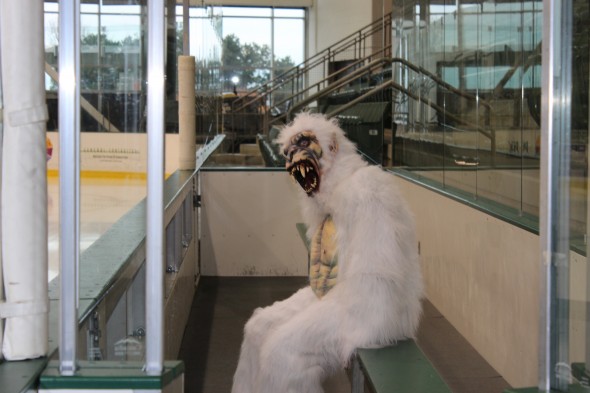 There is no need for alarm though, ladies and gentleman; we have our best anthropologists and biology majors on the case. The reappearance of the creature is thought to be a combination of a disturbance of its natural habitat from the Shineman Center, the change in the season to our oh-so-lovely winter months and The Beast's natural intuition that his favorite sport and favorite team are back on the ice again. (It's a good thing he didn't see that home opener, though; it may have turned into a Jack Link's commercial.)  Because he is a direct descendant of Sheldon (OK, not really, but they were bros), he is also a very approachable creature who loves his green and gold as much as we do.
If you keep your eyes peeled, you may be able to get a glimpse of him while making your daily stroll throughout campus, for some reason especially in Rich Hall. The accounting department says he likes to hang out there a lot. Maybe its back taxes or something. Anyway, if I had to make a prediction, I would say he would make his full-blown reappearance when the atmosphere is right, say white-out weekend for instance. But hey, what do I know? I'm just a writer.
All I'm saying is to have fun, cheer for our Lakers and if you happen to see The Beast just don't shout, "Let's go Plattsburgh," or something else blasphemous of that sort. We wouldn't want to get him riled up now, would we?