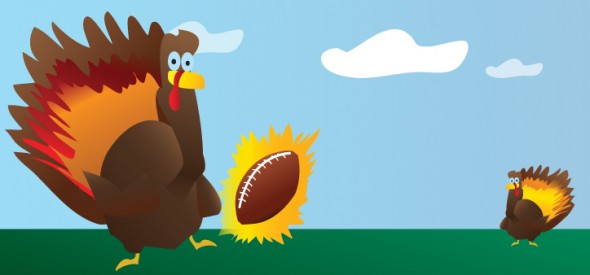 Thanksgiving break is that time of the year when most students return home to enjoy a few days off from the chaos that is Oswego State. Another benefit of the break is the "Three Fs" that everyone enjoys: food, football and family. All three of these elements on Thanksgiving are crucial for a successful holiday.
Food on the dinner table is the cornerstone for a Thanksgiving celebration. The obvious centerpiece is the turkey. Without a good turkey, your Thanksgiving might not succeed. Nobody likes dry turkey, so see if you can help out to avoid a poor situation. Cooking Thanksgiving dinner is hard work, so lend a hand in the kitchen. If turkey was never your thing, then enjoy the side dishes like stuffing or mashed potatoes. You still don't like the food? Make your own dish and a new tradition.
Football is the second part of the trifecta and every football fan knows at least two of the teams playing. The Dallas Cowboys and the Detroit Lions historically play each year on Thanksgiving. This year, the Cowboys will play the Oakland Raiders and the Lions will play the Green Bay Packers. As a bonus, the Pittsburgh Steelers will play the Baltimore Ravens in the nightcap. For you non-football fans, use this as an opportunity to sleep off that big dinner or watch something else, but you will probably be fighting to stay awake.
Family is the final piece to the puzzle on this weekend. Spending time with loved ones can always be interesting. No matter what, play nice, because nobody likes a party pooper. Take this chance to teach someone something new or talk to those family members or friends you don't see often. Who knows, maybe a relative is interested in Oswego State and wants to know more.
When it's all said and done, this break will be a helpful rest period before the stress of finals week eventually consumes us all. Just be sure to eat, talk to others and realize what you are thankful for.