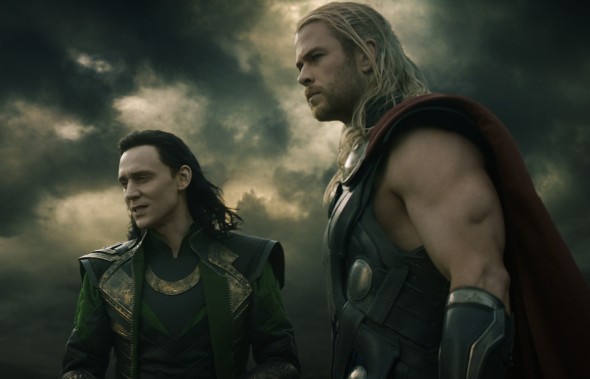 It's safe to say that "Thor: The Dark World" is even "Thor-ier" than the first film. And that's not a bad thing.
After Marvel's "The Avengers," everyone wants a piece of any Avenger they can get their hands on, even one not as popular as other Marvel properties like Spider-Man and the X-Men. But let's face it. Audiences have caught on to Marvel's game plan. They know when a movie has to do with the Avengers and they're willing to shell out hardearned money to be a part of the revolution. It's just a plus when you get your bang for your buck.
"Thor: The Dark World" isn't a game-changing superhero movie. I don't think anyone really expected that in the first place anyway. But it is entertaining, possibly the most enjoyable solo-Avenger tie-in film since the original "Iron Man," and that's saying a lot. Since 2008's "Iron Man" became a surprise box office smash, no Avenger movie since has really been able to top, or at least equal, its value (besides the actual Avengers movie, but that's a given). Both the first "Thor" and "Captain America: The First Avenger" were unmemorable. "Iron Man 2" was a train wreck, and "Iron Man 3," while ambitious in its endeavors to break the typical formula, seemed more like a swan song to the Iron Man of old than a fresh start. Then you have "The Incredible Hulk," which while good, is a fading memory in the aftermath of Joss Whedon's awesome take on the character.
"Thor: The Dark World," however, has a great chance to be memorable. It's cleverly humorous, and addictively entertaining with just the right amount of action in all the right places. At times, it's even touching, with a hint of something special that you never thought could be pulled off in a movie about an Asgardian superhero that's not exactly relevant to anything in this time period. But director Alan Taylor, who has helmed some "Game of Thrones" episodes (which is very evident here), manages to pull it off in stride.
That's not to say the movie doesn't have its problems. As far as the plot goes, it's at its best when Loki is involved, who is once again played brilliantly by Tom Hiddleston ("The Avengers"). The writers must have had a ball writing him, as there's twists around every corner pertaining to the character. But it falls flat in other aspects, particularly the love interests. Jane Foster, played by Natalie Portman ("Black Swan"), has no real development and is just another damsel in distress. Maybe it's because it's hard to believe that such a God-like being could be so committed to a human girl, even it is Portman, but there's no real investment in her character at all. Not to mention there's an entire love triangle sub-plot with Sif that is overlooked.
What the film lacks in substance it makes up for in pure entertainment, which is exactly what people should have expected. But what makes "Thor: The Dark World" stand out is the little moments that shine, and there's plenty of them. Fans will be going out and buy their own hammer soon.