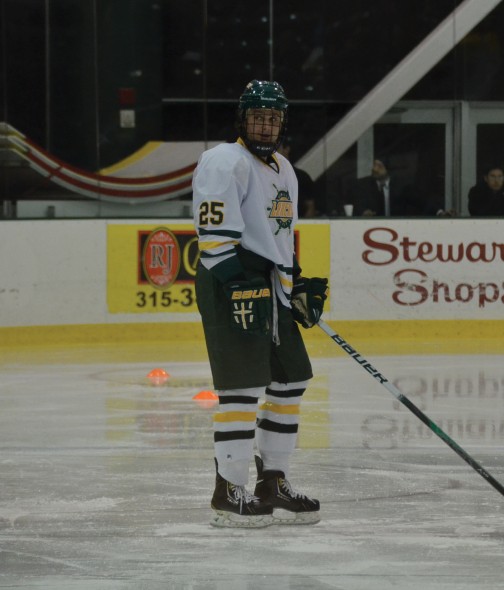 Dylan Smith has always excelled in athletics and gained notoriety for it, but the Saskatchewan native, competing on both the Oswego State men's ice hockey and men's golf team, is still very humble.
"I just want to be known as a down-to-Earth guy that's easy to get along with and never to hard to approach," Smith said. "You see some athletes at other schools that try to be above other people, but it's nice when you can approach just anybody. For me, I'm willing to make friends with absolutely anyone. It's nice for me to meet people in my class. I'm just your average guy out here playing a couple sports that I love and I'm just a normal student like anyone else."
However, Smith has never been an "average" athlete. Besides succeeding on the ice and on the golf course, he also was an all-star for his school's basketball, lacrosse and track teams.
Smith's success can be attributed to his competitive drive and natural talents, which both men's golf head coach Mike Howard and men's ice hockey head coach Ed Gosek recognized during recruiting and since he has been on campus.
"He consistently was there trying to get better every day, trying to shoot a better score and trying to beat the other guys on the team," Howard said. "So, he's very competitive and when you have competitive people like that it wears off on the other guys."
"He's a natural athlete," Gosek said. "That's probably why he's able to be as good a golfer as he is without playing a lot. He didn't have a lot of formal training; he just liked to play the game."
Smith originally was not planning on playing collegiate golf, but his summer before college he started playing well. He won a few tournaments back home and decided to give it a shot.
He talked to Gosek who got him in touch with Howard, who said he would give Smith a shot.
Smith, a geology major, attributes his passion for sports and geology to all the time he spent outside during his childhood.
"I like being outside, so that relates to golf and geology. I've always been a sports guy who plays every possible sport," Smith said. "That was my childhood. I grew up and did everything outside and did everything with other people. That's just me. I'm a people person."
The freshman forward's ability to develop relationships with his teammates has been put to the test since coming to Oswego State, being on two teams, but he is ready for the challenge.
He enjoys the opportunity because it is not something a lot of people get to do. He even recognizes the uniqueness of his competing for the golf team.
"Getting to meet the guys on the golf team too is neat. It's a different group of guys and a different type of guys," Smith said. "Especially me being Canadian, on the hockey team we're almost all Canadian, but on the golf team I think it's kinda neat for them having a different guy on the team, having a Canadian, having a hockey player. It's not their typical golfer and it's neat from them, so they're all really good guys as well, it's worked well for me."
Smith's teammates do not think he is a typical golfer. Smith compares his game to the famous movie character Happy Gilmore, played by Adam Sandler.
"That's me. I hit the ball a long ways," Smith said. "That's my game. They all bug me because I hit the ball farther than anyone on the team. I'm not as good around the greens. It's not bad, but it's not as good as some of them. I've putted with one but never driven with one before."
While Smith has had a positive experience so far, he knows he is by no means having an easy first semester at Oswego State.
He has 8 a.m. classes every day except for one, and once he is done with classes he gets to eat quickly and is straight off to the golf course.
After golf it was off to workouts, then home to eat, do homework and sleep. Some days he would even not have time for the workouts and have to squeeze them in the next morning.
Smith gives some of the credit to his housemates, sophomore Denton King and freshman Kenny Neil, both of the hockey team, who have been there to help, especially in the first few weeks when he was not sure he could adjust to life on the Oswego State campus.
"I have some great roommates that made it really easy for me. They would drive me around and have meals waiting for me," Smith said.
Gosek also commended Smith for how he handled the situation thus far because other hockey players before him have tried and failed to do what he is doing.
"He was able to balance it out, at least this year, this semester. He was able to get through it," Gosek said. "We've had that in the past where guys have gone either way with golf or with hockey or sometimes it was with baseball. It was just very difficult to try to do both. But, with him, so far so good. He's a tough kid and one of our most conditioned athletes."
Now that Smith has the routine under control, it is time to focus on hockey, which he said will be his main focus until the season is over.
"I don't think golf is going to kick in in the spring until hockey season's over and we hope to be playing until the season's over on March 22," Smith said.
On March 22, the Lakers hope to be taking the ice in Maine for the National Championship game, and Smith wants to do whatever he can to help Oswego State get there.
"I want to get into as many games as I can and make as big an impact as I can. I feel like I can contribute offensively and do whatever I need to do to help the team," Smith said.
"There's going to be different roles you go through throughout the year with so many guys, and everyone's feeling it out. The coaches probably don't know exactly where they want everyone yet because everyone's so new. For me, it's help the team anyway I can to win as many games as we possibly can. If that means scoring as many goals as I can, that's the plan, to see how many I can put up in a year."
Smith is off to a good start at Oswego State, scoring his first goal as a Laker in Oswego State's 3-2 victory over Buffalo State Saturday night.
Smith is paired with fellow freshmen Chris Waterstreet and Shawn Hulshof, a line showing early signs of chemistry.The young forward looks to be on track to earning consistent ice time for the Lakers this winter and contributing on a regular basis to the team's offensive production.