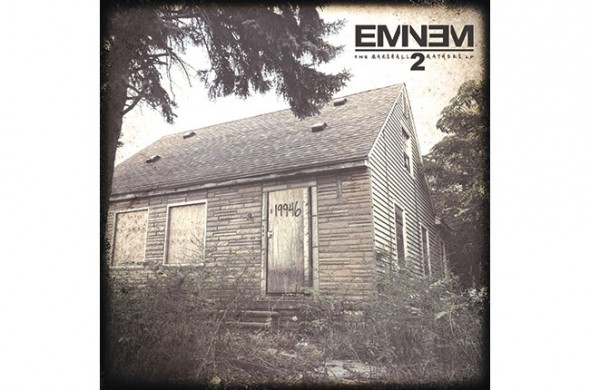 Eminem's extensive career has spanned three decades, including sales of over 100 million records and the first Academy Award win for a rapper. The announcement that Eminem was working on a new album in 2012 sent the Internet into a state of nervous bliss. Due to past album releases, some met with praise and others leaving listeners unsatisfied, the intrigue concerning "The Marshall Mathers LP 2" was high. While Eminem fans argue his status more deity than rapper, the question remains who showed up on this album, the rap god Eminem claims to be or the pedestrian who released "Recovery & Relapse."
The first track, "Bad Guy," starts the album with a subtle bang. The song functions as a sequel to "Stan" from "The Marshall Mathers LP" in the perspective of Stan's little brother, Mitchell, who is seeking revenge for his brother's death. It is this sort of inventiveness and creative execution that fans of Eminem    have missed.
"Rhyme or Reason" features Eminem departing from the harsh verses for a lighter, toned song which executive producer, famed Rick Rubin, samples the hit song, "Time of the Season," by The Zombies. Rick Rubin's influence grows more apparent on "Legacy" and "Bezerk," the lead single, as Eminem raps over beats that are reminiscent of The Beastie Boys. Both songs manage to hold listener's attention while succeeding in mixing in a raw, yet refined sound to the album.
Eminem restates his claim as a higher-being in rap with third single, "Rap God." The song features six minutes of Eminem's frantic and highpaced lyricism to a techno beat which stands out as the strongest raw rap track on the album. After this song, Eminem's attempts to emulate the ghosts of his past with "Brainless." This song comes off flat and sets the album into lull. "The Monster" falls in line with this slowdown, though it features Rihanna and gives listeners hope for another smash collaboration like "Love The Way You Lie." In reality, the song fails to add any depth to the album and seems destined for a top 40 radio station.
Rick Rubin's touch can be found once again toward the end of the album and serves as saving grace. "So Far…" uses Joe Walsh's song "Life's Been Good," and follows Eminem through a rant about annoyances with being a celebrity and his past. The next track, also produced by Rubin, brings Eminem and Kendrick Lamar on a catchy beat influenced by an oldies sample. This song brings out both rappers' energetic and eclectic styles and gives a glimpse of the benefits both artists will receive with Lamar's signing to Eminem's label, Shady Records.
"Headlights," the album's penultimate, features Nate Ruess, (Fun). This song sticks out as the most emotionally provocative and overall best  of the album. Eminem sends a heartfelt thank you and "I'm sorry" to his mother, who has been the constant topic of many of his songs over the years.
Without abusing the listeners' attempts at his old glory, Eminem manages to put together a strong album. With a large amount of credit due to Rick Rubin, Eminem flexes some versatility while still showing, without much conviction, why he is one of rap's best MC's.