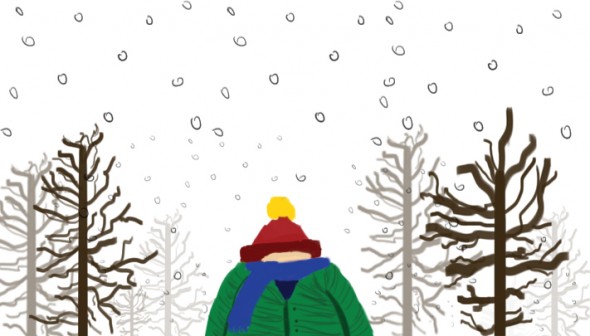 If you're new to Oswego, you've probably heard a few well-intended warnings about the coming winter. Now that it's beginning, you may worry that it will actually live up to all the hype. I've now survived 20 of them, and I've learned a few things along the way.
First, the obvious stuff. Dress warm. I don't mean NYC-warm. I mean marshmallow man warm. The next time your parents visit, show them this article before you go shopping, and return with winter gear. Don't forget serious gloves, a hat, wool socks, and boots that handle icy snow, and jackets that are a size too big for all the layers you'll be wearing. At Oswego State, winter is a time when function trumps fashion. There are only a few days when you will need all this to move between campus buildings. The main reason to invest in proper winter gear is to be able to comfortably spend long stretches of time outside.
You see, your instinct will be to shut yourself into your warm room/apartment. It's quite natural, but also a recipe for going stir-crazy. You can't stop being active just because it's winter. If you haven't been using the gym on campus, winter is the time to start. You may also want to explore the many nearby opportunities for cross-country skiing. Even trudging through the snow and shoveling your driveway can be fun and therapeutic, but only if you're wearing gear in which you're cozy.
If you commute to campus, you should know that Oswego State often refuses to announce class cancellations until the very last minute, at which point you may be stuck in traffic and buried in snow. If you have far to drive, there might be a day or two when the trip just isn't worth it. You'll get used to seeing cars that are unable to make it up an icy hill, or stuck pathetically in various roadside ditches. Avoiding their fate requires using good judgment and getting snow tires.
If you live in an apartment where you don't control the heat, get an electric blanket and a hot water bottle. If you want to rent a place in the future, look for an apartment with heat and hot water included in the monthly rent. There are few things more luxurious during an Oswego winter than a thermostat and shower temperatures that are adjustable at no additional cost to you.
It's not as difficult as you think to get ready for the lake-effect snow and wind. It can even be fun. With a thick layer of fresh snow, Oswego transforms from drab to magical. But the real dark side of the lake effect is the darkness it brings. For the next four months, most of our days will be spent under a menacing layer of thick clouds. That, together with the early sunsets and a preference for staying indoors, is a perfect recipe for Seasonal Affective Disorder (SAD). You might not notice it sapping your energy and enthusiasm, but over months, the effects can add up.
If you suspect that the winter darkness is getting to you, The Mayo Clinic reports that 50-80 percent of SAD symptom sufferers claim to fully recover after exposing themselves to light from a full spectrum bulb like a light box, with open eyes for 30 minutes each day. Regular exercise and activity will also help a lot with symptoms. Don't succumb to the temptation to hibernate and hide out. Over time, that will break your spirit and destroy your productivity. Keep doing stuff with friends, stay active, and find something fun to do with all the snow that will soon blanket Oswego.
The most miserably cold winter in my memory wasn't the one that hit the lowest temperatures, or even the one that had the most snow. It was the one for which I didn't heed my own advice. If you follow these tips, winter won't be so bad.