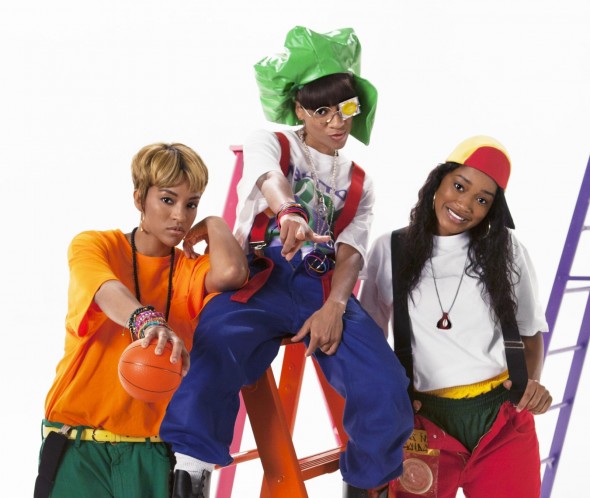 After watching the biopic "CrazySexyCool: The TLC Story," one might think it would actually be a curse to have been born a stunning, driven, talented black girl with big dreams. The movie revealed how the industry tore up a group of girls with the best intentions; girls who were just aiming for success. Although their dreams came true, it wasn't without the consequences of having awful self-confidence, relationship troubles, unwanted pregnancy and a lack of control in their own finances and lives.
The actors did an excellent job portraying the sisterhood that grew between the girls. Keke Palmer ("Joyful Noise") portrayed Rozanda 'Chilli' Thomas, Drew Sidora ("Step Up") played Tionne 'T-Boz' Watkins and Lil Mama (TV's "Randy Jackson Presents America's Best Dance Crew") played Lisa 'Left Eye' Lopes.  The artistic expression of each girl was an excellent portrayal of the real artists. While this movie was not quite a documentary, it was extremely revealing of the lives these girls lived. They each truly had a dream, believed in it (the most important part, if you would ask them), and made it happen.
These girls faced a struggle that no woman should have to face.  Rozanda was involved in an emotionally unstable relationship with her producer, Dallas Austin. She was a smart and talented girl who got pushed around by Dallas for too long. He impregnated her twice, but he still continued to see other women behind Rozanda's back.  In fact, he even impregnated a different woman later on in the relationship. Still, Rozanda took him back after. He promised to be faithful to her after she bore his child. He even offered her marriage, but Rozanda finally stood up for herself and found the strength to walk away.
Lisa also got involved with a man that was no good for her. From the first instance, basketball player, Andre Rison (Rico Ball, "Space Warriors"), is introduced to viewers, we know he is bad news. He is dressed to look like a pimp and runs after Lisa out of the club. He grabs her arm, which is alarming, and when she tells him she is not going home with him, he picks her up in his arms and propositions her by offering her "anything she wants." Unfortunately, to Lisa, this offer sounds good because, as a girl who grew up in a rugged neighborhood, she is still not used to having expensive things.
Watching the girls sign a managing contract with Perri 'Pebbles' Reid was hard because she would soon force them into bankruptcy. Somehow they continue to find success with no pay.  The location of these girl's parents was never made clear throughout the movie. There was no one there to protect them from the hardships of show business. Yes, we see the mothers at various different parts; dropping their daughters off for rehearsals or staying in the hospital when their child was sick, but did they oversee their success at all?
In one of the last scenes of the movie, we learn of Lisa's death. Lisa was the "crazy" in the CrazySexyCool equation. She struggled with her relationship and often relied on alcohol. In the movie, Rozanda finds out that Lisa has died in a car accident via telephone. In one of the last scenes, Lisa finds herself on a tropical island. She talks about being at peace and living in the jungle, just like she had always wanted to, as she looks out at the waterfall before her. The camera focuses on the waterfall for an extended length of time. This could perhaps indicate that Lisa actually committed suicide by jumping into the waterfall, and that the car accident was just a way to hide this. Perhaps this movie was made to suggest Lisa's death was not simply caused by a car accident. The movie spent almost no time dwelling on her death, however it ends shortly after Lisa passes. The movie did come to a full circle, however, in an epilogue-type scene where Rozanda and Tionne meet up ten years later in the studio to record more music, providing a sweet end to the movie.
Watching "CrazySexyCool" was time well spent. There is fantastic music that brings back warm memories of this big-time group, an insight on what it's like to make albums and work for a record label, and the bumpy ride it takes to bring ideas to life.  It really delves into the creativity it takes for artists to make their visions realities. These three had a vision of creativity, fun and female empowerment and they did everything they could to bring good messages and music to their adoring fans.