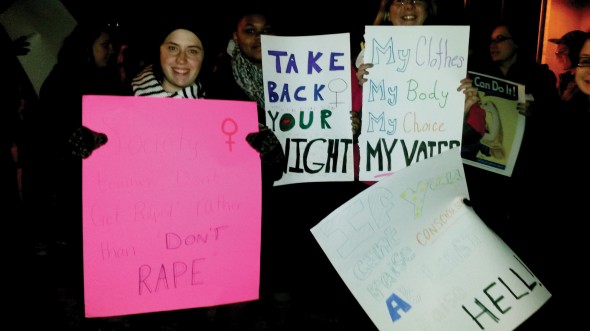 Carrying signs and chanting, Oswego State students assembled and marched from Hewitt Union Tuesday night to demonstrate their support for a significant cause – putting an end to sexual violence.
This event, held by the Women's Center on campus, gathered students to march for a cause that they were passionate about. It was made clear that not only were they there in protest of sexual violence, but to serve as a voice to the many voiceless victims of sexual assault.
There was a feeling of family as the women, one by one, approached the podium with words of support and encouragement for anyone who felt they needed a safe haven to voice their experiences regarding any form of sexual violence. The word "anyone" was stressed, as co-president of the Women's Center Victoria Brodeur explicitly stated that the Women's Center is for everyone, not just women.
Brodeur, an anthropology major and senior, decided to join the Women's Center during her freshman year after attending previous 'Take Back the Night' events, and also had friends who were victims of sexual violence.
She described her decision to join the committee as a personal one.
"Sexual assault is something that's not talked about in a safe setting … People just aren't aware of the resources," Brodeur said.
Junior Public Relations representative Kendi Kajogo expressed her frustrations with the stigma attached to sexual violence.
"Women should be able to wear what they want and still feel comfortable walking the streets alone… women are promoted not to dress promiscuously when society should be promoting stopping sexual violence against them," said Kajogo. "It's important to raise awareness. Sexual assault can happen to anyone at any point and events like 'Take Back the Night' give an outlet to reach out and talk about it."
One student chose to share a poem in which she described in detail the molestation she endured during her childhood by a person closer to her. She spoke intensely, as she said how this person "used her to please him every night" and her confusion about whether what was going on was indeed right or wrong. There was a solemn moment of silence as she finished her poem and a strong applause ensued as she read the last line, with advice for all to not turn a blind eye to sexual assault. She also expressed her distaste for the ineffective habit of throwing victims around the judicial system. She ended her speech by quoting Dumbledore, a famous headmaster character for Hogwarts School of Witchcraft and Wizardry from the "Harry Potter" book series: "Happiness can be found even in the darkest of hours."
The Women's Center's board members informed the crowd that there are many resources available on the Oswego State campus, including the Counseling Services Center located in the Mary Walker Health Center. They stressed that the Women's Center is also a safe haven for people to share their personal stories and ensured that no further action would be taken unless the person decides to seek it.
"We have the power / We have the right / The streets are ours / Take Back the Night," students and faculty chanted as they marched into nightfall.
For further information, contact the Counseling Center at 315-312-4416 or email the Women's Center at Womenscenteroswego@gmail.com