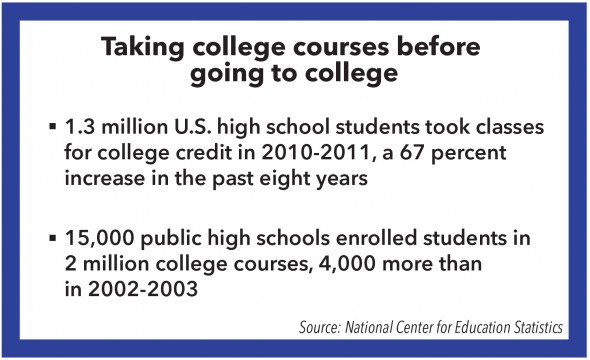 On Monday, seniors will being to register for spring classes, followed by juniors, sophomores and, later, freshmen. The current system considers the number of credits a student has to determine their registration time. Many students in the same academic year may register long before their peers, which is sometimes the result of bringing in college credits they obtained through high school.
The National Center for Education Statistics released a report in March saying that about 1.3 million U.S. high school students took classes for college credit during the 2010-2011 school year, a 67 percent increase in the last eight years. In addition, almost 15,000 public high schools enrolled students in 2 million college courses, 4,000 more than in 2002-2003.
When a high school student is admitted to Oswego State, confirming if they took any college credits while in school is done early on by the admissions office so they can set up a student's schedule for their freshman fall semester.
"For incoming students, we do them by request at the point of admission, or automatically after a student deposits," said Dan Griffin, interim director of admissions. "The turn around time is usually a week or two, but often we are at the mercy of the sending institution, as we only determine transfer credit based on official transcripts."
A lack of college credits upon entering college can result in failing to get into certain classes, some of which may be prerequisites for other classes in students' majors, which might make them fall behind. Courtney Lindon began at Oswego State in the fall of 2011, but had enough credits already to classify herself as a sophomore. At Romulus High School in Seneca County, she took college level courses in psychology, sociology, physics, geology, Spanish, calculus and two courses of American history.
"I think it is fair that students with more credits register earlier," Lindon said. "Getting into classes is much easier the earlier you are able to register, and with more credits comes less time to complete your degree. From my experience as well, students with no high school credits are rarely held back from completing their degree on time simply because they couldn't get into their classes. If they are unable to register for a class they need, they often can take it another semester without pushing back their graduation."
Where Lindon had an advantage getting ahead in college and eliminated a number of general education credits doing it, there are a number of high schools that offer less or no college credit courses for their students. Remington Fiscus, a freshman, went to Red Creek Jr. Sr. High School in Cayuga County, which offers little college credit courses. She took English, Spanish and geology.
"I think schools are doing what they're capable of with the budgets they have and the resources available," Fiscus said. "Red Creek was lucky to have its selection, and the college we worked with was not the friendliest either. And yeah, there is a marked advantage for those who can and do take more, even if it's looking better on college applications in the first place."
Some people claim that bigger schools have the upper hand when it comes to advanced courses because they usually offer more. It seems that geography can play a role in determining college success, which is a concern for people. This may be an unfair circumstance for high school students who will become college students.
"I don't know about fair or not, it is the way of the world I suppose," Griffin said. "For instance, the wealthier district that offers lots of extracurricular opportunities versus the poorer district that offers few."
Lindon also pointed out that she graduated with a class of 30 students so school size or wealth may not be the biggest factors all of the time.
"It is unfortunate that some students do not have the opportunities to take college courses in high school," Lindon said. "However, I've never heard anyone say this held them up in registration. If anything, I believe the real disadvantage lies in the flexibility of their schedule during college. For example, if a student has taken courses in high school and fails a course in college, they will likely be able to retake it without worrying about the credit requirements. However, a student who has not been able to take courses in high school who fails a course in college may need to retake it over the summer or winter break because of overload policies and required credits for graduation. The effects on registration in college are very minor."
This unequal distribution raises the question whether or not schools should require college credit courses or not.
"Requiring college courses to be taken in high school erodes the very line between high school and college, for better or worse," Fiscus said. "Schools should be required to offer, just to give everyone a foot to stand on if they so choose. And it is important to remember that even in my high school setting, college courses cost money."
Lindon said that requiring students to take college credit courses in high school is unreasonable because there are many students that do not go to college and takes them away from other alternatives.
"Programs like BOCES allow these students specialized skills that can benefit them and give them an edge in the workforce directly out of high school," Lindon said. "Mandating students to take AP courses would not only make these programs difficult to attend, but would emphasize the dangerous idea that academic intelligence is of more worth than other types of knowledge, which I believe to be false and damaging to students who do not 'measure up' in that respect."