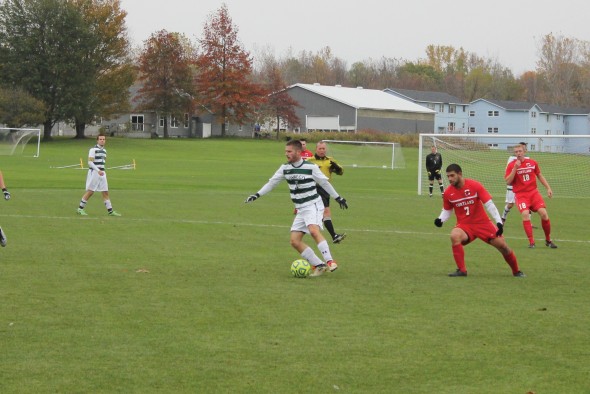 Oswego State men's soccer started out with a game that would come to epitomize the team's season: a tight game that just did not go its way.
The Lakers tied Houghton in their season and home-opener and would go on to finish in last place at the Oswego State men's soccer tournament after falling to Alfred University the next day, 1-0.
The Alfred loss was the first of a season-high eight-game losing streak. The streak was filled with closely-contested matches though. Oswego State lost five of the eight contests by one goal and seven of the eight by two or less.
The Lakers had a lead in half of these games, but could not secure a victory, a struggle which sophomore Patrick Sprague saw as a major problem.
"We have to put the ball in the back of the net, no matter what it looks like. No matter how we get it, we have to start putting the balls in the back of the net because one goal a game isn't going to cut it," Sprague said.
"We're not going to win enough games scoring one goal. So, we have to work on our finishing and composure in the final third. The goals will start coming when we all start getting confidence because not a lot of us had confidence with no wins and not a lot of goals. Once it starts coming, goals will start flowing and everything will come together."
The squad took three of its games to at least one overtime period, but only grabbed the tie in the season-opener versus Houghton.
To break the losing streak, Oswego State finished off its second tie of the season against SUNY Potsdam in their third double overtime game of the season.
Naab said the overtime games put a strain on the team.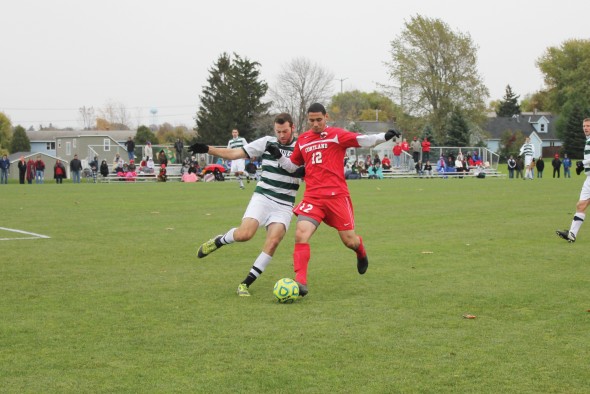 "We almost had nine overtime games and that's something that puts a drain on you physically but mentally as well," Naab said.
The Lakers started to turn the corner after their game against Potsdam. Including that game, Oswego State recorded four ties in its final six matches to grab all four of its conference points.
The perseverance of the club was something senior captain Brendan Beisner felt should be commented.
"We had a good season. I don't think any other team could've come back from how we started," Beisner said. "We were mentally tough. Even though we didn't get a win, it was a very exciting season, one that I'll never forget."
Among the games that defined the character of the squad was its clash at Laker Field on Oct. 18 against The College at Brockport, a team that was nationally-ranked in the top-25 just a few weeks before it journeyed to Oswego State to play the Lakers.
Beisner mentioned what such a performance said about his team.
"We got a tie against Brockport, who were ranked in the nation at one point," Beisner said. "Overall this was a successful season for me and the team too."
The 2013 season could have played out quite differently if a few of the ties Oswego State strung together down the stretch had gone its way.
Going into Breast Cancer Awareness Weekend against Brockport and SUNY Geneseo, the Lakers needed, at worst, a tie and a win to stay in postseason contention on Senior Day last weekend. Oswego State played to a draw in both games.
Bad luck was a common theme among the players for why their season ended without a bid to play in the 2013 SUNYAC tournament.
"We were positive all the way through, even when we were getting bad results," senior J.J. McLoughlin said. "We were in every game except for two, Oneonta and this game. For 50 percent of our games we went to overtime and we just couldn't sneak one of those out. If we sneak one or two out it would be a different season."
"We had five ties. If any of those were wins, we're making the playoffs right now," senior Ryan Tibbetts said.
However, even though the season ended last Saturday, the clock is already ticking down to the 2014 season.
In 10 months, the returning 25 players, along with new recruits, will be back on the pitch preparing to start a new chapter of Laker soccer. Junior Zack Saccocio knows the importance of starting to work now.
"Tomorrow, the offseason starts and we realize there's a lot of things we can do better," Saccocio said. "That's almost a good thing. There's areas we can improve on. We're all hungry to make sure we can use this as a learning curve to get better."
Saccocio's fellow junior Mike Fuss understands that the team needs to recognize what must be worked on in order to compete next year.
One of the most important needs is goal scoring. The Lakers recorded just 11 goals in 2013, seven of which coming from outgoing seniors.
"One of the biggest focuses is continuously off the field, working out, getting bigger and in training sessions learning how to knock the ball around a little better," Fuss said. "Also, someone really needs to step up, a goal scorer."
Freshman Paul Kwoyelo felt his year sitting behind Naab helped him plan how to contribute to the offense in 2014.
"I think from sitting on the bench and seeing a senior start in front of me, I learned a lot from watching him play," Kwoyelo said. "Next year, I'll step up in my game and try to play as hard as I can every time I step out there, hopefully something great will come out of it."
On the other side of the pitch, Oswego State strengthened its defensive play in the second half of the season.
The ability of the freshman goalie Jon Runge and sophomore net-minder Todd Lawson to work with the back four was crucial to the number of ties in the season's latter games.
Next season, Oswego State will return their center backs, juniors Eric Widanka and Jim Manton, in addition to freshmen fullbacks Josh Yager and sophomore Andrew Mayrick. The fullbacks will step in for outgoing seniors McLoughlin and Eddie Silvestro.
The soon-to-be senior center backs are ready to work hard and are optimistic for their final season at Oswego State.
"I'm looking for us to win the hard tackles," Widanka said. "Defense has to win the balls they're not suppose to win. We have to win every header and not let anybody get past without getting a bump on them. Let in the least amount of goals as possible. We had a big freshmen class and there's only improvement from there. I'm excited for next year."
"I think we just have to be more solid throughout the year, be more consistent," Manton said. "I think we have that with the depth we have on our team. We're going to have a lot of seniors starting next year, especially on defense and I'm excited for that."
Shifting to the guys who will stand in the box behind the defensive line, the goalies for Oswego State were both new to the school this season but feel their experience was beneficial.
"I think starting nine games this year, I just took a lot of experience out of it, getting use to the style of play in college and using that to move forward," Runge said.
Lawson believes the duo will take the experience into the offseason and put in the hard work to improve.
"We're going to try to get all the offseason workout in very, very hard," Lawson said. "We're going to get touches on the ball over the season, get the group together as a whole and build team chemistry."
The determination and poise of the returning players will be crucial, as Oswego State will look to have its first winning season since 2006.
The SUNYAC was a strong conference in 2013 and the top teams will be returning pieces, meaning the Lakers will need to work hard to earn a top six spot next fall.
Naab said he is confident that the returning players are set to make some noise next season.
"The only way they can go is up," Naab said. "I have a lot of faith in these guys. They've battled alongside us in practice everyday. They've showed me a few things in practice as the season went on. I'm sure me and my fellow seniors have shown them a few things."
Head coach Robert Friske thinks his squad is on the cusp of becoming a legitimate contender in 2014, not just for a postseason berth, but for the title as well.
"Our performances this year were better than last year, but our record wasn't," Friske said. "As we move on our performances will combine themselves with wins and this will quickly become one of the better teams around."