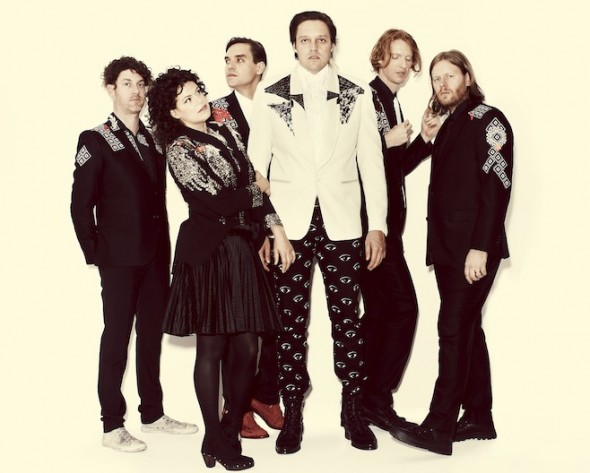 How do you top a Grammy Award-winning opus like "The Suburbs?" Canadian musical collective Arcade Fire has attempted to do just that with their genre-bending, border-smashing fourth album "Reflektor," a record completely unlike their previous works. While still displaying an eye for Byzantine production value, the band produces a kind of musical iconoclasm that's still surprisingly danceable.
The shift in tone and rhythm can be traced back to two factors: lead vocalist/songwriter Win Butler soaking up Haitian culture and music when visiting recently with his wife, and band member, Régine Chassagne and the presence of former LCD Soundsystem frontman James Murphy as the album's executive producer.
Murphy's projects have often served as the benchmark for what independent artists can do and understandably, many musicians call upon him as an influence. Arcade Fire, however, was the antithesis to Murphy's school of New York art rock.
This new influence leads into the album's defining feature, which is the complete lack of a defining feature. This is not necessarily an absolute negative. People expected another concept album in the vein of "The Suburbs," and, to be fair, Butler tries to marry his lyrics to his obsession with the film "Black Orpheus" and the writings of Kierkegaard, but there isn't any overlying message waiting to be readily discovered at the heart of Reflektor as there was with "The Suburbs."
Like "The Suburbs," the album starts off with a bang, with the eponymous title track opening as one of the strongest on the album, radiating pure David Byrne-esque swagger with disco-tinged bass lines, sweet French nothings in the lyrics, and an echo chamber chorus. "We Exist" has a faux-Billy Jean bass line and the beginning of a harder guitar sound that we see pervading the rest of the album.
"Flashbulb Eyes" is a song ostensibly about being in the public eye, but the whole song is a tiresome collision of sounds that just hit the ear wrong. "Here Comes The Night Time" is probably the best example of the Caribbean influence on the album, with an adorably twee schoolyard hook and reggae stylings felt throughout the track. "Normal Person" isn't a bad song, but it's more perplexing in that it almost feels like a step back for the group; its guitar hooks and chorus are filled with an early 90's brand of alt-rock pathos reminiscent of Pavement or The Breeders. Rounding off the first LP is "Joan of Arc," which sounds like Arcade Fire doing a kind of backwards cover of Kanye West's "Black Skinhead" sans the angst.
"Porno" on the second LP, stands out because it is such a radical departure for Arcade Fire as well as Murphy's presence as a producer is most immediately felt. Its sounds are cold, distant, entirely electronic and jarring for devoted listeners of Arcade Fire. The second contender for best track on the album is "Afterlife", which is probably the strongest proof of the magic that can happen when you get Arcade Fire and James Murphy in a recording studio. It's a wonderful marriage of Arcade Fire's wonderful ear for vocal harmonies and Murphy's fastidious attention to detail and depth in his music.
"Reflektor" is by no means a bad album; it's just sonically too big for its own good. It suffers from a kind of identity crisis, not entirely knowing where it belonged or where it was going. If Arcade Fire shrank the size of their canvas, as it were, and made a smaller, more focused album, we would have gotten something a little less frenetic and ephemeral.