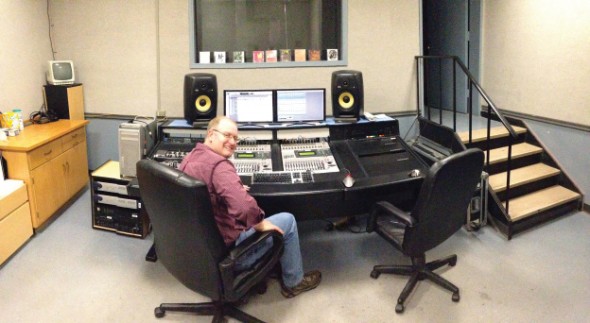 Deep in the basement of Tyler Hall rests a room that few who go to Oswego State know about, let alone get to see. In a dark and obscure corner lies a recording studio, only open to a few people who hold the knowledge to operate it.
There is only one man who holds all the keys. Protecting what he has worked so hard to build, Dan Wood, the coordinator of the audio design and production minor at Oswego State, keeps tight lipped about his prior career, where he worked alongside some of the biggest recording artists in the world.
"I walked in the room, and it was Chuck D [of Public Enemy], Branford Marsalis and Spike Lee sitting in the control room," Wood said. "They were working on the music for 'Do The Right Thing.'"
Despite his unassuming demeanor and modesty when speaking of himself, Wood has worked at the highest level of professional audio, working with acts such as Madonna, Sonic Youth and Public Enemy to name a few.
Wood teaches Oswego State students the art of recording and mixing music, but he did not always want to be a professor, or even an audio engineer.
Like many of the students he teaches today, Wood had no prior knowledge of recording technology prior to attending SUNY Fredonia, where he received his bachelors of science in sound recording technology.
"I was always into music as a kid in high school, and I started playing trumpet and that was actually what I liked most about school," Wood said. "I got As and Bs without really struggling too much, but I didn't really like it. It wasn't what I was passionate about."
With his senior year coming to a close, Wood knew that he was good at playing the trumpet, but knew he would not make a living doing it. With little career guidance, he had to make a decision about what he was going to do with his future.
"I was thinking that I've gotta figure out what I want to do, and I figured I might as well do something I enjoyed," Wood said. "I wasn't going to be a professional trumpeter, and I still wanted to be around music. So I had this idea that, since I was pretty good at math and science, maybe I'd be good at the technical side of music."
Figuring that college was the only option he had to learn the tools of the trade, Wood secretly applied for college, despite his parents' expectations.
"My family didn't go to college. My dad wanted me to get a job at Niagara Mohawk power company, and I would have been gainfully employed without having to go to college," Wood said. "That was their plan for me, and I kinda knew that, so I did the undercover school application thing on my own."
There were not a lot of college audio programs at that time, and the few that existed were highly competitive. The technology was still far too expensive and space consuming to be as consumer friendly as it is today.
Wood applied to every audio program he could, including one at the University of Miami, home to one of the best audio programs in the nation.
He was accepted, and proposed the acceptance letter to his parents, only to find out that they had no money saved up for his college education. Making the best of the situation, Wood decided to attend SUNY Fredonia, which also had a renowned audio program. It was there that Wood got his first taste of professional audio.
After years of studying under Fredonia's extensive audio program, Wood had prepared himself for getting a job in the field, but the world of professional audio was something that outsiders did not have access to.
"There was no way to get into audio, in the analog days, the good old days," Wood said. "It was a very closed system, and there was no way to get into audio, until you got into audio."
Wood knew that if he was going to make his big break into audio, he would have to go to where music was happening and signed acts were recording. By chance, an old friend of his had lost a roommate in his New York City apartment, and gave Wood a call to see if he was interested.
"New York City is a really expensive place so, I had a place to stay, but I had no job and no way to pay rent," Wood said. "So when I moved down there, I wrote up a resume that was impeccable, went through the listing of all the recording studios in Manhattan, and sent about 200 resumes out."
Two weeks later, Wood heard nothing from the recording studios and his savings were winding down. With little to no options, Dan began calling anyone he knew from college that was in the city.
"I just hunted people down, and asked them if they knew of anything that was available, or if they could point me in some sort of direction," Wood said. "Some people were like, oh yeah I remember you, other people were like, I don't even know you."
Finally, by another stroke of luck, he called one of his friends who had just left Greene St. Recording, one of the most prominent studios in the city, on good terms.
"Sure enough, the same place that I had sent my resume, and the same place where I couldn't get passed the door," Wood said. "Once I met up with my friend, they let us right into the studio."
With an inside plug at a great studio, Wood was ready to get to work, but the opportunity did come with a caveat. Even though he was hired for his engineering knowledge, he was to start as the night manager, a position that involved little to no time making music.
After a few weeks, Wood was not sure if he was ever going to get a chance to get inside the studio and actually work with artists. Feeling like the position was never going to lead anywhere, he decided to quit and try and start somewhere else.
"I went in the morning after two weeks, and when I walked in he was on the phone, and looked at me and said he was just trying to reach me. I told him that I wanted to talk to him about something," Wood said. "But before I could finish he said, 'There's no time for that, I need you in studio A.'"
That would be the beginning of Wood's career.
His first project involved assistant engineering for the "Do The Right Thing" movie album, and afterward he went straight to working with Public Enemy on its "Fear of a Black Planet" album. By the time the album was wrapping up, Wood started getting more responsibility and started moving up the professional ladder.
"After I went through that experience, The Bomb Squad, Public Enemy's producers, were very happy with working with me, and wanted to work with me every time they came to Greene St. I was still a staff engineer at that point," Wood said. "There was a point where they couldn't get in and they wanted me to work with them in other studios, so I made the transition to a freelance engineer."
As a freelance engineer in New York City, Wood worked at numerous studios with numerous artists such as Ice Cube, A Tribe Called Quest, Paula Abdul, Sonic Youth, RUN DMC, Red Hot Chili Peppers, Queen and Bruce Springsteen.
"Then one day I was home, and I was never home, and my phone rang. I picked it up and there was this guy with a crazy French accent who wanted me to go to Marseilles [France] and make my record," Wood said. "It was so ridiculous at that point that I thought it was one of my friends, messing with me, so I kept asking him these ridiculous questions, but the accent never went away."
The call would eventually take him to France to work with one of the country's pioneering hip-hop groups, IAM.
"At that point, hip-hop had went from the thing I really enjoyed doing, like Public Enemy to some of the more gangster stuff, which I didn't really feel a need to be a part of, and was getting dangerous quite frankly," Wood said. "So I said heck yeah, I know nothing about France, I know no French at all, and I don't know where Marseilles is on a map, but I can probably slide out of New York for a bit."
Wood ended up spending the next four years of his career working between Paris, Marseilles, Naples and Capri.
"In New York, they paid me really good. I had an apartment in Manhattan, and I wasn't struggling," Wood said. "When I got to France it was even better."
Dan would work with the band on its next few projects, which all went platinum, before thinking about returning to America. Staying in France was not something that he wanted to do, and his career overseas had taken him off of the radar as far as popular music in America.
"The lifestyle was also starting to get to me," Wood said. "I can't tell you how many times I've been in the studio for 24 hours straight. That's the usual, go in the studio for and work for 24 hours."
Still in his mid-30s, it was getting harder for Dan to spring back from the grueling hours. Even though he was more than financially stable and partied with celebrities, he missed having a life.
In another odd string of events, while he was back in Central New York visiting his family, he was looking through the classified section and found a position available at Oswego State.
"I wanted to move back to Central New York, so I said 'I don't know what this is but I'll try it and see what happens," Wood said. "I got an interview, got the job, and thought about not accepting.'"
Wood was familiar with college-level audio programs, but there was no audio program at Oswego State. There were no audio courses, no audio students and the recording studio on campus at the time was dated by 20 years.
Over the next few years Wood paved the way for audio at Oswego State. He created the foundation for the curriculum that is still used today and built the studio into a modern recording studio on par with professional studios. In the process, Wood earned his master's degree in vocational technical education.
In recent years, he has been involved in a project that brings a simpler version of this curriculum to middle school and elementary school students. Working with Paula Myers, a local teacher who has worked at Oswego Middle School and currently works teaching elementary school students, their work garnered a lot of attention.
Aside from that, Wood has taken on the role of a mentor in many of his students' lives, not only academically, but also on a personal level.
Whether teaching students at a college level or working with elementary school students, Wood centers the learning on the individual in an earnest attempt to prepare him or her for the harsh job market that awaits them.
"The saying is something like, 'luck comes to those who are prepared.' I have been lucky, but I've also been prepared for any opportunity," Wood said. "And that's what I tell [my students]. I can't prepare them for exactly where they are going to land, everyone has their own paths, but I truly believe that most students who leave here, and have done what they're supposed to, are better prepared to land than I was."