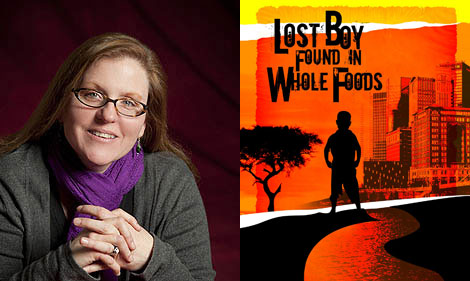 Playwright and teacher  Tammy Ryan was the latest visitor to Oswego State's Living Writers Series.  She said that she was excited to be speaking for the first time to a group of college students about where her work comes from.  In the talk, she stressed the importance of writers finding an artistic community to support them and being comfortable taking risks and possibly failing.
Ryan found her artistic community in her adopted home of Pittsburgh. The city is not the first name that comes to mind when someone says "theater," but, to Ryan, it's the only place to be.  The "City of Bridges," or the "Paris of Appalachia," has the perfect confluence of universities, performance arts groups and patrons to create an environment Ryan described as a "culturally-saturated" nursery for aspiring playwrights.  There, she is closely associated with The REP, the professional theater company of Point Park University.
Her education as a writer started way before she went to Pittsburgh, back at her family home in Queens, where she grew up in a large, lively and "somewhat dysfunctional" Irish Catholic household.  The loud arguments, jokes and stories of the adults informed her on the intricacies of subtext, irony and comic-timing. This gifted her with a great love and aptitude for dialogue.  She said that good dialogue is not like prose, but rather like writing poetry, because sound and compacted meaning are most important.  She directly attributes her first play, "Pig," to the characters and dramas she grew up with.
Ryan discussed the deep impact motherhood had on her writing.  After her first child, a year-and-a-half out of graduate school, she was forced to manage time more preciously than ever, and became an early morning writer.  It was not just her schedule that changed, but her subject matter as well.  Ryan typically handles dark, unsettling subjects, but caring for a child made her want to inject some hope into her work.  She wrote about characters that survive their worst traumas, and try to move toward healing.  She also shifted to writing more women-centered stories.  In the world she grew up with, conflict and excitement revolved around the men of the family, and women were usually sidelined.  However, motherhood made her determined to show their strengths and struggles, through female-focused "war-stories."
War is a common backdrop for much of her work.  The story behind her play "The Music Lesson" came from the experiences of a Bosnian War refugee couple that became her neighbors in Pittsburgh.  Her latest piece, "Soldier's Heart," is about a deeply traumatized woman returning from her tour of duty in Iraq.
Students in the Living Writers class read her award-winning "Lost Boy Found in Whole Foods."  The play tells the story of a Sudanese refugee boy  working at a Whole Foods store in Pittsburgh, and the middle-class white woman who takes him into her life to try to help him.  Ryan was inspired to write the play after meeting several Sudanese refugees while participating in playback theater with a Catholic charity group.  The "Lost Boys" are survivors from a group of tens of thousands who walked 800 miles from their villages in Sudan to reach Kenya, and escape the civil war in their country.  About 3,600 of the Lost Boys, by then young men, were relocated to the United States in 2001.
Ryan hopes that audiences can relate to her characters and walk away from the theater knowing more about these tragic wars than they did before.
Ryan said nothing in her writing is really made up.  Details may change, but it is drawn from her life, all the settings and personalities she encounters.
"Stories are out there," Ryan said.  "They move in next door, or drop in your lap."
For her, being ready to listen for those stories is the key to success.