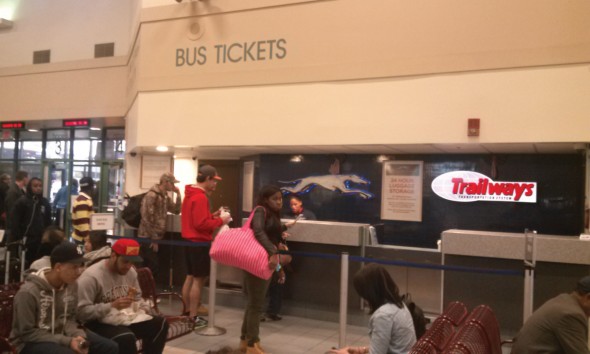 New York Trailways announced Saturday the commencement of a new bus service on Sunday nights from Syracuse to Oswego State.
Beginning Oct. 13, the bus will now run at 11:15 p.m. every Sunday until the end of the semester, directly from William F. Walsh Regional Transportation Center at Syracuse to Oswego State Campus Center. The latest bus run on Oct. 20 arrived at the Campus Center at 12:10 a.m.
This is a continuation of the service from New York City to Syracuse, according to the campus-wide email.
The express bus from New York Trailways provides an option for passage to Oswego State. Before the commencement, the last bus departing RTC to Oswego State on Sundays was at 6:50 p.m., which is provided by Centro Bus.
New York Trailways or Greyhound service users can have their last bus in New York City scheduled at 6 p.m. Previously, passengers had no choice but to leave New York City with their 11:30 a.m. buses to avoid missing the last Centro Bus.
Amtrak service users will have options as well. The last train available for the passenger in New York City now departs at 3:40 p.m., which left at 10:20 a.m. before the change.
Megabus service from New York City to Syracuse has also scheduled its last bus of the day to arrive at RTC by 10:30 p.m., which departs at 5 p.m.
With the options, students may now stay longer in New York City on Sundays and might not have trouble if they miss the last Centro bus.
"If you came by Amtrak or Trailways, you would have no way on Sunday night to get up to campus (before the bus service began)," said Michael Flaherty, general manager of Auxiliary Services. "This bus was designed to take care of those students." The change came following requests from students according to Flaherty.
The reason Oswego State chose New York Trailways was that they had a bus from New York City to RTC at the right time.
"It was natural that New York Trailways was willing to extend the route of the bus running up to Oswego," Flaherty said.
"Oswego State reached us," said Anne Noonan, vice president of Traffic & Marketing of New York Trailways. "They asked us to offer services for Oswego State students."
This bus service is the first contract between Oswego State and New York Trailways. Campuses served directly by New York Trailways included SUNY Albany, SUNY Delhi, SUNY New Paltz and Paul Smith's College before Oswego State joined as the fifth.
"This is a brand-new project for us." Noonan said.
Passengers can purchase the ticket at the RTC counter, runs 24-hours, for $11.25. New York Trailways determined the fare by using a mileage based rate, according to Noonan.
Students visiting New York City to see their family on weekends or to travel welcomed the decision.
"I'm glad that I can take another bus," said Roxanne Coleman, a sophomore majoring in journalism from Bronx, N.Y. "Even if I am charged extra fee, I don't care. If I have extra money coming back from home, I will take the new scheduled bus."
Cristiano Moraes, a junior exchange student from Brazil, planned a trip to New York City using the new routes.
"I'm planning on coming back on Sunday night," Moraes said. "All of my friends and I will take the (new scheduled) bus on our way back."
Some students had a different point of view.
"Maybe I will take the earlier bus," said Freya Chen, a senior exchange student from China who experienced a trip to New York City, "since I can prepare the journey and have energy to play if I come there earlier."
The service will be terminated on Dec. 8, according to the current plan.
"We want to see how many people took it this semester to see if it's cost-efficient," Flaherty said.
"We haven't set that yet because we want to see the level of interest," Noonan said. "We decided to set the plan until the end of December. Based on the result, we will make a plan in the spring semester."
Noonan added that if New York Trailways sees interest from Oswego State, they will consider running the second bus.