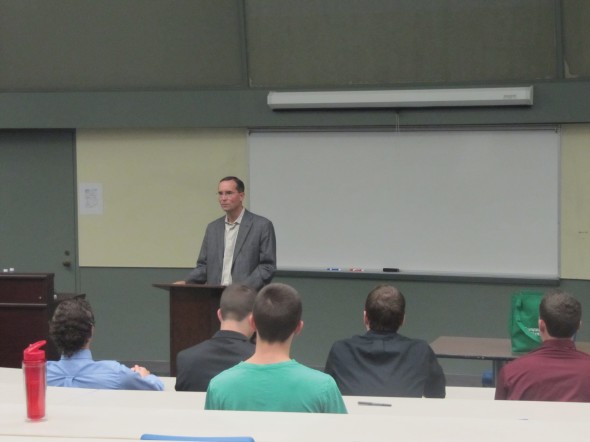 CEO of Community Bank System, Inc. and Oswego State alumnus Mark E. Tryniski visited a group of business students in Lanigan Hall on Wednesday evening to discuss career advice and job opportunities in the business field.
Tryniski, a native of Fulton, N.Y., graduated from Oswego State in 1985 with a B.S. degree in accounting. He spoke to the students on his career history and important aspects of what employers are looking for in graduated business students. He opened the discussion warmly with positive comments about how far Oswego State has come as a university and the hopeful future for its business students.
"This is a very good time to be a business major," said Tryniski. "There are a lot of opportunities."
Tryniski explained that though good grades and outreaching to alumni and programs are beneficial factors for employment, the true key to success is having genuinely good people skills in business. He went on to note that having social skills, working hard and treating everyone equally goes a long way and can make the difference in your career.
"It's the people that can work in teams, work with other people, work with customers, work internally across different functions to get things done productively, those are the people that are going to succeed," Tryniski said. "Success should be a team endeavor."
Dean Richard Skolnik of Oswego State's School of Business thought the meeting would be an educational success . He said that the meeting really helped define what business students should know about going into the job market and being a good leader.
"I think it was excellent," Skolnik said.  "I think it really was a great message in terms of working hard, being involved, treating people properly, all the necessary elements of leadership."
Finance major and treasurer of Oswego State's Financial Management Association, Alex Ross, thought that Tryniski's visit was both informative and an important event for the college's business community.
"I really liked what he said about how the banking business is really just a people business. And it's about how you treat the people," Ross said. "You gotta differentiate yourself somehow and Community Bank does it through being people-orientated."
No doubt, Tryniski's visit to the Oswego State campus was a useful and educational event for Oswego State's School of Business. The main points students learned was how being confident but humble and 'people-friendly' can go a long way in the job market.