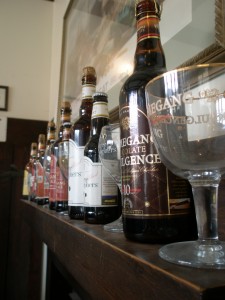 New York state has  been struck by the craft beer craze that has swept the nation. The state touts nationally-recognized breweries such as Brewery Ommegang in Cooperstown, Brooklyn Brewery in New York City and Southern Tier Brewery south of Buffalo, as well as endless smaller breweries spread throughout the state.
While Oswego does not currently feature its own brewery, the city still has a lot to offer beer drinkers looking for choices beyond Budweiser and Bud Light. Oswegonians with an appreciation for a well-brewed beer can seek out these local beer havens:
Bars:
The Raven: Featuring several drafts and a large and varied collection of bottles, The Raven certainly qualifies as a 'beer bar.'  The bar, located on Bridge Street between West Second Street and Third Street, features a rotating beer of the week that usually features a seasonal brew from a New York state brewery. The bar can get a little crowded on weekends, so those looking to sit at the bar and enjoy a beer should stop by on a weeknight.
Greene's Ale House:  While designed for sports, Greene's, located on Bridge Street across from Sub Shop, also features a great selection of brews, including local such as Adirondack and Southern Tier. Pair a brew with an appetizer or burger and sit back and enjoy whatever game is on.
Restaurants:
Red Sun: While known more around Oswego for it's delicious food, Red Sun, located on West First Street by Canal Commons, also has great selection of beers, each paired on the menu with its respective score from BeerAdvocate.com. Servers are knowledgeable and willing to answer any beer-related question. Red Sun also features samplers for those looking to try out more than a single beer.
To buy:
C's Farm Market and Beverage Center: Located on Route 104 across from Subway, C's is a literal beer warehouse. Carrying a range of beers that stretch from Germany to Syracuse, a curious beer drinker could stop by C's everyday for the rest of his or her life and never run out of new options. For those overwhelmed by the choices, C's also offers make-your-own six packs, which allow shoppers to pick out six different individuals beers to make a six pack, a great way to try out a wide variety of brews and see what fits best.
Take a trip:
For those interested in seeing how their beer is brewed, Oswego is within driving distance of several breweries and brewpubs. Syracuse is home to the Middle Ages Brewing Company and Empire Brewing Company. Downtown Rochester hosts the massive and historic Genesee Brew House, as well as the smaller CB Brewing Company in Honeoye Falls and Rohrbach Brewing Company just outside the city. Brewery Ommegang, one of the largest in the state, is a couple hours drive away in Cooperstown (be sure to stop by the Baseball Hall of Fame too).
 Think we missed something that deserves to be on this list? We'd love to know. Comment below or email info@oswegonian.com.