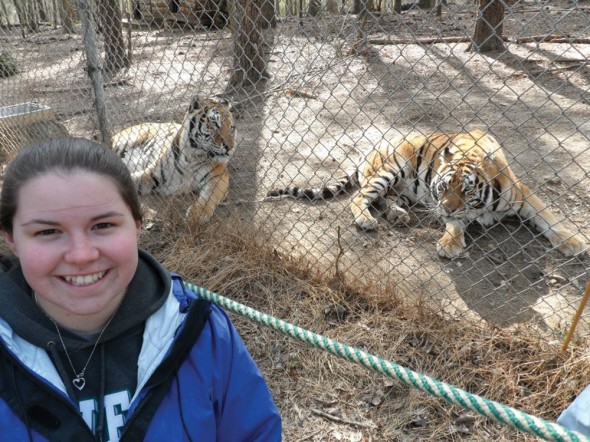 I am one of those people who, when watching a movie, cries whenever an animal dies and am stone-faced when a person dies. It does not matter what kind of animal, wild or domestic—when they die in real life or in a movie, I am upset. Just like people treat one another with respect, for the most part, we need to treat animals with respect.
Yes, we are the top of the food chain, but that does not give humans the right to do what they wish with this planet and its habitants. Many times, the animals that are hurt or poached are defenseless. We force these animals to live in hostile environments we create for them. It is ridiculous. No one has the right to take away the life, or harm the quality of life, of another living, breathing creature for a frivolous reason such as greed and desire to flex muscle. Humans, being thinking beings, should be able to understand this.
The most recent push in politics and the news against animal cruelty and poaching is in regards to the Kenya elephants. According to the Kenya Wildlife Service, over 200 elephants have been killed across the country for their ivory so far this year. Many political figures are speaking out against the crimes committed and the threat to African elephants, as they are pushed closer to extinction. Hillary Clinton, along with other global politicians, connect elephant poaching to terrorism, claiming terrorist groups fund their illegal operations                        from ivory trafficking.
While poaching is rampant in Africa, it is present all across the globe, along with animal cruelty. I urge you to speak out against it. Animals are being killed by the thousands across the world. I know there are always bad things going on in the world and crimes are always being committed, but this is no excuse. Animals are innocent and do not do anything other than try to live in this world. Whatever poor actions they may do, it is based on instinct, while humans, for the most part, base their poor actions on malicious intent.  As a human being, seeing my fellow human beings cause harm and make animal lives miserable and their own existence intolerable, I feel the need to do something, to negate from all the cruelty and provide animals with good, decent, human contact.
Take action and do something, whether on a small local front with domesticated animals or a larger national or global front with wildlife animals. There are so many ways you can get involved to stand up for those who cannot speak for themselves. There are many local places in Oswego where you can do some good, like the local animal shelter or Oswego County SPCA. Stop in and visit the Center for Service Learning and Community Service in The Point and see what they can do.
If you want to help out with wildlife, look into studying abroad or stop in the Compass. The Compass has a whole list of independent programs that offer international volunteer services. Last year, through the Compass' Alternative Spring Break program, I volunteered for a week at the Carolina Tiger Rescue. My experiences at the Carolina Tiger Rescue were one in a million. Not only do the animals benefit from your service, but you gain a lot in the process.
There are opportunities everywhere. Just open your eyes and take your time to look for them. Volunteering is not the only way to stand up and fight against animal cruelty. If politics is your thing, then become an advocate for animals. Contact your local politicians. Seek harsher penalties for animal cruelty and poaching. Whatever you do, just do something.