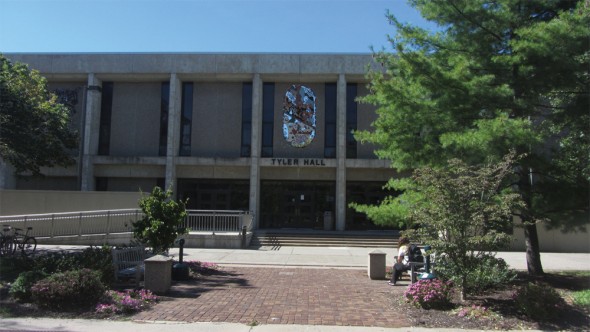 As a graphic design major, I've had my fair share of classes in Tyler Hall. I know the struggle of pulling all-nighters within its halls and trying to finish that one project that's due the next day.
I know of many others who could all say that Tyler Hall is their second home considering the amount of time they have spent there throughout the semester.
Tyler Hall is, without question, outdated facility-wise. While I am glad that it's finally having its reconstruction done this coming year, I can't help but feel discouraged at the same time. When I first came to visit Oswego State in Spring 2011, I spoke to some of the Art Department faculty, and even back then there was talk about renovations for both Tyler and the graphic design department. Finally, three years later, Tyler will be closed and under renovation.
As a Bachelor of Fine Arts student and as the current president of the Student Art Exhibition Committee, I can't help but feel slightly dismayed at the fact that the renovations will be taking place during my senior year.
One of the main aspects I was drawn to when applying to receive a BFA degree instead of a Bachelor of Arts degree was the fact that I would be able to produce and showcase my own exhibition in the Tyler Hall Galleries when I graduate. Preparing to set up my own show, figuring out the amount of studio space I had to work with and having that opening night were things I looked forward to doing within the space that Tyler Hall holds now.
In these past two years, I've been to every BFA Exhibition opening; and the looks on the students' faces while showcasing their work is something I've been looking forward to doing. Because of Tyler Hall going under renovations there currently is not a gallery space that has been finalized for where the shows will take place next year.
SAEC, which is an organization that helps the Tyler Hall Gallery Director choose, plan and help set-up exhibitions within the North and South Galleries, is still waiting to hear confirmation before it can figure out what spaces it has available to host these exhibitions and other shows.
One of the reasons I took on the presidency position of this organization was to understand and try to prepare myself for the BFA show while gaining the skills that only working in the galleries can teach me. Personally, this exhibition holds more value to me then even walking at graduation, and I feel other art students will agree with me.
Despite our current situation, I still believe that the BFA shows held both in December and in May can still be a major success. I plan to do all that I can to help those students showcasing their work in the next year have their show be as successful as it would be if not in the Tyler Hall Galleries. Currently we are looking into other buildings that may be possible to use with the galleries out of commission.
Regardless of where the show will take place, I know that the students' work that will be in the BFA show will amaze all who go to see it.