With some chalk and a little bit of elbow grease, students blanketed the Tyler Hall wall on campus with a variety of challenged and banned book covers. While some may feel censorship is becoming a thing of the past, Amy Bartell, Art Professor at Oswego State, is not ready to give up the fight.
"Bringing to light the issue of censorship and banned books help people know this is still an active issue," Bartell said.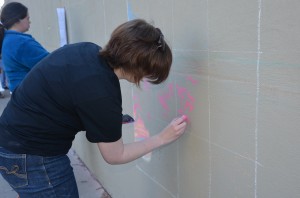 Banned Books Week is an annual celebration of the freedom to read that is supported by libraries and bookstores across the country. The event draws attention to censorship of thousands of book titles that have been challenged; 464 reported challenges to the Office of Intellectual Freedom in 2012 alone. Some of the books that have been challenged or banned across the country are the "Captain Underpants" series, the "Harry Potter" series, and older titles like "The Giver" and "To Kill a Mockingbird."
Alexis Froio, an Oswego Art student feels a book should not be banned for its content when it deals with real life issues.
"Some of the things that are censored are just not that bad honestly," Froio said. "They are things that we have to deal with in our lives so why can't we address them in books?"
Bartell's goal is to continue building awareness of books that are being challenged and banned.
"The issue of censorship is not past tense, it's current," Bartell said. "We need to stay alert to the forces of censorship in our culture."
The art department will continue the movement with their production of "Fahrenheit 451" in mid October.