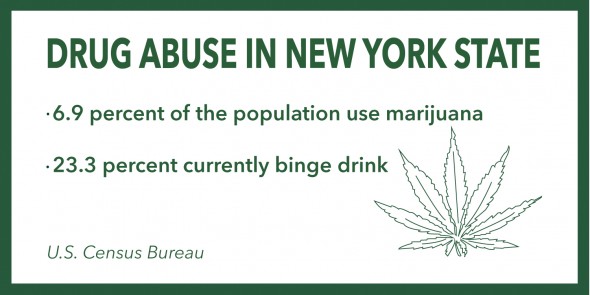 According to the annual crime reports for Oswego State, the amount of incidents on campus involving drug possession/abuse has neither increased nor decreased. But, with this stabilization in the trend, along with a crackdown on drug abuse and distribution in the city of Oswego, something beyond judicial action has to be done to chip away at the issue.
Marijuana and binge consumption of alcohol continue to be the leading substances abused by people under 24. In New York State, 6.9 percent of the population currently uses marijuana, and 23.3 percent currently binge drink.
In the 18-25 age group, more than 50 percent of the U.S. population has tried marijuana, and nearly 17 percent currently use it. On the other hand more than 41 percent of the age group consume alcohol on a regular basis, according to Census data.
This means that a majority of the nation's substance abusers are around the age of an average Oswego State student.
A recent poll by College Prowler, a website that reviews colleges based on what student's write, asked Oswego State students what substances they think are used the most on campus. Alcohol remained the most popular, with marijuana running a close second.
The newest problems authorities have to deal with on campus are prescription pills, closing in, according to the poll, as the third most popular recreational drug.
"Most of our students are very responsible; in the grand scheme of things its not a huge problem on campus," said University Police Chief John Rossi. "We're disturbed a little by the increase use of prescription pills that our students are obtaining illegally."
Rossi's concerns, along with the poll, which seemingly confirms prescription pill use becoming more prevalent, point at a very real increase in use of drugs like Xanax and Adderall, better known as "the study drug."
These "uppers" or stimulants are synthetic chemicals that work a lot like natural chemicals in the brain that boost alertness, attention and energy.
The down side is that your body produces these natural chemicals on its own, and taking an artificial substitute can disrupt your brain's production of the real thing.
With consistent use of alcohol and marijuana throughout the years, and an increase in prescription drug abuse, Oswego State's Lifestyles Center is working hand in hand with The County of Oswego Council on Alcoholism & Addictions to make it easier for those who need help to find it, even if they aren't looking for it.
Typically, what brings students to the Lifestyles Center for a drug or alcohol problem isn't free will, but a requirement enforced by the school on anyone who violates on its zero-tolerance policy.
A first time offender is required to take a $25 e-CheckUp. Though the checkup doesn't include a face-to-face meeting with any counselor, it asks students a series of questions regarding their substance abuse. At this level, the e-CheckUp isn't meant to stop any substance abuse, so much as make the student realize:
Quantity and Frequency of Use
Amount Consumed
Normative Comparisons
Amount and Percent of Income Spent (on said substance)
Negative Consequences Feedback
Explanation, Advice and Local Referral Information
For second or third time offenders, or in the case of a serious first time offense, students are required to go to BASICS, which consist of two, one-hour long, one-on-one sessions that cost $80.
There they meet with Trisha DeWulf, an employee of COCOAA, and also the liaison between their organization, and Oswego State's Lifestyles Center.
"We meet the student where they are," DeWulf said. "It's not a program that says 'don't ever drink.' We don't punish them. We look at their use, see if they can make any changes, see whether they want to make a change, and if so what are the barriers."
Some students may have a problem without realizing it, while others may be peer pressured into drinking. She aims to prevent something before it becomes problematic, and if someone does need help, make sure that they receive it earlier.
To raise awareness about substance abuse, the Lifestyles Center does numerous types of outreach on campus.
"Our students take the Red Wagons, and go out on campus handing out pamphlets and doing giveaways periodically," said Shelly Sloan, the health promotion coordinator at the Lifestyles Center. "We also do Toilet Talk about alcohol and drug abuse."
There's also the "It's Okay Not To Drink" campaign that's coming up early this October, and collaboration with the Great American Smokeout in November promoting a smoke-free campus.
In the event of a student wanting, or needing, to seek help outside of what the university can provide, COCOAA can assist in intervention.
"We do offer outpatient treatment," DeWulf said. "They can come in and work in groups up to three nights a week, they can come in for individual sessions, and it's really based on what the student needs."
Some students need more help than others, whereas some students don't require professional assistance and instead need a way to regulate substance use.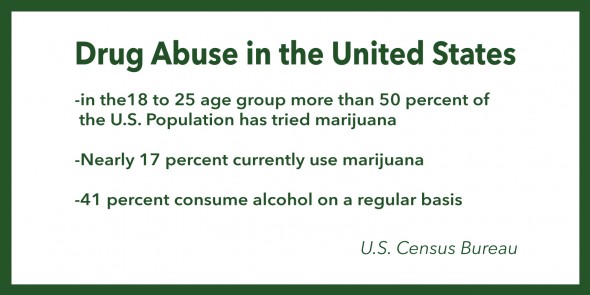 "The times I saw students in there, it was for claiming they would hurt themselves under the influence," said Ian Cohn, an alumnus of Oswego State who interned at the Oswego Hospital Behavioral Services, and also went through the BASICS program.
"Some kids were inpatients, which meant they had to stay for at least 24 hours, and in order to leave they needed a psychologists approval," Cohn said, adding that his situation was different, as he attended the BASICS program after getting into a couple bad situations early in his college career.
So whether or not a student may need, or want, help with substance abuse intervention, the Lifestyles Center is working to make sure that it is keeping students informed, as well as providing the appropriate assistance to fit any student's needs, including the programs COCOAA offers.
Reducing the statistics in our age group starts with educating people, and preventing substance use from becoming substance abuse.