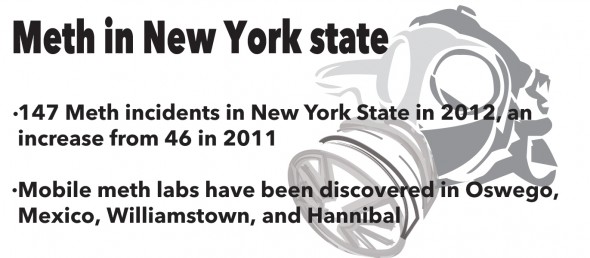 The discovery of a mobile meth lab Sept. 15 in the Lowe's parking lot in Oswego is the latest incident in a string of meth related problems in the region.
Methamphetamine incidents have also been reported in Mexico, Williamstown, Hannibal and other towns across Oswego County over the last year, according to a YNN News report.
"Meth is so easy to make, now that you can go on the Internet and of course get the recipe, that we've made numerous arrests and have numerous people awaiting trial for it," Oswego County Sheriff Reuel Todd said.
According to the Drug Enforcement Agency, there were 147 reported meth incidents in New York State in 2012, an increase from just 46 in 2011, much higher than any other state in the Northeast.
"It makes me wonder whether it is related to the economy or it is reflective of something else in our city that's going on or county overall," said Amy Tressider, an Oswego County legislator for the city of Oswego. "I think that you have to ask yourself 'Is it better law enforcement?' That we're actually pressing down on people that were not being discovered before?"
The incidents in Central New York in 2013 have gotten state-wide attention. Sen. Chuck Schumer stopped by Oswego last Tuesday to discuss with city and county officials about the causes of sudden growth of the drug.
"The bath salts that we were seeing last summer and the summer before became more difficult to find and the quality of those bath salts, as far as the addicts were concerned, is less," Oswego City Police Captain Charles Tonkin said. "It's not as good as the original stuff. And a lot of them switched to methamphetamine because it has a similar high."
During his visit, Schumer said the area was a high-intensity drug area and Oswego County is eligible for applying for federal funds to fight the appearance of meth in the region. Where these funds would go, if any come through, is unknown at this time.
"To be honest with you, our medical bills in the correctional facility have gone way up because of the fact that what meth does," Todd said. "We used to pull maybe three teeth from inmates in a month. We're doing up to 100 now because the stuff they put in meth. The battery acid, the drain cleaners and everything like that, just eats all their teeth away and now when they come into jail, we have to spend a lot of money for dental problems."
Tressider and Tonkin also said that any funds supplied by the government should go to drug enforcement taskforces.
There is some concern about meth and other drugs of the sort mixing with college students at Oswego State and young people in general, which Todd labeled as a "capture audience" and said that how the law handles drug abusers is vital to slowing its progress.
"When they get arrested, I would like to see them prosecuted as heavily as possible to set examples so they don't sell to the kids, the young people," Todd said. "That's where we have to stop it. If you're 50, I'm not going to change your course of life right now. If you're 15, I'd like to hope that we can."
According to the Office of Student Conduct and Compliance, Oswego State students found possessing, using, selling or being in the presence of illegal drugs would attend a student conduct committee hearing. The hearing officers would hear evidence and decide if the student is responsible or not and if sanctions are necessary.
"Sanctions for this type of violation could include warning, disciplinary probation, suspension or expulsion, depending on the severity and location of the incident, as well as the student's history with violations of policy," said Lisa Evaneski, assistant dean of judicial affairs. "Also, students would be required to complete a drug education program and we would do parental notifications if they are under 21 years of age."
Until Oswego County receives government funds, local police are doing what they can to crack down on meth cases using what resources they have.
"We take the methamphetamine situation very seriously and we're always actively investigating that," Tonkin said. "A lot of that comes from talking to informants, whether they be people that we've arrested or people we come across on the street that give us information as to who to look in, where to look, and then we follow it from there."