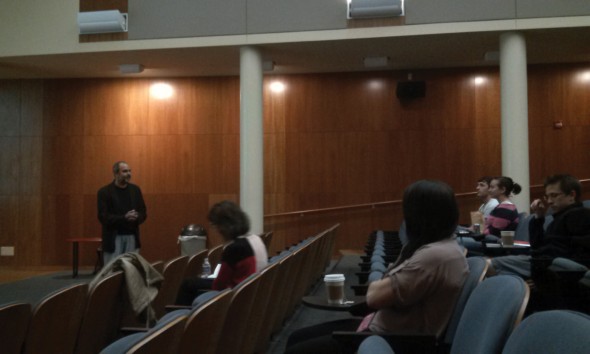 On Sept. 23, Ranjit Dighe, chair of the department of economics, gave a lecture titled "Inequality & Perceptions of Fairness" in Campus Center room 132.
Dighe said in the lecture that inequality has been pervasive nationwide since the 1960s. The cause of it is complicated, with past layers of race, gender, nationality or religion. The social gap has been polarized, due to policy choices such as tax cuts under Reaganomics, tight money policy in the '80s financial deregulation in the '90s and globalization of the world society, which led to the spread of winner-take-all structure.
"I tried to get at why we have so much inequality, why it has increased, why we tolerate so much inequality, and what we should do about it," Dighe said.
Rather than giving the direct answer to the question on whether we could find the equity-efficiency tradeoff in America, Dighe made an analogy. He played a video clip of Frans de Waal's TED lecture that said animals conduct moral behavior as humans do.
The experiment de Waal conducted, measuring "fairness" on the primates, showed how primates express anger when treated unequally, similar to humans. In the first one, when two primates completed a task successfully, they both were rewarded with cucumbers. However, following the next task, one was given grapes, its favorite food, and the other was given cucumbers again. The primate who received cucumbers threw them out of the cage, expressing rage by shaking its cage. "Another Wall Street protest here," de Waal said in the video.
"It shows how a visceral negative reaction to unequal pay for equal work is deeply etched into our primate brains," Dighe said. "Just like Dr. de Waal jumped from the monkey's protest at unequal pay for equal work to the Occupy Wall Street protest, I jumped from the near-universal revulsion at unequal pay for the same work to the more complex issue of unequal pay in general."
Roughly 20 students from Oswego State visited the TED talk.
Neil Gantey, a senior economics major, attended the lecture.
"I've heard a lot about this from my friend who went through the last one." Gantey said. "Obviously, the lecture is relevant to my major. One of the goals of economics is the cost minimization while satisfying the profit. The lecture helped me find the answer on that."
Lindsey Adrian, a senior majoring in human development, was a member of P2P, the Peer Education Program, last semester.
"Human Development major is pretty interdisciplinary," Adrian said. "I could find my way through the lecture."
The Oswego State TED talk is sponsored by P2P and the Counseling Service Center. This talk is the fourth one to convene since its inception in the spring 2013 semester. Mostly, the talks are focused on a mental health issue or humanistic theme.
"I wish it were a little bit more cohesive, considering the talk is from the Counseling Center, which is involved in humanistic-type thing," Adrian said.
"Dr. Dighe's topic tonight may be a bit more related to Economics and Psychology than mental health," said Robin McAleese, staff mental health counselor in the Counseling Service Center. "But we welcome his input and perspective. We were very happy to have him as a speaker."
There are two more TED talks scheduled this semester. On Oct. 21, Jonel Langenfeld, assistant professor and director of the expressive arts therapy program, will give a lecture entitled, "Expressive Arts Therapy and Your Mental Health." The last one, on Nov. 18, Maria Grimshaw-Clark, director of the Counseling Service Center will have a talk called "Happiness."