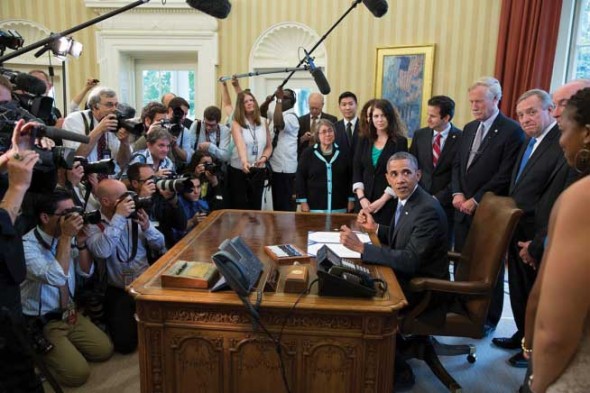 President Barack Obama unveiled a proposal for changes to higher education in a series of speeches over this summer. He outlined student loan plans and how he sees colleges improving the learning experience as a whole. Should parts of the program be adopted, Oswego State would likely see changes including students receiving more help from the government in regards to post-graduation concerns.
The plan outlines how to make college more affordable and "a better bargain for the middle class," according to the White House fact sheet on Obama's plan. There has been a 250 percent increase in college prices over the past 30 years, while incomes for families have only increased 16 percent. The White House fact sheet also states that the average borrower graduates with $26,000 in debt and that only 58 percent of students who entered college in 2004 graduated with a four-year degree within six years.
This number, according to The White House, helps contribute to students graduating with more debt. The longer students attend college, the more they end up paying.
Obama's plan intends to combat increasing college costs, in turn making college more affordable for Americans. He also plans on holding colleges accountable for their results and providing students and their families with information on schools they are interested in so they can more easily determine which school provides the best bang for a student's buck. This information will come from a new rating system put out by the White House, and will allow Congress to provide students with financial aid based on college performance. Furthermore, Obama seeks to open doors to all institutions for new technological advances in higher education teaching. The plan is also set out to expand the Pay As You Earn program to all borrowers who need it.
By 2015, the plan is set to provide ratings based on three main things:
-Access: the percentage of students receiving Pell Grants.
-Affordability: the average tuition, scholarships and loan debt.
-Outcomes: graduation and transfer rates, graduate earnings and advanced degrees of college graduates.
Pell Grants are based on financial needs, costs to attend school, the student's enrollment status (full-time or part-time) and whether he or she will be attending for a full year or not. The grants are not repaid. The maximum amount for a Pell Grant in 2011-2012 was $5,550, according to the U.S. Department of Education.
Oswego State President Deborah Stanley said she does not fully agree that tying funding to certain indicators helps everyone.
"If funding is attached to something, you will learn how to maximize funding, and it could be that those students that are most at risk, who need the most services, will not be served, because they would be a detriment to the university," Stanley said.
Stanley also felt that focusing heavily on the outcomes could hinder the access aspect of the plan.
"What he is doing, somewhat what he is doing, is to incent institutions to leave out the people who need the most help," Stanley said. "And so the population that I believe President Obama wants to help could be hurt by his program and that would be terrible, and I think an unintended consequence for him."
By 2018, Obama wants student aid to be based on the new system of ratings, which will be set up by 2015. While it is expected to take some time to develop the ratings in full, students at higher-performing colleges could receive larger Pell Grants and more affordable student loans under the plan.
The grants also see changes under the plan. Students will receive them sporadically through a semester rather than in a lump sum if their school has higher dropout rates, resulting in less grants wasted.
Obama also wants to push states into higher education reforms with a $1 billion Race to the Top funding program. He intends to reshape the federal-state funding partnership that forces states to put more funding into higher education. The White House cites declining state funding as "the biggest reason for rising tuition at public institutions." This program focuses on performance, rather than just enrollment rates and seat time, rewarding colleges with higher graduation rates and other measures of their value.
From the Center on Budget and Policy Priorities, New York state has cut spending per student in higher education by 14.7 percent since 2008. Compared to other states, this is relatively low, with just North Carolina, Alaska, Wyoming and North Dakota decreasing funding by less.
The president will propose legislation reinforcing and improving academic progress requirements for student aid programs. Students who receive financial aid will be required to complete a certain percent of their classes before funding is continued. This, according to the administration, would help students complete studies on time.
Obama also plans to promote innovation and competition among higher education institutes. The plan discusses three-year accelerated degrees, Massively Open Online Courses (MOOCs) and "flipped" or "hybrid" classes.
Obama wants the government to be a catalyst in the growth in these types of learning approaches.
The plan calls for awarding credits based on learning rather than the typical seat time. According to the White House, this is already in existence. Western Governors University, a competency-based online university, serves more than 40,000 students at about $6,000 per year for most degrees with an average time to bachelor's in just 30 months. Southern New Hampshire University and the University of Wisconsin are also using similar types of programs.
The use of technology to redesign courses is also called for by Obama. MOOCs and other courses that integrate online platforms or blend in-person and online experiences "can accelerate the pace of student learning." The fact sheet cites The National Center for Academic Transformation for showing the effectiveness of the use of technology in academics. It has shown that learning outcomes for students improve while the average costs are reduced nearly 40 percent.
A number of colleges have already begun introducing technology to redesign classrooms, including Carnegie Mellon University, Arizona State University and the University of Maryland. New York also has the Open SUNY initiative, which brings together online classes from every program in the SUNY system, providing students with the opportunity to finish college more quickly.
Stanley said the college is still looking into online education options.
"Online education, we are exploring whether or not that will actually keep costs down: whether its a supplement to in-class, synchronous mode education," Stanley said. "So there's a matter of things we are looking at to reduce the costs and keep the price tags as low as possible."
As for improving quality and outcomes of colleges, the plan calls for providing students with the information they need. The new college ratings system will allow incoming students to evaluate the value they are getting by attending a specific college.
Already available in this regard is the president's College Scorecard. Specific colleges can be searched by name. Colleges are categorized by the following: degrees and majors, occupations, zip codes, sizes, scholarship award opportunities, states, campus settings, regions and distance education.
While the scorecard does not yet display average earnings and jobs for Oswego State, it does list several other factors. The typical cost to attend Oswego State is $13,818 according to the scorecard, which also states a 7.7 percent increase from 2007 to 2009. The graduation rate, according to the scorecard, is 54.7 percent for the college, which is shown to be at the border for medium and high, compared to a national average of 58 percent. This is also over a six-year period for bachelor's degrees with full-time students. The scorecard also shows that 29.2 percent transferred out of Oswego State.
There have been concerns that the plan can cause some to view colleges as a business, not a place for higher learning.
"If you consider colleges a factory who send out students to get jobs, then the ones who are the best are the ones who send students to Wall Street and they're making six figures straight out of college, so they rank the highest," Julie Blissert, director of public affairs for Oswego State, said. "But what about colleges that put out a lot of teachers and counselors and social workers, aren't they doing a good job too? Even though those professions pay a lot less."
Students who graduated from Oswego State defaulted on 7.6 percent of loans within three years of beginning repayment, an amount lower than the national average, which is 13.4 percent.
Oswego State students and families borrowed on average $19,476 in federal loans for undergraduate studies. The repayment over a 10-year time is estimated at $224.13 per month on the scorecard. Compared nationally, this is shown to be in the higher end of the middle range on the scorecard.
Humbert said that the school follows up with students to remind them of their debt in hopes to avoid student defaults.
"Students get out and they buy a car, maybe a mortgage, and suddenly they're in trouble," Humbert said. "And so we try to be a little bit more intentional about working with our students and developing programs for the web and programmatic things in person, where students can really understand what it means to take on that debt."
Stanley said the school also is sure to keep in contact with alumni.
"We have more programs to keep in touch with alumni than ever before, and so we know more about them and we can follow them," Stanley said.
Humbert thinks that Oswego State is already meeting the standard Obama is encouraging.
"Anything the president wants us to be committed to, Oswego is already committed to," Humbert said. "Whether it's student success, affordability or access, we are already committed to those things. So I believe that any indicator they come up with to test those things, since we're already making efforts, we would be OK. Our students wouldn't suffer."