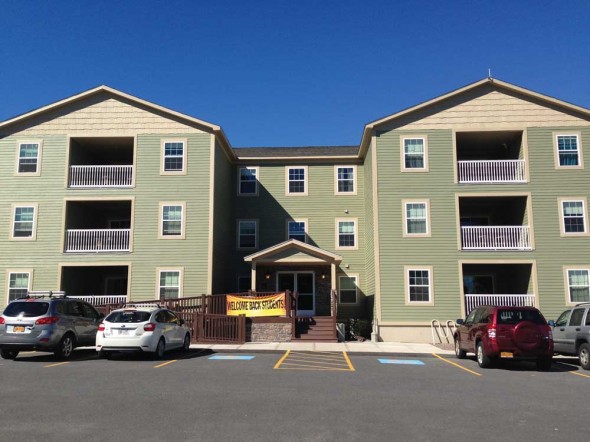 Despite already being known as a more expensive option for off-campus housing, the Premier Living Suites have increased their cost for the 2014-2015 school year.
Last year, PLS sparked a lot of interest in students who were looking to live off campus. So much interest that a waiting list for the 2014-2015 school year was created shortly after all 18 apartments were filled for this year.
The building's owners, Greg and Patrick Furlong, along with building manager Naomi Himes, have offered many incentives for their residents. For $9,490 per person, each apartment is completely furnished. Each bedroom has a 26-inch flat screen television and there is a 40-inch screen television in the living room. Each apartment has two bathrooms, a full kitchen and a patio equipped with patio furniture. The first 20 students who signed a lease received a free iPad 2 upon moving in.
Rachel Birmingham, junior and PLS resident, said the fact that she only had to bring kitchen supplies and bedroom and bathroom necessities made moving a lot easier.
"My housemates and I were able to save a lot of money," Birmingham said.  "I have a friend who spent $1,000 on her bedroom furniture alone."
All utilities, cable and Internet are included in rent. Every apartment has its own washer and dryer. Tenants receive a care package each semester, which includes cleaning supplies and some snacks. They even give students a Swiffer Wet-Jet and a vacuum.
One of the most attractive parts of the building is the massive finished basement. A free gym and aerobics room are popular spots for students who like to maintain their fitness.
"I personally love the fact that there is a gym here and that it is open 24 hours. It motivates me," junior resident Taylor Delgado said. "With all of the equipment they have given us, I could get a full body workout every day if I wanted to. I'm definitely happy with everything it has to offer."
Six televisions hang on the wall with plush couches for lounge area. Two dart boards, a ping pong table, an air hockey table, a foosball table and a pool table are provided for entertainment. A community room is available for students to rent out if a group or club would like to meet there. The suites even provide an ATM and a vending machine for the residents.
Residents said the most impressive part of the building is the game room and movie theater room. Equipped with six televisions and chairs, the game room is full of Xboxes, Play-Stations and Wiis. A large array of games is provided. Through the game room is the movie theater. With a television screen that spans the majority of the wall, the movie theater provides entertainment for 30 people at a time. Just like the video games, movies are provided. However, if a student has a request for a game or movie, he or she has to simply fill out a request form, and Himes will purchase it for the building.
Junior resident Lily Choi said the movie theater and game room were really convenient.
"We have so much right here," Choi said. "It's especially nice when people come over. There's always something to do, something to keep us entertained."
Continental breakfast is provided for each resident Monday through Friday. Students can choose from Dunkin Donuts muffins and donuts, bagels, English muffins and fresh fruits from C's Farms. Every Monday, pizza is provided for the building, as well as dinner from different restaurants every Friday.
The study room in the basement acts as a library for students who wish to have a quiet space to do their homework. Two Apple desktop computers and two PCs are provided in the computer lab. There is free printing, copying and scanning for students.
"I was expecting this place to be nice," Birmingham said, "but it blew my expectations out of the water. It is amazing."
While many people already consider the suites to be an expensive living option, the price for next year has increased to $9,990 per person. According to Himes, rent is increasing because cost of the suites is competing with the cost of on campus living.
"We're still trying to provide less expensive housing than on campus," Himes said. "But we need to stay competitive."
There are three payment options for students this year, which will remain the same for next year. Residents may pay their rent in full, monthly, or by semester. Himes says the option to pay by semester is the most popular.
There are 71 students that live in the building. All apartments have four bedrooms, except for one on the first floor, which has three. There are parking spots for each student with a vehicle, as well as visitors. For those students without vehicles, a bus stop has been placed right at the end of the driveway.
Because the suites are in high demand, current residents must resign their leases by Tuesday.
Birmingham says she would absolutely live in the apartment complex again next year.
"Even though it's a couple hundred dollars more expensive, it's totally worth it," Birmingham said. "The environment we have is better than anyone else I know."