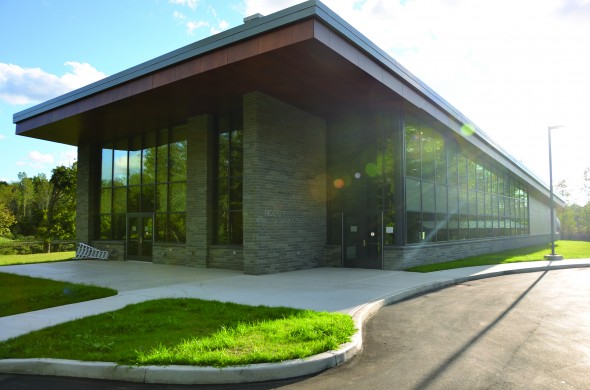 While it may not be located on the main Oswego State Campus, the Rice Creek Field Station is an important tool for Oswego State's science departments. The field station helps professors and students involved in the biological and earth sciences with research and education.
The facility has expanded its capabilities with a brand new 7,200 square foot building, double the size of the old building.
The new facility has an astronomical observatory, an herb garden, a pavilion, a garage and 3,000 square feet of grounds. The expansion has given professors and students more room for offices, research and space for other needs.
The expansion gives Rice Creek a chance to increase the number of courses offered at the facility and increase the number of researchers using the grounds, according to professor Lucina Hernandez, director of the Rice Creek Field Station.
"It means seven different activities at the same time," Hernandez said. "In the past we had only the capacity to run four activities in small spaces."
Rice Creek was developed on what was once farmland. Opened in 1966, the facility started with its original field station building and Rice Pond, which was being created with the construction of a dam on Rice Creek. The facility offers a variety of habitats for study and research including maple-basswood forests, ponds and wetlands.
The construction on the new building commenced in mid-2012 and has been highlighted as an upgrade to the science department, alongside the new Richard S. Shineman Center for Science, Engineering, and Innovation.Some of Hernandez's favorite additions to the new facility include a larger lecture room equipped with a smart board and projectors and a new collection room.
Check out a tour of the Shineman Center.
"This lets us put our collections in one space," Hernandez said.
[slideshow_deploy id='11874′]
On average nine courses are taught at the Rice Creek Field Station, which totals around 170 students using the station per year. Located only 1.5 miles off of campus, the Rice Creek Field Station is the only field station that is close to its corresponding campus in the whole SUNY system.
"This promotes its use for research and undergraduate courses with zero cost for students," Hernandez said.
The brand new building was constructed with no impact to the wetlands, a point that makes Hernandez and the staff at Rice Creek proud, especially since the station uses those wetlands for research.
"It is a new brand building, farther from the pond to preserve our wetlands," Hernandez said.
Not only does the expansion give more students the opportunity to study and do research at Rice Creek, but students who were unable to receive the transportation for the commute from campus now can take the green shuttle as Rice Creek has joined the loop. Hernandez is excited about being able to offer more opportunities to students to gain and test their knowledge.
"From 2008 to now, the number of courses, students and research considerably increased," Hernandez said. "Today our students are more familiar with using scientific techniques and equipment to test their predictions and they recognize the benefits to having a new building in Rice Creek Field Station."
Patrick Malowski
Multimedia Editor
pmalowski@oswegonian.com