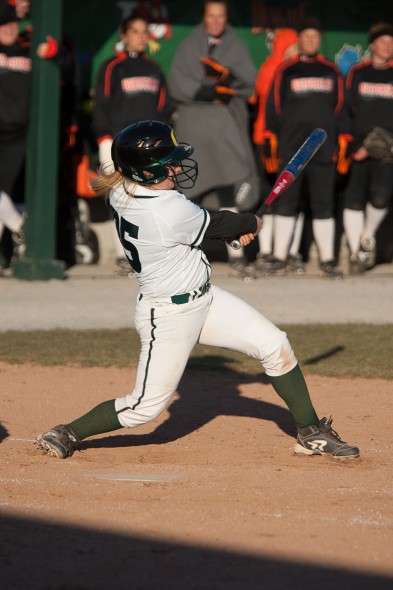 In just her first season at Oswego State, freshman Tori Trovato has not only taken hold of the starting shortstop role, but also leads the Lakers in all offensive categories.
Trovato's .391 batting average is good enough for seventh in the SUNYAC.
"Hitting is most definitely the part of the game where I am most confident and comfortable," Trovato said. "I've been playing softball since I was around 10-years-old and hitting has been something I have had to work on and improve on over time."
Trovato is also a member of the women's hockey team, which went 12-12-1 and advanced to the postseason. She is a backup goaltender behind sophomore Bridget Smith. Trovato played in seven games this past season, recording 125 saves on 135 shots faced. Her save percentage was .926, the highest on Oswego State.
Trovato was recognized most recently on April 10, when she was named the Division III – Upstate Player of the Week. The Oswego State leadoff hitter has been in a groove all season long, and is showing no signs of slowing down anytime soon.
Her .618 slugging percentage is also a team-high, as the shortstop has shown a fair amount of pop to go along with her consistent contact at the plate. Trovato has three home runs, six doubles, and one triple in 21 games played thus far.
A native of Fulton, Trovato is happy to be playing near her hometown.
"It is definitely a good feeling being a hometown kid and playing so close to home," Trovato said. "It's good to have my family be able to make it to most of my games and have their support from the sidelines."
In fact, being a local product has given Trovato more than one unique advantage. Lakers assistant coach Kevin Ahern has actually worked with Trovato ever since she was 10-years-old.
"I can easily say he is among the best, if not the best coach I have ever had," Trovato said. "He has helped me improve tremendously as both a player and person."
Trovato also credits some of her veteran teammates for helping her feel comfortable as a member of Oswego State's already impressive roster.
"The team treats me and the other freshmen just like they would a senior," Trovato said. "Our team chemistry is one of the best out of all the teams I have been on."
Despite all of her early successes and accolades, Trovato has managed to stay humble. She knows there is a lot of hard work still ahead. One such area that Trovato knows she needs work on is her defense. She currently leads the SUNYAC in a not-so-impressive statistic: errors. Not a natural shortstop, Trovato has committed 16 errors this season.
"Fielding the ball cleanly is something I have always had trouble with," Trovato said. "[My defense] can really only be improved with more and more practice."
Time to practice is one thing that Trovato has plenty of moving forward. As a freshman, Trovato's best years may still lie ahead.
"I hope to better our team's record each year at Oswego, and hopefully to make it to postseason," Trovato said. "Who knows, maybe even win a SUNYAC title. "
Trovato and the rest of the Oswego State softball team have 15 games remaining before the SUNYAC playoffs begin on May 2.