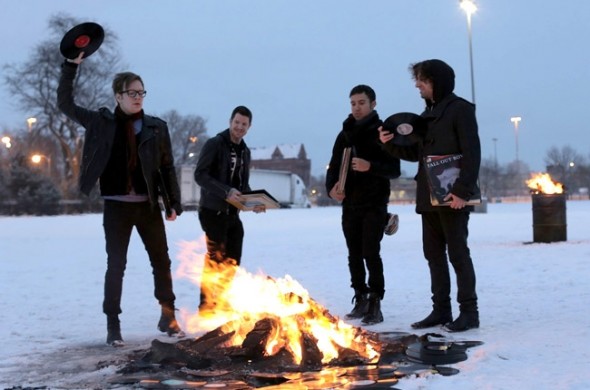 April 16 was the day Fall Out Boy fans have been waiting almost four years for.
Best known for being a teen sensation in the mid-to-late 2000s, pop-punk band Fall Out Boy have been on hiatus since the fall of 2009. In the years that followed, when some fans believed Fall Out Boy were broken up for good, the four members of the band went their separate ways to work on projects outside of Fall Out Boy: lead singer and guitarist Patrick Stump wrote, recorded and produced a solo album, "Soul Punk," which was released in 2011; lyricist and bassist Pete Wentz joined with singer Bebe Rexha, and then later singer Spencer Peterson, to form the electropop duo Black Cards (Wentz also wrote a novel "Gray," which was released this February); and guitarist Joe Trohman and drummer Andy Hurley formed a heavy metal band called The Damned Things, which released the album "Ironiclast" in 2010.
There was no word of when the hiatus would end until Feb. 4, when Fall Out Boy posted on their Facebook page, "The future of Fall Out Boy starts now. Save rock and roll…" along with a picture of the members of Fall Out Boy burning all their old records on a bonfire in a snow-covered lot.
The response to the post was explosive.
Soon after, they announced their new album, "Save Rock and Roll," and three singles: "My Songs Know What You Did In The Dark (Light Em Up)," "The Phoenix" and "Young Volcanoes." They even put the entirety of "Save Rock and Roll" up on SoundCloud and YouTube for fans to stream for free, but the official version of "Save Rock and Roll" was not released until Tuesday.
Eleven tracks, 42 minutes long and featuring artists as varied as Foxes, Big Sean, Courtney Love and Elton John, "Save Rock and Roll" screams Fall Out Boy is back, and better than ever.
The first track, which was the second single, is, "The Phoenix." Just from this title, the meaning is obvious of the picture Fall Out Boy posted to break their hiatus meant: Fall Out Boy is no longer going to let their old records, or the fans who cling to those records as the music of the "true" Fall Out Boy before they "sold out," weigh them down any longer. In fact, they have already burned them. "Switchblades and Infidelity," "Take This To Your Grave," "From Under The Cork Tree," "Infinity On High," and "Folie à Deux" are ashes, and Fall Out Boy has risen from them to bring us "Save Rock and Roll."
"The Phoenix" is a powerful anthem that starts out with frenzied strings, big drum beats and Stump barking the first lyric, an order: "Put on your war paint." "The Phoenix" is bold and passionate, a fitting beginning to an album that has four talented hearts and souls woven into it. The song sounds like a battle cry, a call for revolution.
"My Songs Know What You Did In The Dark" could not stand on its own as a single, but as the second track on the album, it further hypes Fall Out Boy's return. An electronic, unintelligible chanting starts the track. Then a chorus of voices rises, accompanied by an intense combination of clapping and drumbeats, before Strump spits out, "Be careful making wishes in the dark." The chorus of the song is a little weak, but the verses hold their own.
The album takes off from there and soars to dizzying heights. The next track, "Alone Together," is Fall Out Boy at its poppiest, energetic and infectious with some of Stump's best singing on the album and one of the best lyrics, too: "My heart is like a stallion/ They love it more when it's broke in."
The next song, "Where Did The Party Go," follows in much the same upbeat vein: it has plenty of 'nah-nah-nahs' and a fast beat that keeps the energy high. "Just One Yesterday," which features indie singer Foxes whose soft voice blending with Stump's brash one brings a beautiful touch to the track.
At the album's midway point comes "The Mighty Fall," which is a powerhouse of a track. It has harsh guitars, heavy beats and Big Sean, who announces himself early on with a casual, "Oh, God." Since Jay-Z introduced them on "Infinity on High," Fall Out Boy has had a rapper guest on every album and they continue that trend of spanning genres with Big Sean's feature rap on this track. The chorus of the "The Mighty Fall" is centered on a fantastic play on words: "Oh, how the mighty fall, the mighty fall / Oh, how the mighty fall in love." The seventh and eighth tracks, "Miss Missing You," and "Death Valley," recall elements from some of Fall Out Boy's best anthems on "Infinity on High" and "Folie à Deux." Those songs sound most like songs off old Fall Out Boy albums, if any fans were looking for that, but both songs still sound fresh, even though they are not the best on the album.
"Young Volcanoes" is the standout track of the album. It is un-punk and bouncy, a song unlike anything else Fall Out Boy has done before. In "When Rome's in ruins," Stump sings at the beginning, "We are the lions free of the coliseums/ In poisoned places, we are anti-venom/ We're the beginning of the end." It should stick out like a sore thumb between the more rock-influenced tracks "Death Valley" and "Rat A Tat," but it feels right. "Young Volcanoes," for the Fall Out Boy fans that can appreciate it for what it is rather than calling Fall Out Boy betrayers of the punk genre, will be a classic, right up there with "Sugar, We're Goin' Down."
Courtney Love is featured on the next track, "Rat A Tat." She delivers some of the best lyrics on the album; her raspy voice a perfect complement to the grungy song. "Rat A Tat" is a toe-tapper, from the first clink of drumsticks being hit together to the last kick of the drum pedal.
The last track on the album is the title track. After the drums and the piano meander in, "Save Rock and Roll" starts out with a lyric that would get any longtime Fall Out Boy fan choked up: a tinny, high-pitched remix of, "Until your breathing stops, forever, forever," from the iconic song "Chicago Is So Two Years Ago," which was on the very album that has followed Fall Out Boy, for better or worse, for a decade: "Take This To Your Grave." This soundbyte repeats throughout the track, interwoven with Stump's voice in top form and the full-bodied voice of guest singer Elton John.
The new lyrics on this track are even more beautiful than this throwback. Stump's singing is phenomenal, in particular on his delivery of the line, "F*** you, you can go cry me an ocean/ And leave me be," which starts vicious, almost a shout, and ends sweet and melodic. John was the perfect addition to this track, and not only because there is no better way for Fall Out Boy to silence those who say they disgrace the name of rock and roll than to collaborate with a member of the Rock and Roll Hall of Fame on a song called "Save Rock and Roll." In the coda, John and Stump sing two parts of the chorus simultaneously: Stump sings, "Oh no, we won't go/ 'cause we don't know when to quit, oh no," while John sings, "Wherever I go, trouble seems to follow/ I only plugged in to save rock and roll."
The incorporation of that old lyric into this track is the part that will stick with Fall Out Boy's most loyal fans. Fall Out Boy used this technique before in "What a Catch, Donnie" on their last album "Folie à Deux," but there it felt sad, like Fall Out Boy was not just reminiscing, but lamenting the "glory days" they could not get back.
Here, it is as if the lyric is being dismissed— here, it is just background noise to a better song than "Chicago Is So Two Years Ago" ever was. Gone are the days of barely-out-of-their-teens, semi-suicidal Fall Out Boy in ripped jeans and Chucks singing about how they wanted to suffocate the girls who broke their hearts, says "Save Rock and Roll," and in their place is a confident quartet of men who still wear a lot of tight pants and black, sure, but who have found their place in the world. Fall Out Boy has grown up now.
"When we started this band, it wasn't for anything but ourselves," Wentz wrote on his blog in February when the album was announced. "We wanted adventure, [to] play loud music, and do it with our best friends." But when fame found them it got the best of them, and soon making music was not fun for Fall Out Boy—hence their hiatus. So "fast forward to 2013," Wentz writes, and "we just want to feel real again. 'Save Rock and Roll' is a personal statement for the band as much as anything else—because at the end of the day, rock and roll saved us."
"Save Rock and Roll" is a triumph. Maybe the fans still championing the Fall Out Boy of 2003 would not be happy with it, but what everyone can expect from "Save Rock and Roll" Wentz said (or rather, wrote) best himself: "It doesn't sound like the other Fall Out Boy albums, but it sounds exactly like Fall Out Boy in 2013."
And Fall Out Boy in 2013 sounds like something this fan will want to listen to for at least another decade.