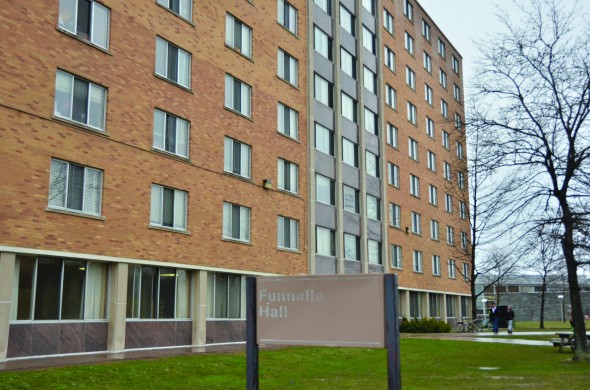 Oswego State University Police made an arrest Friday following a series of thefts that occurred in two residence halls and an academic building last week.
Kadeem A. Champagnie, a 22-year-old Oswego State student and resident of Funnelle Hall, was taken into custody at 10:45 p.m. on Friday, April 5 on charges of burglary, a class C felony, and petit larceny, a class A misdemeanor.
According to U.P., the most recent trend of thefts started on April 3 and expanded into the late afternoon hours of April 5. Items in Funnelle and Seneca residence halls and Tyler Hall were taken in that time. In both the academic building and residence halls, every single room that was burglarized was unattended and had unlocked doors.
"We received a great deal of help from the Residence Life staff and Funnelle Hall, and we had been in touch of people who had pertinent information through them and we had then developed suspect information on Mr. Champagnie," said U.P. Acting Chief John Rossi.
In the three-day period, residents reported items stolen that included cellphones, iPods, iPads, computers, debit cards, sunglasses, articles of clothing and cash money, according to the U.P. blotter.
with connection in theft of a pair of sneakers and headphones.
Rossi said that there has been speculation that investigators were led to Champagnie by discovering the stolen items on his eBay account, but that is still under investigation.
This incident happened two months after a string of thefts occurred in Funnelle Hall, where the intruder, or intruders, entered students' dorm rooms through unlocked doors and stole valuable items.
"I definitely think this will put some residents at ease, however, we cannot, as of now, associate all the thefts with one single individual," said Allison Thayer, director of Funnelle Hall. "While we may feel some kind of relief, we cannot necessarily let our guard down and leave doors unlocked."
Students still feel somewhat relieved, hoping that such an arrest will prevent future students from attempting similar crimes.
"I feel pretty happy about an arrest being made," said freshman Melinda Fatiga, who had her cell phone taken from the foot of her bed in February's thefts in Funnelle.
Now that the thefts have affected multiple residence halls and academic buildings, a concern for student safety on campus is growing.
"Do I feel safe in Funnelle? Absolutely not," said senior Christina Grehlinger, who had her cell phone taken two months ago. "Nothing has changed. Items are still being stolen, our locks are still just a button, and the school has done nothing to help us. I love my school, but I really thought they would have done more to assure that we are OK, safe and financially and mentally sound since the theft."
More than ever, residents in all buildings are urged to keep their doors locked when leaving their room and during sleep. According to Rossi, this is something that U.P. has been stressing this year and will continue as freshman orientation draws near.
"The dorm room door is like the front door to your house," Rossi said. "People don't leave their front door open or unlocked when they're not home, no matter what part of the state they live in. It only takes one person to strike several rooms."
U.P. also said they encourage students not to feel hesitant to contact them to come investigate an area if they see suspicious people or activities, whether in residence halls or anywhere else on campus. Doing so can help prevent crimes such as theft.
"I do feel safe, even after the incident, as there are plenty of people to go to if I ever doubt my safety," said freshman Kelly Sciaresa, who had her cell phone stolen last February.
Cell phones, and in particular, iPhones, remain as the most common item taken from student rooms, according to U.P. They recommend that residents keep their phones hidden from view or in locked containers.
"There is a market for iPhones out there," Rossi said. "People are aware that they're buying stolen property and, from what we've heard, a lot of the iPhones are being shipped overseas."
U.P. did recover some of the stolen property, but a good amount of it has left campus and U.P. is still attempting to recover it at this time.
With this one arrest, about 12 or 13 cases will be closed, spanning from April 3 to April 6, said Rossi.
As for Champagnie, he remains in the Oswego County Public Safety Center in lieu of $10,000 cash or $20,000 bond.
"It is very possible that he can be indicted by a grand jury and if he's found guilty on a burglary second charge, it's going to result in state prison sentence," Rossi said. "But that's all speculation at this point. Once the legal system goes into gear, a variety of factors can come into play. It is a very serious crime."
Champagnie appeared in Oswego County Court Monday.