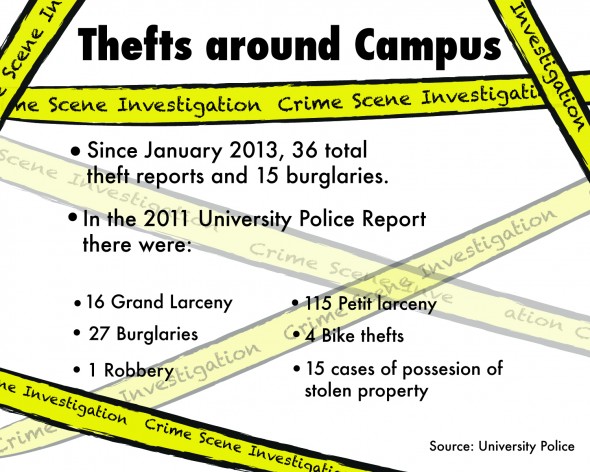 Oswego State has seen an increase in thefts in recent months, including an arrest made last week. This semester thefts and burglaries are on track to surpass peak numbers recorded by University Police.
In 2008, 45 incidents of burglaries were recorded, the highest amount since U.P. started putting the statistics into a database in 1988. In Law.com's dictionary, burglary is defined as "the crime of breaking and entering into a structure for the purpose of committing a crime." The entry does not need be forced, as long as it is unauthorized. Lt. Kevin Velzy of U.P. said in an email that a charge of burglary is never made alone. The charges will always be accompanied by another crime. In Oswego's situation, most are larceny charges.
"Since January 1, 2013 we have had 36 total theft reports, 15 of those were classified as burglaries," Velzy said.
Velzy said that U.P. has averaged about 30 burglaries per year and about 100 larceny reports per year over the past six to seven years.
U.P.'s annual report for 2011 shows that there were 27 burglaries and one robbery. The report also reports that there were 115 reports of petit larceny, 16 reports of grand larceny, four bike thefts and 15 cases of possession of stolen property.
Since March 12, there have been 21 reports of theft and burglary-related incidents on Oswego State's campus, according to police blotters. While most of these reports come from residence halls, some were from academic buildings. Culkin Hall had two reports of thefts. One incident on March 25 was cited as burglary/petit larceny for unauthorized entry and theft of an iPhone, keyboard and mouse. The blotter reported that there was an open investigation. Culkin Hall also recorded a petit larceny on March 29 for the theft of letters from the lobby directory.
Tyler Hall also had a burglary/petit larceny report. The police blotter reported that an iPod and keyboard were taken. There are also signs posted on campus looking for two pieces of artwork taken from the hall.
Someone tried to gain access to the Campus Center, causing damage to a window, on April 5.
Out of Oswego State's residence halls, Seneca Hall has racked up the most burglary and larceny incidents in the past month, with five. Four of these incidents were listed as burglary/petit larceny, while one incident was listed as grand larceny for theft of clothing. Last month Onondaga Hall's last month had four reported incidents: two for burglary/grand larceny, one for burglary/petit larceny and one for petit larceny. The petit larceny was for theft of a fire extinguisher. Onondaga Drive, which runs in front of Onondaga Hall, had a petit larceny reported for the theft of a pair of sunglasses.
Oneida Hall had one incident reported, while Funnelle Hall, Hart Hall and the Mackin Complex each had two incidents reported in the last month.
While most residence hall directors and assistant hall directors declined to comment, Meaghan Mulligan, assistant hall director for Johnson Hall said that they have heard no complaints related to thefts or burglaries.
Richard Kolenda, director of Residence Life and Housing at Oswego State, said that information regarding thefts in the residence halls has been transferred to U.P. and that all halls have been put on alert.
"We asked all hall directors to put out information to students," Kolenda said regarding the recent thefts. Kolenda wants students to remember to lock their doors when they leave their rooms. He called the thefts "crimes of opportunity," since many of the incidents are not break-ins and doors were left unlocked.
The CLERY report from 2011 shows that Oswego State's numbers are much higher than other similarly sized SUNY schools. Oswego had 22 burglaries listed for the year, while SUNY Plattsburgh had 13. Geneseo had 11 reported incidents and SUNY Cortland had 10. The College at Brockport had the lowest with 5 burglaries, the least out of the SUNY schools with between 5,000-9,999 students enrolled.
Velzy wants students to remember to be safe when it comes to their personal belongings, and U.P. has begun a poster and digital signage campaign to remind students to lock their doors.
"We would like to include the educational message for students to lock their rooms whenever they leave them unattended," Velzy said. "In every case we have investigated this year, the rooms were left unlocked."