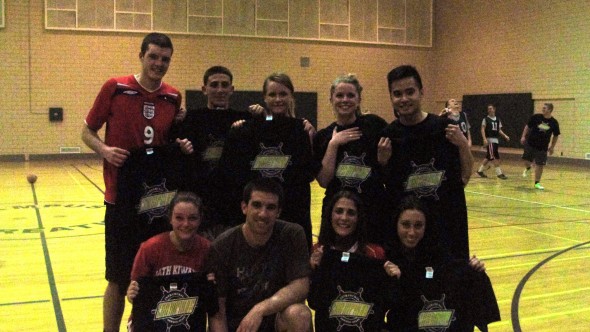 The Oswego State intramural soccer league has come to a close. After a hard-fought regular season and thrilling postseason, four teams were crowned champions in their respective leagues.
First, in the co-rec recreational division, Team Swagger overcame the odds and won the championship despite being only a No. 5 seed in the playoffs.
Team Swagger went 2-1 in the regular season, but was able to win three straight playoff games over Multiple Scoregasms, Deion Can't Shoot and Team Bye Week to earn the co-rec recreational championship.
The reward for Team Swagger was a spot in the co-rec competitive playoff tournament. Team Swagger was then knocked out by Team Name, who eventually won the championship.
In the co-rec competitive division, Team Name capped off a miraculous undefeated season with a 5-1 victory over Team Bomb Squad in the championship contest.
Team Name was the top seed going into the playoff tournament after going 4-0 in the regular season. It defeated Daddie$, 8-5, in the quarterfinals, then survived a tough test from the aforementioned co-rec recreational champions Team Swagger in the semifinals, squeaking out a 5-4 victory to advance to the championship game against Team Bomb Squad.
In the title game, Team Name was able to control the pace and defeated Team Bomb Squad, the tournament's No. 4 seed, to capture the title.
In the men's recreational league, it came down to a battle between the No. 1 and No. 2 seeds in the championship contest as Pass the Nutmeg and Goaldiggers faced off after going a combined 6-1 in the regular season.
In a game that certainly did not disappoint, the two teams traded punches, but in the end it was the Goaldiggers who held on to a dramatic 5-4 victory to become champions.
Finally, in the men's competitive league, the tightly contested race to the championship saw seven teams finish the regular season without a loss. It was anyone's title for the taking coming into the playoffs, but only one squad was able to put it together at the right time and kick its way to a championship.
The tournament started with a shocker in the quarterfinals, as eighth-seeded West Utica United dominated the previously unbeaten Foot Faries to knock out the top seed, 7-0.
From there, the seventh-seeded Muffin Men advanced after knocking off Goaldiggers, 4-1, and fifth-seeded The Incredibles ousted West Utica United, 4-0, to set up the championship.
In a nail-biter, it was The Incredibles who narrowly edged Muffin Men, 3-2, to win the men's competitive championship and earned the right to be called intramural indoor soccer champions, as well as their prizes, intramural champion T-shirts.