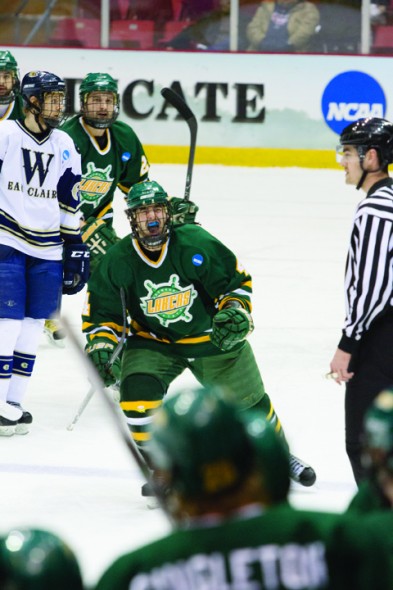 Let me tell you a story. It's about an 18 year-old-kid that wanted to be a sports broadcaster. He knew from a young age that he wanted to make a living calling sports, he just needed a place to start. Upon touring Oswego State some time during his junior year of high school, this kid first laid eyes on the Campus Center Ice Arena. The rink was great, but that was not the thing that caught his eye – it was the Steve Levy Press Box. He only dreamed of one day getting the chance to call just one or two hockey games from that booth, when he got to be an upperclassman. One hundred Laker men's hockey broadcasts later, that kid is writing this story. But really, the story is not about me, it is about four unforgettable years of action on that sheet of ice in the Campus Center Ice Arena and beyond. In case you missed any of it, here goes nothing.
2009-10. We should start, as all good stories do, at the beginning. The 2009-10 Lakers were a team composed of almost all new faces. Twelve were freshmen, two were first-year transfer students, and three seniors remained from the National Championship team of 2006-07. Although the Oswego State hockey program had always been held to high standards, most believed 2009-10 to be a rebuilding season. Most were wrong.
After splitting a home and home set with Elmira to open the regular season, the Lakers rattled off 22 straight victories, spanning from Oct. 30 through Feb. 19. On the last day of the regular season, their streak came to an end in Geneseo.
The squad was led by sophomore and future NHL player Eric Selleck, who would win SUNYAC player of the year, netting 21 goals and 54 points. Senior Neil Musselwhite led the team with 23 goals, registering three hat tricks over the course of the season, including a three shorthanded goal performance (4 goals total) against The College at Brockport. Juniors Chris Laganiere and Justin Fox each registered over 45 points as well, in what became a lethal offensive attack.
The three freshmen that stood out most were Jon Whitelaw, Paul Rodrigues, and Luke Moodie – a trio whose names would become synonymous with one another for the next three seasons. After winning the program's first SUNYAC title in seven years, the team romped Bowdoin on their way to the Frozen Four in Lake Placid. Eventual National Champion Norwich University would end their run, defeating them 4-3 in the NCAA semifinal round. Musselwhile, line-mate Brad Dormiedy, starting goaltender Kyle Gunn-Taylor, and captain Tyler Lyon graduated. Selleck signed with the Florida Panthers, but the core was still in-tact, and thoughts of a rebuild were well in the rearview mirror.
2010-11. New to the Lakers were three transfers. Defenseman Tim Carr had come from D-I UMass-Lowell midway through the previous season, but did not see regular action until '10-11. Fellow Division I forwards Ian Boots (junior, Ohio State) and Dan Bremner (senior, Mercyhurst) helped offset the key losses on the roster. The freshman class included David Titanic, Corey Domenico, and Kyle Badham. Goaltender Andrew Hare would transfer in from Niagara mid-season, and never in his wildest dreams imagine that he would become as relied upon as he eventually would be.
Out of the gate, this version of the Lakers won their first twelve contests. Boots, Bremner and Titanic all wasted no time introducing themselves to the green and gold, scoring a goal in the first road game of the season at Elmira. Boots cemented himself as a fan favorite (if his name was not enough) when he scored the game-winning goal in the annual whiteout game against SUNY Plattsburgh, with just 1:39 remaining in the third period. Paul Beckwith, who was ready to take the reigns as the starting net-minder, went down with an injury at the season's mid-point and the Lakers stumbled, losing back-to-back games at Hobart, and at home in the Pathfinder Classic to Hamilton. They rebounded to win their next eight with Hare in net, before seeing their perfect conference record blemished by Morrisville State at home on February 12.
Senior weekend was a success, highlighted by a hat trick by senior Chris Laganiere, on Senior Night against SUNY Geneseo. The immediate success of Boots was a big boost to the Lakers, as his 40 points led the stat sheet. Rodrigues, now a sophomore, began to cement his legacy as one of the most clutch players in program history, with two overtime winners: one at SUNY Fredonia, and the other at SUNY Cortland. Although the team was not as dangerous offensively, it became better on defense, and finished with only three regular season losses.
Shockingly, the Lakers stumbled in the SUNYAC semis, getting upset by Fredonia at home in overtime, 2-1. Luckily, due to their sparkling regular season resume, they received another home game with Bowdoin in the NCAA Quarterfinals. They again prevailed, this time by a tight 7-5 margin, to reach another Frozen Four, this time in Minneapolis, Minn. Like the previous season, the Lakers march to a National Title would be halted in the semifinal round, as the high-scoring Adrian Bulldogs pulled off a 5-3 victory, despite the Lakers erasing a pair of two-goal deficits.
Kevin Huinink, Justin Fox, (captain) Stephen Mallaro, Joe Hall and Owen Kelly, along with Laganiere and Bremner all graduated. The core was now upperclassmen, and expectations only became larger.
2011-12. The biggest name coming into the fold with defenseman Zach Josepher, another D-I transfer, from Michigan State. Also new were freshman blueliners Bobby Gertsakis and Nick Rivait, as well as forwards Chris Carr, Eli Kim-Swallow, RJay Berra and Peter Rodrigues. Paul Beckwith was supposed to be the starting goaltender again, but his injury-plagued career continued when he got hurt in the first period of the first game of the season in Elmira. Andrew Hare took the job and ran with it.
The Lakers got off to another hot start, losing only once in their first 13 games, but tying twice, something that they had not done at all in the previous two seasons. After failing to win the Pathfinder Tournament again (a 3-0 shutout loss to Neumann in the championship round), Oswego State rattled off twelve consecutive wins. In that span was a five goal, six point night for Paul Rodrigues at Morrisville, senior defenseman Jared Anderson's first career goal in Geneseo, back-to-back shutout wins on Whiteout Weekend, and two routs of Fredonia, the second time coming as revenge in the SUNYAC Semifinal. The SUNYAC Championship pitted Oswego State and Plattsburgh as it did in 2010, and with the current Laker core never experiencing a loss to the Cardinals, apparently they were due, as the enemies in red captured the title, 3-2, on Oswego State's home ice.
The 23-2-2 regular season mark was again good enough for an at-large bid, and for the third straight year, the NCAA Quarterfinal round was no problem. The Lakers shut out Elmira, 5-0, and were headed back to Lake Placid. Determined to finally make it to the National Championship game, the Lakers battled the Amherst Lord Jeffs through a grueling 60 minutes that saw the score tied at one. At 7:20 of OT, Paul Rodrigues officially became "Mr. Overtime" when his breakaway goal provided one of the most iconic moments of the four years. Unfortunately, that would be the last shining memory from Placid in 2012, as the Lakers fell 4-1 to the St. Norbert Green Knights, who repeated as national champs.
Michael Gilchrist and Corey Domenico left mid-season, and the Lakers also said good-bye to Hank Van Boxmeer, Ian Boots, (captain) Andrew Mather, Jared Anderson, and tough-luck Paul Beckwith through graduation.
2012-13. As much success as the core had enjoyed through its first three seasons, the players all agreed that anything short of a National Championship would be viewed in their eyes as a failure. With 14 seniors, the Lakers did not have many players to add, but welcomed in the goaltender of the future, Justin Gilbert, along with defenseman Denton King.
After cruising through the first eight regular season games, the Lakers hit a rough patch that was unknown to them: they dropped back-to-back home games for the first time since 2003 when they lost consecutively to Plattsburgh and Utica College. Literally limping into holiday break, after losing Whitelaw and scattered others to injuries, the Lakers pulled off a big overtime win at unbeaten Hobart, 3-2. Chris Brown scored the skate-aided game-winner after a last-second tying goal by the Statesmen.
Following their first Pathfinder Championship since 09-10, the Lakers skated into 2013 fully healthy, and hit their stride after dropping a 6-0 wake-up call at Utica. Head coach Ed Gosek picked up his 200th career victory against former mentor George Roll and his first year Nazareth program, Justin Gilbert made his Laker debut and got two wins in net, and the Lakers put up a seven-spot in just one period at SUNY Potsdam on the final weekend of the regular season. Like their freshman year, the seniors ended the regular season on a losing note, as Plattsburgh extended its winning streak in the head-to-head to three games with a 4-3 win on their senior night at Stafford Ice Arena.
With four losses and a less-than-impressive record against ranked teams, the Lakers faced the reality that an at-large bid to the NCAA tournament was unlikely. They took care of Buffalo State in the SUNYAC semis and set up a fitting SUNYAC Championship game with Plattsburgh, for the third time in four seasons. The Lakers played one of their best games over the four year span and blanked the birds, 4-0, for the automatic bid to the big dance.
In a controversial but justified decision, the Lakers were forced to travel west to Adrian, Mich. for their first NCAA Quarterfinal road game. Tied 2-2 after regulation, everyone looked toward one player to come up with the game-winner, and although he had not scored in seven games, Paul Rodrigues came through. The fourth OT goal of his career led Oswego State its to their fourth trip to the Frozen Four, and the third to Lake Placid.
The semifinal game pitted the Lakers against the Norwich Cadets, a team that had been just as successful, but had never crossed paths with in four years. The Cadets scored 17 seconds into the game, but the Lakers were resilient, erasing 1-0 and 2-1 deficits quickly. Chris Muise, who finished the SUNYAC and NCAA postseason with six goals, scored the big goal to make it 3-2 before Tyler Leimbrock's eventual game-winner. Muise also added the empty netter in the 6-3 win that propelled the team back to the National Championship game.
The Cinderella story of the Wisconsin Eau-Claire Blugolds, a team picked to finish fifth of seven teams in their conference stood between the Lakers and the ultimate prize. Bobby Gertsakis, who scored his first seven collegiate goals in the last 10 games of the season, made it 1-0, and Muise made it 2-0 before the abundance of Laker fans in attendance had a chance to sit down. But the Blugolds were a team of destiny, answering with four in a row, and putting the Lakers into too deep of a hole. Eau Claire celebrated a 5-3 win.
So they do not have a National Championship and I know it eats away at the players every day, and it ate away at me too, at first. But with time to reflect, I realize that when I think about the last four years, I will not think of St. Norbert or Wisconsin-Eau Claire celebrating. I will think of Andrew Hare flashing his glove on a breakaway save, I will think of Zach Josepher throwing a huge hip check, and I will think of Paul Rodrigues scoring yet another overtime goal. I will think about how lucky I was to broadcast it all and I will think of and thank those fourteen guys, plus the countless others than came out on the ice from 7 p.m. to 9 p.m. every Friday and Saturday night from October to March, from 2009 to 2013 and made memories that will last this kid a lifetime.