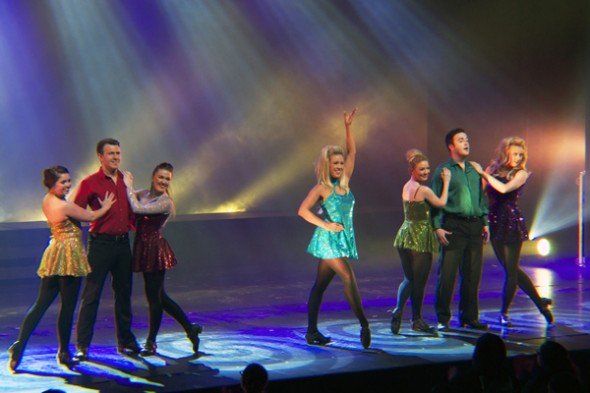 Even with performances by two Irish dancing schools in the Tyler Hall lobby giving a taste of what was to come, nothing could have prepared the audience for the magic that was "Celtic Nights: A Journey of Hope," a celebration on Irish music and dance performed in Waterman Theater on March 12.
A tale of separation and Irish culture, the show began with a clip of a boat sailing across the Atlantic from Ireland to America in 1775. The stage was quickly occupied by three musicians and three female dancers in stunningly vibrant outfits.
The group of performers consisted of six dancers, three musicians: a fiddler, banjoist, a guitarist and six singers hailing from Ireland and Scotland. The singers came on stage and announced their names and where they are from before singing about Colcannon, an Irish dish made with mashed potatoes and cabbage, with the only music coming from the taps of their feet. Then came a duet between Una Pedreschi and Derek Ryan about a couple who find themselves on separate sides, as the husband is in America working to send money back to the wife in Ireland. The lights created a sense of distance between the vocalists and formed a mood that matched the somber lyrics.
Guitarist, Stevie O'Connor, fiddler, Ben Gunnery and banjoist, Brian Kelly, came out next and devoted themselves to their instruments and quickly had the audience clapping along to their catchy folk sound. Even with simple facial gestures, the musicians entertained the audience as they played.
The next performance started out with one of the female dancers on the floor as the fiddler commanded the stage with his solo. The lights turned blue and suddenly two more dancers appeared. Once that finished, singer Ross William Wild performed "I Still Haven't Found What I'm Looking For" by U2. He was joined by the three female vocalists who acted as his backup, which was a captivating combination of the four voices.
Each solo done by the vocalists, the musicians or even the song performed by dancer Gavin Boyle left you wanting more. Each performer brought something different to the show, whether it was the soft tenor of singer Derek Moloney, their precision when it came to their steps or the way they played their instruments. They were lively and interactive. All 16 performers sat on the edge of the stage singing and chatting with the audience, performing a cover of "Brown Eyed Girl". The lights highlighted the beauty of the outfits while still managing to subtly draw attention to whoever was on stage. During one of their final songs, the lights took the form of the Irish flag.
Ending the show with a light show and a fast-paced song, the show left everyone in awe. With breathtaking harmonies and uplifting beats, Celtic Nights made the audience yearn for Ireland, whether they were a native or not.