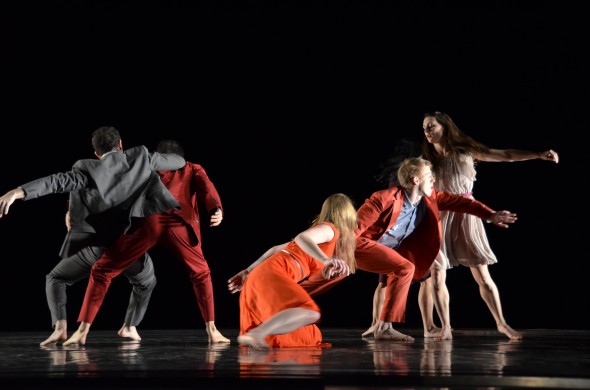 Bare feet glided across the dusty stage, sharp breathing heard over the electric score and drops of sweat landed as seven dancers explored body relations this past Wednesday, Feb. 27.
Presented by ARTSwego, the Brian Brooks Moving Company mesmerized students, faculty and community members alike as they performed several dance pieces dealing with space and interactions at Oswego State's Tyler Hall.
Choreographed by artistic director, Brian Brooks, the night began with "Big City." The seven dancers interacted and moved around aluminum poles and each other in a manner that was relatable. As they carried each other on their backs, collided and helped each other explore their intimate space, a viewer could easily see this as a symbol of carrying someone's weight on their shoulders or how chaotic life gets as we inhabit a determinate location.
Every movement, from the bumps to the pounding of the feet appeared natural and spontaneous. Nothing felt forced. The athleticism of the dancers was beyond impressive, demanded attention and made the stage look desirable for non-dancers.
Brooks, who was born in Hingham, Mass., took a break from his tour and spent some days in Oswego where he has taught several workshops to dancers and non-dancers. Brooks worked closely with students in Dr. Christine Walsh's graduate literacy class. These students are now teaching middle and high school students of the Oswego City School District about the value and experience of dance. Over 400 students were also able to see a special performance of the Brian Brooks Moving Company at the Oswego High School.
The next three pieces performed, "I'm Going To Explode," "Descent" and "Motor" had many of the similar qualities of "Big City" but dealt with a variety of topics. Brooks performed "I'm Going To Explode" alone. Sitting in a chair, dressed in a business suit, Brooks began by taking off his shoes. As his arms moved sharply to the beat of the music, viewers could understand that his character was either expressing frustration in a limited environment or letting go after a long day of work.
"Descent" and "Motor" featured outstanding partner work and the dancers intertwined in a way that explored space, force and time. It became a mental workout watching the dancers push and push each other until their hard breathing and sweat became a focus of the pieces.
This did not escape viewers, who, once the show was over, stayed for a discussion with the dancers. A viewer asked Brooks if he was aware that his choreography is not gender specific, to which he responded that it is his intention for viewers to ignore the dancers' gender.
His intention is effective. The strength and power of these dancers transcends gender roles in both dance and society and viewers feel completely comfortable watching one of the female dancers pick up and throw around one of the male dancers.
His impact on the Oswego community will be felt in his inspiration of a generation of dancers to come.