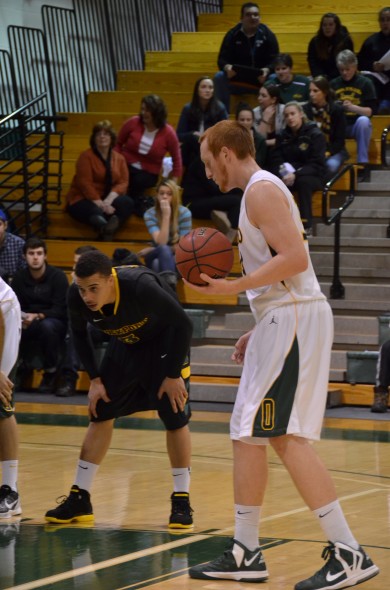 According to Merriam-Webster Dictionary, the verb "rebound" has two definitions. One means to recover from setback, and the other to gain possession of a rebound in basketball. With 880 basketball rebounds at Oswego State, and a handful of setbacks, senior captain Hayden Ward has faced his fair share of both.
Flashback to 2006 where now-reigning first-team All-SUNYAC Ward was just a sophomore at East Hampton High School on the eastern tip of Long Island. Not sure what he wanted to get serious about after playing a plethora of sports growing up, Ward was influenced by East Hampton's basketball coach Ed Petrie to focus on basketball. Ward found his groove early, making the varsity squad as a sophomore. With a talented older team, Ward developed as a role player. His role: rebound.
"That first year I was a 'get rebounds' kind of guy, playing defense, scoring when I got my chances," Ward said.
During the first quarter of the season, Ward proved himself coming off the bench, and stayed a part of the starting lineup for the remainder of his career there. In his junior year he started to develop into a scoring threat, still pulling down boards as one of the taller players on the floor at 6'6". With another talented team, Ward would help his squad to the Class A championship game. As seniors graduated, it became time for Ward to have his breakout year.
"I did a lot of work in the off-season with my high school coach who really helped me with my shooting," Ward said. "I think this really opened up a lot of things for me."
The offseason work paid off, as Ward averaged a double-double in his senior season en route to the state Final Four.
As the year came to an end, it was time to continue his basketball career, but first Ward would have to decide what school he wanted to attend. It was hard for college coaches to come see Ward play, being in one of the farthest towns east on Long Island. Due to this, most of his recruiting came from AAU and the Empire State Games. Ward was recruited by a multitude of SUNY schools and others on the East Coast in New Hampshire and Pennsylvania. With a tough decision at hand, Ward picked Oswego State.
"What really separated Oswego from the others was I really liked the campus a lot," Ward said. "In my personal opinion it is the best campus in the SUNYs. Besides that, I really liked the guys on the team."
Enrolling in the fall of 2009, Ward majored in business administration. It was his freshman collegiate season where he would run into his first setback. Head coach Kevin Broderik, who had recruited Ward heavily and was a driving force to land him at Oswego, had left the program.
Disappointed with the situation and the program, Ward and the team had a sub-par year, going 13-13 and losing in the first round of the playoffs. Ward averaged 6.6 rebounds and seven points per game, neither was where he expected them to be.
"To be honest, I was not sure if I was going to stay after my freshman year," Ward said. "I just was not having a good time, it was the toughest point of my career."
Ward would have to rebound in the offseason and shake off the tough start. This led into Ward's sophomore year, where the situation did a 180. The season marked one of the best years in the program's history, as the Lakers went 24-5 and 17-1 in the SUNYAC, with their only loss coming against SUNY Oneonta in double overtime. Ward averaged 10.6 points and 7.8 rebounds a game.
Ward and Oswego State star Chad Burridge would be the main reason for the Lakers' No. 1 seed, as they hosted the SUNYAC tournament and the first and second rounds of the NCAA tournament. The season marked the duo of Ward and Burridge as one of the best tandems in the SUNYAC. But it was not always a perfect relationship. With the two playing near the top, they did not always see eye-to-eye.
"We bumped heads a little bit," Ward said. "He was the man in Oswego, and I was the man where I came from, we had a rivalry, we really went at each other competitively."
Even as their competitive nature continued, the relationship between the two would strenghten going into Ward's junior year.
"With competing against each other, we came together more, and embraced the challenge together," Ward said. "We were both willing to sacrifice a little bit of our own games for the better of the team."
The relationship rebounded and the two continued the Laker success
story. In Ward's junior year, the program topped the previous season's mark, going a perfect 18-0 in the SUNYAC and 26-4 overall. Oswego State won its first SUNYAC title since 1965, and again hosted the first and second rounds of the NCAA tournament.
"Our bond grew strong on the court, learning and communicating with each other," Burridge said. "This helped us have the success we did."
Ward jumped to 15.7 points and 9.1 rebounds a game, leading the team with 272 boards. Both Ward and Burridge made first-team All-SUNYAC, but as a season came to an end, so did Burridge's career. The Ward-Burridge duo was a matchup nightmare, but now Ward would be left to gain the title of "the go-to guy."
"The off-season started off with a little Super Bowl-hangover feeling after winning the [SUNYAC] championship," Ward said. "It was tough to swallow that feeling and know there was another job to do."
Ward would come into the current season expecting nothing less than previous years. Being the go-to guy was something Ward has always been ready for.
"Hayden by nature is a very physical player," said Oswego State head basketball coach Jason Leone. "He has this inner confidence where he doesn't think people can stop him, which enables him to beat defenses that are geared towards shutting him down."
Ward has not disappointed, making his current senior campaign one to remember. He is averaging 18.3 points per game and 9.5 rebounds, turning double-doubles in like they are expected. Ward has led the squad to a 19-7 overall record, and an 11-7 record in the conference. With a team of many young players, Ward has also stepped into a leadership role.
"He has embraced the pressure of being the guy this year, and has handled it terrifically," Leone said. "If your best player is your hardest worker, other players will follow giving automatic respect."
Ward's hard work has developed him into a versatile player. A big man that can hit the three, shoot well from the foul line and average over 30 minutes a game is a formula that keeps opposing coaches up at night. With a playoff win over The College at Brockport, Oswego State will travel to SUNY Cortland on Friday, Feb. 22 to try to defend its SUNYAC title.
With Tuesday's win, Ward passed Burridge to become the second all time leading rebounder in school history with 880 boards. After college, Ward plans on continuing his basketball career overseas.
"If I am fortunate enough to make a team, I am going to go and see how it works out," Ward said.
Words like "rugged" and "winner" are used to describe Ward by teammates and coaches. Whether it be pulling down rebounds, hitting buzzer beaters or working hard in the off-season, Hayden Ward will go down as one of the best players ever to wear the green and gold.