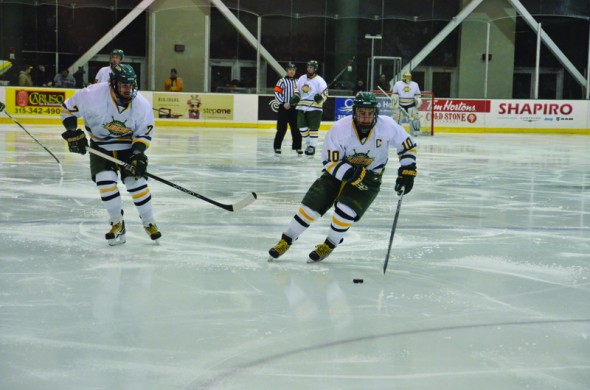 The Oswego State men's hockey senior class has been nothing if not consistent over their four regular seasons. In 2009-10, the seniors finished 23-2-0. In 2010-11, 22-3-0. Their 2011-12 record was 21-2-2; and, with a 4-3 loss in Plattsburgh to close out 2012-13, their mark reads 21-4-0. Those records were all good enough for the conference regular season title.
They have had varied levels of success in postseason play, but have reached the NCAA Frozen Four each of the first three seasons. With only one SUNYAC postseason title to their name so far, a fourth trip may be in jeopardy if the Lakers can not win their next two. Here's a reflection on the season that was, and the "second season" to come.
Rodrigues' roll. Senior Paul Rodrigues led the nation in points for much of the season, and finishes up the year with 14 goals and 29 assists. Rodrigues registered a point in all but three games over the course of the regular season, and was visibly more dangerous on the ice than ever before. He'll make a run for SUNYAC player of the year, but it is possible that "Mr. Overtime" has not had his defining moment of the season just yet. He's got a flare for the dramatic.
Chris cubed. The emergence of the three "Chris" seniors, Brown,
Ayotte and Muise, took a lot of pressure off Rodrigues, Jon Whitelaw and Luke Moodie. Brown filled in admirably when Whitelaw was on the shelf for six games early in the season, while Muise has been a model of consistency. Ayotte's goal production has tailed off lately, but he has been a go-to weapon on the powerplay from the right faceoff circle, with nearly half of his 13 goals coming with the man-advantage.
Personal Milestones. Head coach Ed Gosek got his 200th win as head coach, Rodrigues and Moodie netted their 100th career points and senior Andrew Hare set the regular season and career program records for shutouts. Sophomores RJay Berra, Eli Kim-Swallow, Nick Rivait and Peter Rodrigues all scored their first collegiate goals. Fellow sophomore Bobby Gertsakis did as well, and then he scored four more in the next three games. It has been a season of saving many pucks.
Defensemen scoring. Last season, then-juniors Zach Josepher and Jesse McConney both were in the top three in conference scoring for defensemen, but only totaled three SUNYAC goals between the two of them. This season, the senior twosome has accumulated 10, including nine from Josepher. Add in the five recent goals from Gertsakis, and the Oswego State offense has added a much greater blue line force among the defensive corps this season.
Fun facts. Among the interesting tid-bits of 2012-13 was the 10-1 rout of SUNY Geneseo on Nov. 3, when the
Lakers managed to have ten different goal scorers. There was, of course, the seven-goal period this past Friday against SUNY Potsdam as well. It appeared as if the Lakers were going for an historic evening, but they finished with 10 that night as well, and have not scored more than that in a regular season game over four years. They went the whole regular season without a tie, as they did in 2009-10, and 2010-11. They tied twice last season. They played seven one-goal games, but only one overtime. By comparison, SUNY Potsdam played eight overtimes. The senior class still has never lost three in a row.
The Lakers lost to only two teams over the course of the season. Unfortunately for them, they did so twice. They won't have to deal with the Utica College Pioneers again, unless it's in the NCAA tournament, but the SUNY Plattsburgh Cardinals, as they've been throughout the history of the rivalry, are the thorn that the Lakers may have to pull out of their side. It's hard to predict the "at-large" situation when it comes to NCAA bids, but it seems less likely than any of the past three seasons that the Lakers have a "fall-back" should they lose the SUNYAC tournament. Potsdam will visit Geneseo Wednesday night, while Buffalo State will host SUNY Fredonia. The lowest remaining seed comes to Oswego on Saturday, while the other victor heads to Plattsburgh. "Win or go home" has never rung as true as it does now. And the boys aren't ready to go home just yet.