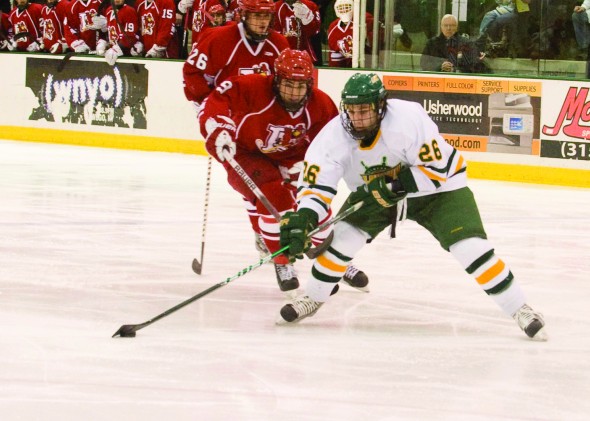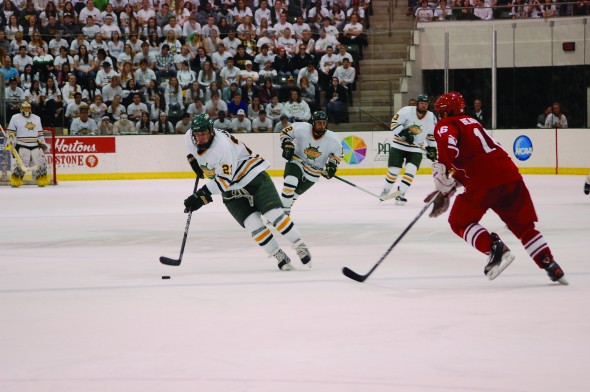 It is the event everyone at Oswego State searches for as soon as the men's ice hockey schedule is released each year. Students' eyes dart down the list of games, looking for the two words that bring the entire student body together: Whiteout Weekend.
The festivities begin on Friday as the undefeated No.1 nationally-ranked Lakers (7-0, 6-0 SUNYAC) host SUNY Potsdam (3-5, 2-4 SUNYAC) in the opener of the biggest event in Oswego State athletics. And while every game is important, especially one against a conference opponent like the Bears, Friday's matchup is just the appetizer to Saturday's main course, when the Lakers will face off against heated rival SUNY Plattsburgh (6-2, 5-1 SUNYAC).
"It's a pretty big weekend for all of us," senior captain and forward Jon Whitelaw said. "Usually it's a weekend when a lot of your family and friends come down because you play two great teams. Potsdam always comes in and gives us a good game, and then Plattsburgh, which kind of speaks for itself."
The last time the No. 6 Cardinals entered the Campus Center Ice Arena was on March 3, when they defeated Oswego State, 3-2, to win the SUNYAC title. Whitelaw said that the memory of the loss on home ice is still in the Lakers' minds, and that it is a motivator heading into this weekend.
"That's still fresh in our minds," Whitelaw said. "It's something that if we could play again and have another shot at, we definitely would. With that being fresh in our minds, it would be nice to beat them on our home ice."
Senior forward Paul Rodrigues said the fact that SUNY Plattsburgh is the defending SUNYAC champion is a tough pill for Oswego State to swallow.
"It's in everyone's head," Rodrigues said. "We had that sour taste. They are the reigning champions of the league."
The playoff victory was the first win for SUNY Plattsburgh in Oswego since Feb. 20, 2009, and only the team's second victory overall in that span. Oswego State head coach Ed Gosek said that despite the Lakers' recent string of success against the Cardinals, the rivalry between the two teams is still as bitter as ever.
"In a great rivalry, even though you have streaks, a majority of the times the teams are pretty equal and on any given night, either one can win," Gosek said. "That helps build a rivalry. There's a reason we sell our rink out, they sell their rink out, their fans hate us, our fans hate them, and that's all a part of it and what makes it fun."
With all the pressure and buildup of such a highly-touted rivalry and signature event, there are bound to be distractions that set in for both players and coaches. Whitelaw said the coaches are preparing them the same as any other game to avoid the frenzy.
"Obviously, the whole week of practice gets pretty intense, but I think for the most part, our coaches try to prepare just as it is for any other game, because really, that's all it is," Whitelaw said. "It's not worth any extra points or anything like that. They take the same approach and we take the same approach. Obviously, how big and important this game is sits in the back of your head for sure."
Gosek said that the team uses Whiteout Weekend as a tool to improve on the team's mental toughness. He said these two games will be the closest things to a conference playoff or NCAA Tournament game the Lakers will see during the regular season.
"For all of us, it's a means of managing distractions and learning to be able to keep focus," Gosek said. "Those are areas where we know we need to do better at when it comes to the end of the year. This is a good opportunity to hone those skills."
But even with all the preparation, it is impossible to escape the hype surrounding Whiteout Weekend. The arena is expected to be filled as the game against Plattsburgh has been sold out and there are only limited tickets remaining for Friday night's matchup against SUNY Potsdam.
The Oswego State faithful will be donning their bleach white T-shirts and frantically waving their snow-colored towels while cheering on their beloved Lakers. For some players, the energy the crowd brings to the Whiteout games can be the extra boost they need when they are out on the ice.
"Every student in the school and every citizen in the community are rooting for us, so it's a pretty cool experience," Rodrigues said. "When [the crowd] starts doing the chants, you just feed off of it and guys love that and eat that up."
"It's like having another player on the ice," Whitelaw said.
Gosek said that Whiteout Weekend is not only an event to showcase Oswego State hockey, but also a chance to feature the fans and the pride they have in their team.
"I think we lose sight that it's awesome for our fans," Gosek said. "It gives our student body something to rally around and take pride in. I think, from that standpoint, it's a great atmosphere for a college sporting event, and people get to have a lot of fun with it."
For 14 members of the team, it will be the last time they take the ice on Whiteout Weekend. The large senior class has bigger goals for this season, such as returning to the NCAA Championship game and bringing home a title, but it will be an emotional weekend nonetheless.
"It's sad," Whitelaw said. "Four years go by so fast. It feels like we were just playing our first [Whiteout game] a year ago. It'll be emotional, and we'd like to go out on a positive note."
But before the Lakers can worry about the atmosphere, emotions or even the Cardinals, they have to focus on Friday's game against SUNY Potsdam. Some may see this as a trap game due to the hype surrounding Saturday's contest, but the Lakers say their first priority as of now is themselves, followed by the Bears.
"Our focus is all on Potsdam," Gosek said. "Come Friday night, after the game, then we'll turn our attention to Plattsburgh. Our attention is solely on ourselves first, and on our opponent second. Our next opponent is Potsdam, so we spend a fair amount of time talking about them."
The Lakers have handled SUNY Potsdam the past few years, with the Bears' last victory over Oswego State coming the day after SUNY Plattsburgh won in Oswego in 2009. But despite SUNY Potsdam's sub-.500 record, the Lakers are not taking their opponent lightly, and Rodrigues said he considers the Bears to be a great team.
"You can't look past the Friday game [against SUNY Potsdam]," Rodrigues said. "If we do that, we'll probably have a bad outcome. We have to take Friday first."
But if the Lakers are able to take care of their business against SUNY Potsdam, it will set the stage for yet another special chapter of the Oswego State/Plattsburgh rivalry. But no matter the outcome, the crowd will provide an electric atmosphere that will set the tone for yet another memorable Whiteout Weekend.
"We're just hoping for the best," Whitelaw said. "We feel we've prepared for it, and we're hoping they're exciting games. We know the fans are going to turn out, and I think we're very fortunate to have such loyal and such great fans. They're second to none in the country, I think."