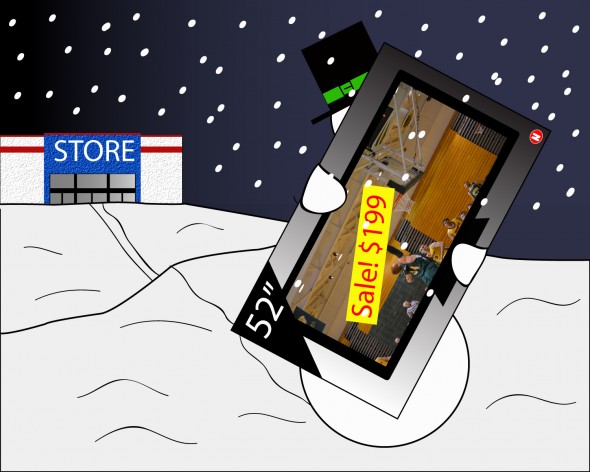 I had the strangest dream last week. It was 2 a.m. and I was standing in the middle of a mall food court. For some reason, my entire extended family was there. The food court felt like some kind of party: the place was packed, there was music blasting and even a guy on stilts.
While I was standing there, observing my surroundings, it occurred to me that this wasn't a dream, it was real life.
My Black Friday experience may not have been a dream, but it certainly felt like one. I arrived at the mall with eight of my family members at 12:10 a.m. and we struggled to find a spot at the back of a massive parking lot. We entered the mall through Macy's and the place was a zoo. If it had not been pitch black outside, you could have mistaken it for the middle of the afternoon the Saturday before Christmas.
As we ventured into the main part of the mall, the crowds thickened. People swarmed into every store. Some people were even already leaving with their purchases of big screen TVs and other big-ticket items. The whole place was a madhouse, so my cousin and I took refuge in the food court almost immediately. When we mustered up the courage to enter some stores, I was fairly disappointed with what I found there.
Almost every store had a line stringing around the room that seemed endless. I went into a few places but didn't find anything that I wanted enough to wait in such a long line for. As I looked around more and more, I began to realize that there were not even that many sales happening. I continued to wander around the mall in a daze, so tired from Thanksgiving Day, and unable to even find any good deals.
When we finally left the mall a little after 3 a.m. I was more tired than I have ever been. The entire trip felt pretty fruitless. I made a few small purchases, but nothing that actually felt substantial. As we drove home I couldn't help but feel like I was scammed. My entire family and I somehow got roped into going to the mall in the middle of the night to go shopping after a long Thanksgiving Day, all thanks to consumerism.
Up until this year I was a big fan of Black Friday, but after this year my opinion has definitely changed. I am always for getting a good deal, but this year I felt like the whole idea of Black Friday was a trick, an illusion created by retailers to get people to do something that is, at its core, totally ridiculous. And the part that makes me sick is that, not only was I sucked into this shopping craze, but the entire American public has become enslaved to this absurd day of consumerism – worst of all, there are no signs it is going to end.