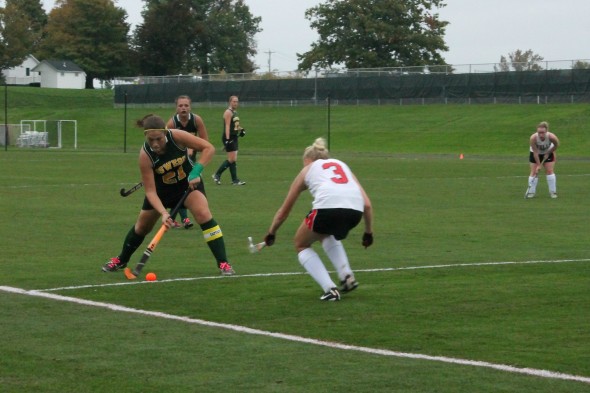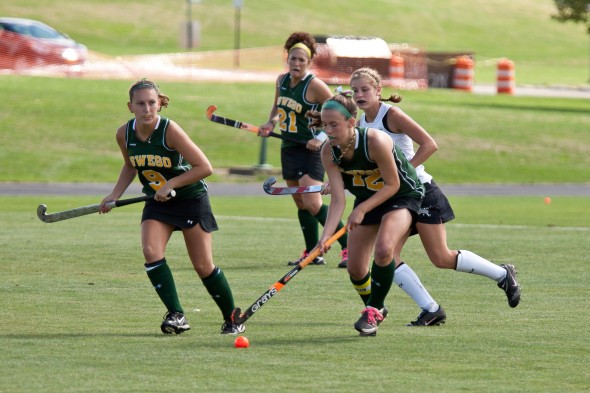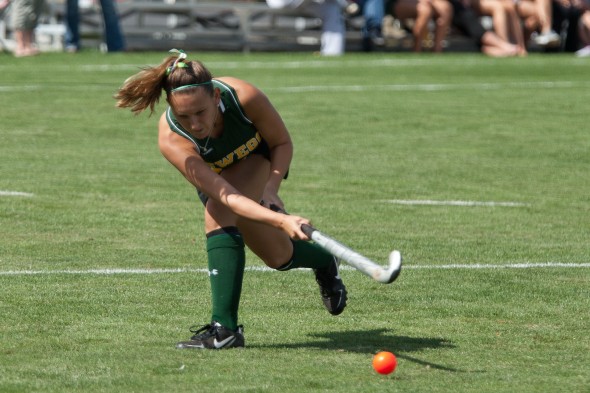 Coming off a 7-10 season which included a 2-4 SUNYAC record in 2011, the Oswego State field hockey team was looking to improve this year. The Lakers got off to a rough start though, and, although they were unable to post a stronger record, they closed out the season on a positive note.
The season started off slow for Oswego State, as the team dropped its first three games of the season. The Lakers were able to snap the streak with a home win over Morrisville State on Sept. 14, but they went on to lose their next four.
At 1-7, the season appeared to be over for Oswego State, but the team was able to pick things up, winning two of their next five. Fifth-year head coach Brandi Lusk said that, while the team did not meet its original goals, the Lakers were able to remain focused the rest of the way.
"Myself and the team wanted to make playoffs and finish .500 on the season, so we did not meet those expectations," Lusk said. "However, as the season progressed, our goals changed when our original goals could not be met. The team challenged themselves and played very well to have some pride at the end of the season."
The Lakers headed into their final home game on Oct. 20 against The College at Brockport with just three wins on the season, but they were able to earn a Senior Day victory in a 1-0 shutout of the Golden Eagles.
"Senior Day was extremely emotional for me," said Aislinn Breslin, senior midfielder and captain. "Not being able to actually play in the game due to an injury and finish my home career with the rest of the seniors on the field was hard to handle and something I had to deal with. However, with the help of my fellow seniors and the rest of the team it was easy to forget about what I couldn't do and enjoy the celebration."
Senior forward Michelle Ruskey said she was also emotional during the Senior Day festivities.
"I must say I did get a little teary-eyed on Senior Day when us six
[seniors] who have been together from the very beginning played our final game on our home field," Ruskey said. "These girls were the first girls I've ever met in college and playing together for this long really brings us all together. I think that after this season I've become so much closer to every other senior on our team."
Lusk said the win on Senior Day propelled the Lakers to victories in their final two games.
"That game carried us into our three-game win streak to finish the end of the season strong," Lusk said. "The team played to their potential every second of the game and none of them would let a teammate settle for any mistake being made. They pushed themselves and played exceptional."
Oswego State would go on to win its final two games to salvage the season with a three-game winning streak and a 6-10 record. The Lakers have not had a winning season since 1984, when the team went 13-5 to cap a streak of four straight winning seasons.
Lusk said that she believed her team could turn things around all season, even at the lowest of points.
"My job as a coach is to motivate my team, as well as believe in them when it seems that everything is against us," Lusk said. "I believed that they could turn the season around. Every single girl on the team mattered when it came to our success, whether she was in the game for 30 seconds, 30 minutes or injured on the sideline. They finally got it and we were successful."
Senior forward Alyssa Hare led the team this season with eight goals and 15 total points. Fellow senior forwards Michelle Ruskey and Taylor Stein were behind Hare with 12 points apiece.
Freshmen goalkeepers Grace Lombardi and Nicole Moccaldi combined for a 3.19 goals against average and three shutouts on the season.
Lusk believes the team has a strong group of talent returning for next season, despite losing six seniors, and that the Lakers will be very competitive in 2013.
"We will have a very young, but talented team next season," Lusk said. "Of course, I have high expectations, but I think we will also have a team that will work to meet all of them because of the leadership of the returning players."