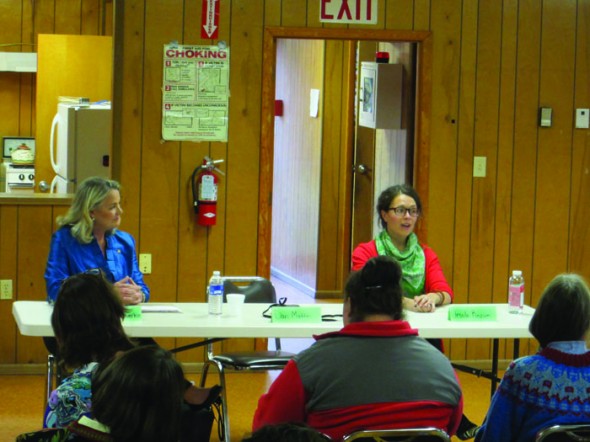 Sitting on a table in the Grandby Town Center Thursday night were name tags for Congressional candidates Republican Ann Marie Buerkle, Democrat Dan Maffei and Green Party candidate Ursula Rozum. At around 6 p.m. Rozum and Buerkle each took their seats to begin the town hall style debate for the 24th Congressional District. Maffei's seat at the table was left empty for the duration of the debate.
"His absence here tonight and unwillingness to face his constituents shows his fear," Buerkle said about Maffei's absence during the debate.
Buerkle invited both Maffei and Rozum to a series of four town hall style debates to take place in the counties making up the 24th Congressional district. Maffei immediately declined, calling the debates a "political scheme."
The debate, which was moderated by Beth Hilton, the executive director of the Oswego-Fulton Chamber of Commerce, was not an official Congressional event, but instead billed as a campaign event for Buerkle.
During the debate, candidates Buerkle and Rozum were not allowed to directly address each other's comments, answering only the questions submitted by the crowd. The questions were drawn at random by Hilton, and each candidate was given three minutes to respond. Each candidate was also given time to make opening and closing statements.
"I entered this race because the leadership from both parties has failed to represent their people, especially those of my own generation," the 28-year-old Rozum said in her opening statement.
In her opening statement Buerkle focused on her upbringing and education.
"I consider myself a part of the American dream," Buerkle said.
Questions covered several issues including health care policy, funding of the war on terror, women's health issues and energy policy.
The beginning of the debate was especially focused on women's issues, with questions about both public funding of Planned Parenthood and campaign ads run by Maffei attacking Buerkle's stance on a bill that the ad said redefines rape.
The woman asking the question about the Maffei ads mentioned that she herself had been sexually assaulted.
"Every time you see these ads, they are reminders of a horrific event," Buerkle said.
"Rape is rape is rape. There is no different definition of what is rape," Rozum said.
On the issue of Planned Parenthood, Buerkle said she was opposed to public funding, while Rozum was in support.
"Whether you are for or against abortion, the issue is with whether or not it should be publicly funded," said Buerkle, who said her main opposition to the organization receiving public funds was that they are the "largest abortion provider in the country."
"It is not just an abortion provider," Rozum said. "It is a place that provides info about woman's health and sexual diseases."
Rozum also mentioned that there are laws that prohibit Planned Parenthood from using the public funds to conduct abortions.
"We should continue to be able to have these resources," Rozum said.
The debate also had several questions about policy regarding climate change. Rozum said that climate change is human induced and a "moral issue."
"I've been pleasantly surprised that people from rural areas who I know are conservative are also concerned about the climate change," Rozum said.
Buerkle said that the biggest question surrounding the climate change was whether the change is human induced.
"The science is not decided on global warming," Buerkle said. "It is politically settled but not scientifically settled."
Both candidates agreed on the need to explore new sources of energy, while disagreeing on the ways to attain the new energy.
"We need to explore all sources of energy," Buerkle said. "But government needs to get out of the way and let the market find its own solutions."
Rozum said she was against the use of nuclear power, citing concerns over safety issues.
"We should not have any more plants and we need to phase out the current plants," Rozum said, adding that the power source is not cost-effective and relies strongly on government subsidies.
"There is also no safe way to store the waste."
Both candidates also came out against President Obama's Affordable Care Act. Rozum said she supported spreading Medicare to all U.S. citizens without any age limit. Buerkle cited concerns of the ACA cutting money from the current Medicare programs.
The crowd of around 40 became loud enough at times to affect the debate, clapping multiple times during candidates' turns to speak. There were also several members who shouted out during the candidates' speeches, including a man who was warned by Hilton he may have to be removed from the hall.
Rozum has agreed to Buerkle's request to all four debates, with the final three set to take place in Wayne, Cayuga and Onondaga County over the next month. Buerkle said that Maffei has refused all four. His office said they chose to do other things.