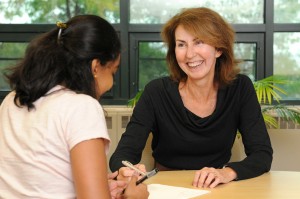 Oswego State's first endowed faculty member, Mary Rodgers, the Marcia Willock Professor of Finance, has three decades of Wall Street experience as an analyst for Merrill Lynch. She brings an interest in financial history and dedication to opportunities for students.
As part of the finance team for Inland Steel, Rodgers first worked with Merrill Lynch to underwrite installation of scrubbers in steel mill smokestacks to comply with increased environmental regulations in the 1970s. Rodgers joined Merrill Lynch in 1981, the beginning of 30 years with the investment giant. As an analyst for Merrill Lynch, Rodgers once handled $400 million in portfolios. She now joins fellow School of Business faculty in investing energies in students' futures.
Rodgers completed her doctorate through Pace University on the history of financial crises. She had access to J. Pierpont Morgan's personal papers, "reading all his personal investment banking transactions, about 2,000 of them, which was fascinating," she said.
Rodgers said the country has financial panics at least every 15 years; she saw four national financial crises while at Merrill Lynch. She researches financial panics because "it's amazing how little we seem to know about them." She also teaches "Crises in Financial Institutions and Markets."
Meeting Thomas Schneider, the CEO of Oswego-based Pathfinder Bank, inspired what will be an immense and important local financial history research project, she said. Pathfinder has opened its records, dating back more than 150 years, for interested student researchers.
Rodgers' "Corporate Finance" classes stress knowledge, life skills and teamwork. "I'm trying to enrich the student experience, showing how accounting, marketing and management majors work together to tell the complete story in financial terms of a given company," Rodgers said. Like financial analysts, students will have to be able to write, explain and present their plans in ways that resonate with clients, she added.
The plan is to take students to the Nov. 26 New York Society of Security Analysts program in New York City, where Robert J. Schiller, the Yale economist who foresaw the real estate implosion and was co-creator of the Case-Shilling housing index, will be speaking. Students attending can network with her contacts from Merrill Lynch, the New York Stock Exchange and Standard & Poor's in what she hopes to become the first of many such opportunities.
Rodgers offers a hands-on independent study course on bond markets where a student can become a "fantasy fund manager," just like managing a fantasy football or baseball team. In this class you can pick assets and follow how they perform. She also wants to promote student marketability by helping embed the Chartered Financial Analyst curriculum in the finance curriculum to help graduates gain CFA accreditation.
Rodgers' position is named in honor of a 1950 Oswego State alumna who made millions as a self-educated investor and chose to pay it forward to her alma mater with a $1 million donation to establish the first endowed professorship at Oswego State. Willock's donation is the largest gift the college has received to date, outside of bequests.
"I am so delighted," Willock said of Rodgers in Oswego's alumni magazine. "She has done a great deal and her experience sounds tremendous."