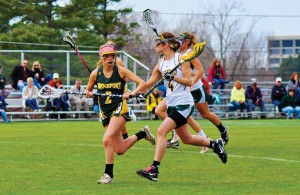 Sitting at 61 points on the season with two games left to play, Oswego State's senior captain is on pace to have one of the five greatest offensive seasons in program history.
Cummings, a two-time captain and one of only seven Lakers to score 140 points or more for their career, could not be more proud of her four years at Oswego State.
"I've never been so close to a team," Cummings said. "It is the type of bond where everyone works together. I do everything with these girls."
Cummings has seen her playing time, role and statistics increase every season while at Oswego State. As a mathematics major, she has a special inside joke with her mother about her time with the Lakers.
"I have been scoring points on a linear slope during my four years," Cummings said. "My parents, friends and teammates have had to get used to my obsession with numbers."
Cummings was a star in high school, scoring 42 goals and finishing with over 60 points in her senior season, earning an All-State honorable mention. Her freshman season at Oswego State, however, was a complete change from what she was used to.
"College lacrosse was a whole new ballgame," Cummings said. "I was a big fish in a small pond during high school, but it was the complete opposite that first season. I didn't have as much playing time and I wasn't used to it."
Despite scoring two goals and one assist in her first career game, Cummings finished with just 13 points in 14 games. The lackluster statistics were a huge eye-opener for her heading into her sophomore season.
"It made me appreciate the game even more," Cummings said. "I realized the playing time and the numbers were something to work for. Once I got an opportunity I was going to take it."
The turning point in Cummings' career came in 2010 against Keuka College.
Cummings posted a huge five-point performance, which included the first hat trick of her career. Cummings would average 2.2 points a game the final 10 games of the season and turn herself into one of the team's most vibrant leaders.
"By the end of that season, I really came into my voice," Cummings said. "The Buffalo State game stands out for me. A lot of my teammates remind me that my leadership in that game is why they voted me captain the last two seasons."
She saw her scoring totals double from 13 points to 26 points in her sophomore season. Her 19 goals were sixth highest on the team, and she finished with three hat tricks on the season.
Cummings' junior season is where her and teammate senior Rachael Raffa became one of the elite duos in Oswego State program history. They finished as one of the five leading scoring combinations in program history when both players exceeded 40 points by perfecting the "draw and dump" scoring tactic. The draw and dump is when the offense creates a two–on-one opportunity on a fast break.
"One of our games last season, we heard the other team's defense talking about how Rachael and I are going to look to draw and dump," Cummings said. "I asked Rachael if she knew we did that and we both had no idea."
Cummings watched her offensive total climb to 27 goals and 41 points in 2011, and has been riding those impressive offensive feats into her senior season. With two games left in her career, Cummings is on track to become one of seven players all-time to finish in the top 10 in career points, goals and assists. Numbers like that make a math major like Cummings very proud.
"My attitude has been really great this year as far as knowing I can do it all season long," Cummings said.
With the numbers she has always known she can accomplish, Cummings wants to see the team compete and execute in her final two games in a Lakers uniform.
"I want to see clean, executed games to end the season," Cummings said. "If we can sure up the transition game and connect the offense and defense, we will commit less turnovers. It would mean the world if we could beat Geneseo in my final game. I've never beaten Geneseo or Fredonia my whole career, and this team has come such a long way. Why not us?"
For a player who works out twice a day in the off-season alone, is a film-junkie and among the most devoted athletes Oswego State has to offer, the senior captain will treat these final two games the same way she treated her freshman season and all the games in between; she is going to play to win.