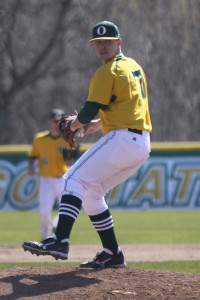 Like many, junior pitcher Jon Stevens' baseball career began with tee-ball at the age of five. 15 years later, he is still playing the game he loves, just at a much higher level.
Stevens is carrying on a family legacy of baseball players that goes back two generations.
"My grandfather was an All-American, my dad played college baseball and my brother played in college too," Stevens said.
The family name is being carried on well at Oswego State. Stevens has built on his experiences from his first two seasons and is putting together an impressive junior year. Stevens has eight starts this year for the Lakers and is 5-2 with a team-leading 1.58 ERA. He has two complete games, 32 strikeouts and only 11 walks in 57 innings of work.
"I've been able to throw three pitches all for strikes in a lot of the games," Stevens said. "I've been keeping the ball low and keeping hitters off-balanced. Command of all three pitches has been key."
Stevens' success has helped head coach Scott Landers have a smooth transition in his first season with the program.
"It's huge to have a guy like Jon," Landers said. "He is our captain, he is a leader on and off the field. When you have captains that perform well, it makes everybody else want to work harder."
Part of Stevens' motivation has been the new coach himself.
"It's been exciting," Stevens said. "Coach Landers wants us to have fun and work hard too. It's been a great change for our players. We are headed in the right direction."
Baseball is not the only sport that Stevens has played throughout his life. He was also a quarterback on the football team, and point guard of the basketball team at Chittenango High School. He decided that baseball was the sport that he wanted to continue on with in college.
"Baseball was my best bet to play in college and it's the game where I have the most fun," Stevens said.
Stevens' teammates are glad that he made the decision to stick with baseball, and they enjoy playing behind him. Junior catcher Alex Jurczynski has caught every game thus far that Stevens has pitched.
"He is a really great kid," Jurczynski said. "You can't ask for much more than what Jon does."
Stevens is one of the captains of the Laker squad and is known for his leadership skills. Both his coaches and teammates work off of what he brings to the table.
"He is a leader off the field as well, he is a great kid and a great role model," Landers said.
"He's a good pitcher and very motivating," Jurczynski said. "He can motivate anybody and he stays positive, he is a true captain."
Stevens does not just motivate his teammates, he is motivated by them as well.
"We got a bunch of good guys," Stevens said. "You want to be that guy to help them and I will do everything I can to help the team."
Off the field, Stevens is majoring in business administration. He is looking to graduate on time, and advance on to get his MBA. His plans for the future are still unclear and his focus for now is just enjoying college.
Stevens and the Lakers have a crucial series coming up this weekend at Fredonia. The Lakers are looking for success that could propel them into the SUNYAC playoffs.