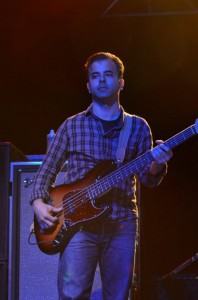 Oswego State's Campus Center Arena hosted a visit from the band O.A.R. [Of A Revolution] Saturday night. O.A.R performed for Oswego's Spring Concert Series, their first returning appearance since 2007. O.A.R's bassist, Benj Gershman, provided a little of his time to answer some questions about the band and their history.
Emily Longeretta: [Did] you guys all meet in high school?
Benj Gershman: The band formed in 1996. We were in high school together, and then we went to college together. We traveled to Ohio State where we met Jerry, our fifth guy.
Longeretta: If you were not performing, what would you be doing?
Gershman: I'd probably be either practicing yoga or taking pictures of something. I'm a photographer also.
Longeretta: What is your favorite part about going on tour? What is the hardest part?
Gershman: Performing! Hardest is being away from home for so long, you know, being out of touch with life there.
Longeretta: You performed here in 2007. What can people that went to both shows expect? How did your music change?
Gershman: I think our music stayed the same, but we've evolved as people. Our music's always been upbeat, positive, fun, spontaneous, all these things, and it's still like that. It's just, you know, we've changed, and through that, our relationship with each other and how we perform our songs has evolved.
Longeretta: What do you guys like about visiting colleges?
Gershman: Well, we like playing where our audiences are. We know that some of are audiences are at colleges. We go there as much as we try to go other places. We want as many people to hear us that want to hear us.
Longeretta: Who is your favorite band you have collaborated with?
Gershman: Robert Randolph and the Family Band. We did a recording of "Fool in the Rain," a Led Zeppelin song, and that was just awesome fun.
Longeretta: Who is your dream person to collaborate with?
Gershman: At this point, it'd be nice to perform with Eric Clapton. I grew up listening to his guitar playing. It'd be nice to have him be a guest on stage with us. Elvis Costello, maybe Paul Simon. There's my three.
Longeretta: So maybe these are the same. Who are your musical influences?
Gershman: All three of those are on there. Zeppelin, Aerosmith, Red Hot Chili Peppers, a lot of hip-hop, a lot of reggae, a lot of jazz. I listen to everything; I think that there's something to be learned from all types of music that you can apply elsewhere, not just in music, but in life.
Longeretta: What is your favorite song to perform off the new album "King"?
Gershman: I really like performing "Heaven." It's fun!
Longeretta: What is your all time favorite song to perform?
Gershman: "Sunday Bloody Sunday," because it rocks.
Longeretta: What is the biggest moment in your life, the moment you look back on and say 'this is where it all changed'?
Gershman: Probably when I was born. Besides that, I would venture to say the first time I started playing music with these guys, the first day, the first basement jam.
Longeretta: For students who are interested in a career in music, what advice do you have for them?
Gershman: Good luck (laughs). Study hard. It's not an easy industry, and it's changing and becoming more difficult to have a viable career in it, so the more you learn when you're learning, hopefully the more you can apply when you're applying.