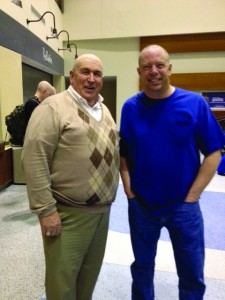 Walking into the Oswego County Sheriff's Department is like stepping into a high-tech fortress.
Patrons are greeted by two armed officers with high and tight haircuts ready to search you as you step through a metal detector.
"For Sheriff Todd's office, step to the right," the officer said. "There will be a phone. Dial 1 and ask for the sheriff."
It was like being on a military base; everything had to be of protocol. And for those who have never been there, there was the feeling that if you stepped one toe out of line you could expect the worst.
This was it. I was about to meet the sheriff of Oswego County. My hands shook as I stood at the entrance to a large locked door only to be opened by authorized personnel.
To my surprise, a woman came to the door. Her name was Linda Baker, the sheriff's secretary.
"Hello, how are you?" she said. "The sheriff is expecting you, follow me."
Her kind face and soft voice allowed my tension to ease away. I was beginning to think that this meeting and place was not so bad.
The lobby of the sheriff's office had the feel of an elementary school main office. It was bright and open; pictures were displayed of various people and awards. The bowl of mint Lifesavers on Baker's desk reminded me of the mints my grandmother always carried around.
The adjectives that usually come to mind when thinking about a sheriff completely left my mind after seeing the tall man that reminded me of my grandfather. He was wearing an argyle sweater with a lime green tie. You could tell just by his office that family was his main priority.
The bulletin board next to his desk consisted only of pictures of close friends and family. His bookshelf displayed memorabilia signifying the many hobbies he had and the books he once read.
This was the office of Sheriff Reuel Todd, but you would have never known it. It was like stepping into your dad's office; a feeling of comfortability was all that could be felt while there.
He greeted others with a warm hello, offering a seat with a freshly shaven head that he was pressured into shaving for St. Baldrick's Cancer Foundation. It was the target of an on-going joke throughout the office.
Todd has been on the job since 1974 and he said it was a turning point in his life. "It was something I always wanted to do," he said. "I always wanted to be a cop from the time I was little when my teacher asked me to write about what I wanted to be when I grew up. I wanted to be a cop."
"I love it, after all this time I still enjoy the job," Todd said. "I enjoy coming in here and I have great people that work for me."
Todd did not hesitate when he was asked what the best part about being a sheriff was. No, it's not being able to carry a gun or catch bad guys but for Todd its meeting new people.
"On this job you meet people while they're in their worst conditions and situations but there are a lot of ways you can help them," Todd said. "I always think about this. It doesn't matter how big the problem is to you or me but it's the biggest problem going on in their life at that point."
The job of a sheriff is anything but ordinary and Todd had a hard time coming up with a few instances, as he put it, "Oh my lord, there's so many things that have happened over the years, it's hard to pick one crazy thing that's happened."
"Crazy, crazy things that throughout the years when you think you have seen everything, this job just changes it all," he said.
But with the sweet comes the sour. Todd explains that the job sometimes brings on horrible situations and circumstances.
After explaining a few horrible scenes he has come across in his career, one caused all the emotion and happiness to drain from his face when speaking about it.
"I love kids and one time I got a call to a house fire and when I got there I found two young children burnt to death," he said. "Those kinds of things will harden you after being on the job so long and coming across things like this."
Todd explained that these experiences have also softened him. He said how sometimes after seeing so much it allows you to be able to "relate to people's feelings more."
Todd is a father of two and said he loves being a dad, but being the son or daughter of the sheriff is not always fun. Todd described his kid's reactions after they found out he became sheriff as an "Oh my God" moment. He remembers all the ups and downs of being a father, but still knowing that he must put his family first before work.
Todd remembers getting calls from teachers about his son.
"My son, Michael, once kidnapped someone's teddy bear and held it for ransom. Just crazy things like that but I love him all the same," he said.
Todd accredited much of his success as sheriff to the people he works with.
"These officers are out 24/7 at all hours of the night doing their job and they deserve all the credit," he said. "I have some of the best people working for me that you have ever seen. I have a fantastic crew, it truly is fun to come to work."
Those working around the Sheriff had nothing but praise for him. "The word for him is wonderful," said Baker, his secretary. "I really couldn't have asked for a better boss. He's a man that rules not only with a fist but with a heart."
When asked if there were any funny moments with the sheriff, Baker and her colleague Brenda Holloway just laughed.
"When are there not funny moments with that man," said Holloway. "The sheriff is very good at being a boss but also keeping in touch with the people he works with."
Holloway explained that Todd makes light of serious situations in order to create a calming work atmosphere, but he knows there is a time for work and a time for play.
"The sheriff is the biggest hearted, most compassionate person I have ever met," said Undersheriff Eugene Sullivan. "I work so closely with him that I am blessed to be able to see a unique side to him that not many others get to experience. He actually worries about the people he works with, I see him agonize over the safety of others."
Sullivan explained that Todd is widely popular with the community and in an atmosphere that often times brings misery and heartache, Todd makes things better.
Members of Oswego can usually find their sheriff playing golf on a nice day or sometimes even a small game of poker with friends. But Todd admits his poker face is not what it used to be.
"I used to have a great poker face, but not with this haircut," Todd said. "When I try to bluff they just look at me and laugh."