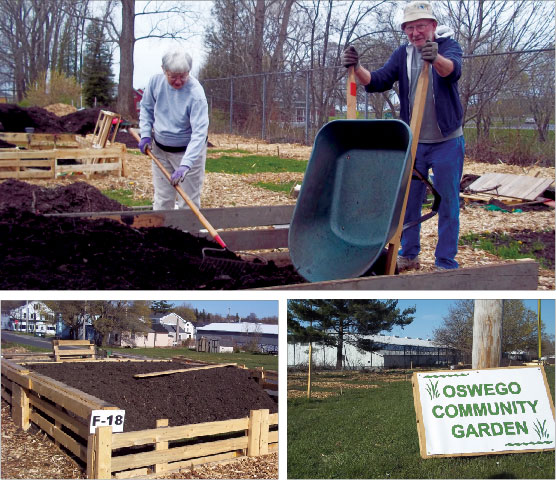 "You guys are really building a garden here?" asked a boy in his early teen years, as he approached Tom Collette at the Oswego community garden's East Schuyler street location.
"Yea," Collette said.
"I wonder how long that's gonna last," the boy said.
"Well, it's basically building a community, and if people say just leave it for building a garden, it will stay there," said Collette, who helps manage the site.
Oswego's first community garden has only been in use since a plot lottery on April 1, but there are some skeptics like this boy, who said he believes the garden could be destroyed by younger kids, or those using the area to skateboard.
"I'm just warning you," he said.
Aside from a few individuals, the community is excited to be starting a garden, something that has always been a thought that never got off the ground.
Michael Bonney, CEO of the Oswego Center for Sustainable Living, the group that created the garden, said the initiative became a reality when Mayor Tom Gillen took office this year.
According to Bonney the community garden has two main goals. The first is to create a stronger community and the other is to help people learn about gardening.
"I think are really just beginning to understand that we have to get things back together and work with each other," Bonney said. "There's a whole philosophy behind the community garden; it's not just about vegetables. It's about getting back in touch with nature and learning how to do things naturally."
Andy Nelson and Maryanne Hogan are sharing a family plot with their neighbors. These plots, which are bigger than the rest, are designed so many people can share one, making it easy for groups to coordinate in the garden.
These plots, as well as community plots, where anyone can grow something, can help those who are looking to learn more about gardening.
"It's a really good thing in terms of community participation and encouraging people to grow some of their own food," Nelson said.
Nelson and Hogan said that they have already met an array of new people through the garden, even though they live just a few blocks away from the site.
"There's diversity in age and there's diversity in color and in background," Hogan said. "It's wonderful."
For many people who may not know others in the community, the garden is an opportunity to make new friends and share gardening knowledge.
"You have a stranger (in the plot) next to you but hopefully by the end of the season a neighbor," Collette said.
Community building is an effect of the garden, but the main purpose naturally is, gardening.
"I think it's also really important to understand the importance of getting food locally," organizer of the garden Katie Stout said. "That's about as local as you can get if you can just walk up the road and garden there."
The city has been in support of this initiative, providing compost materials and woodchips for the garden.
While it is hard to say how many people are involved, since many of the plots have multiple people, Bonney said about 35 of the 50 plots were full. The Oswego Center for Sustainable Living is encouraging both those with gardening experience and without it to get involved by getting a plot.
The community garden is open to anyone, including college students and those who just want to volunteer their time. Those involved even seem willing to include those who are against the garden.
"The reaction of the people who are participating is that if kids come along and say things (against the garden) we'll invite them to participate," Nelson said. "We'll carry through with it anyway."
Collette said he is aware that the garden won't be immune to vandalism but that the community is ready to combat it through community involvement.
"Something might happen," Collette said. "But in that case we go and find them and if we find out who it is…tell them to work on the garden. We'll deal with it."
The community garden is only still budding, but Stout said seeing all the progress so far has demonstrated the strength of those involved.
"It really makes you feel good in a time when sometimes you feel like nothing is going right with the economy and everything else," Stout said. "It's like, 'Wow, people can still come together to do something.' I'm really impressed. I think there's a really strong community in Oswego."